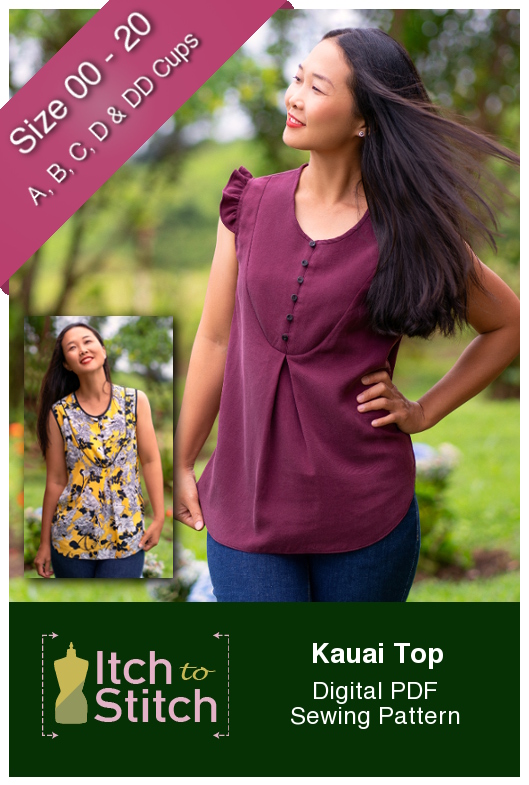 What's better than wearing a lightweight, breezy, woven top in the heat of the summer? (OK, maybe being buck naked would be better, but that's not socially acceptable to wear nothing in public yet.) With summer approaching fast in the Northern Hemisphere, I created this pattern of a cute sleeveless woven top to keep you comfortable while looking beautiful.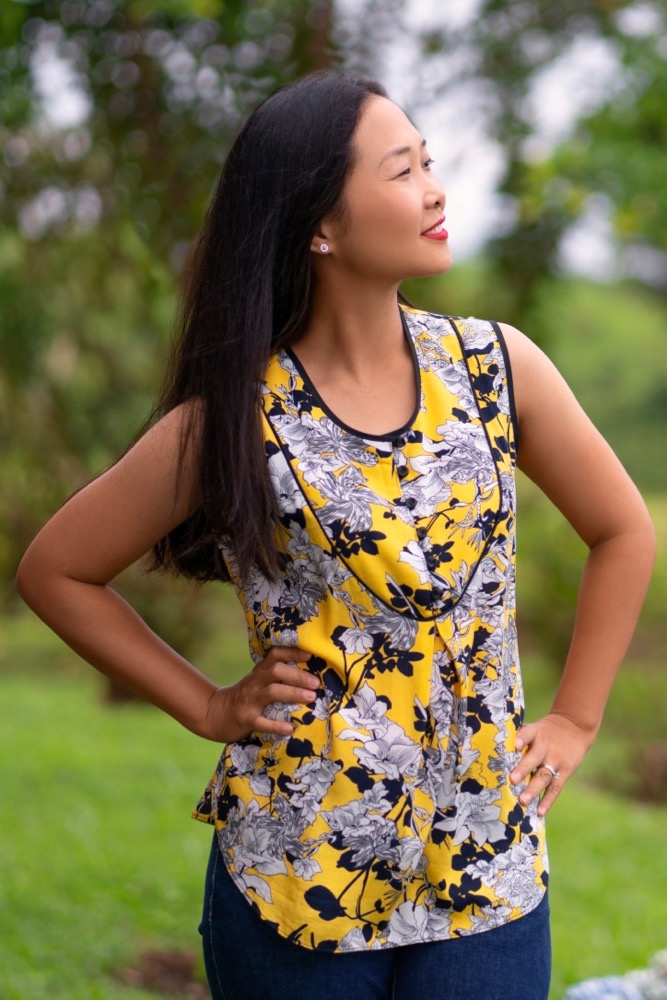 For one week, the Kauai Top sewing pattern is 20% off. The volume discount still applies—get 15% off your entire cart if your purchase is $20 or more, or 20% off your entire cart if your purchase is $30 or more!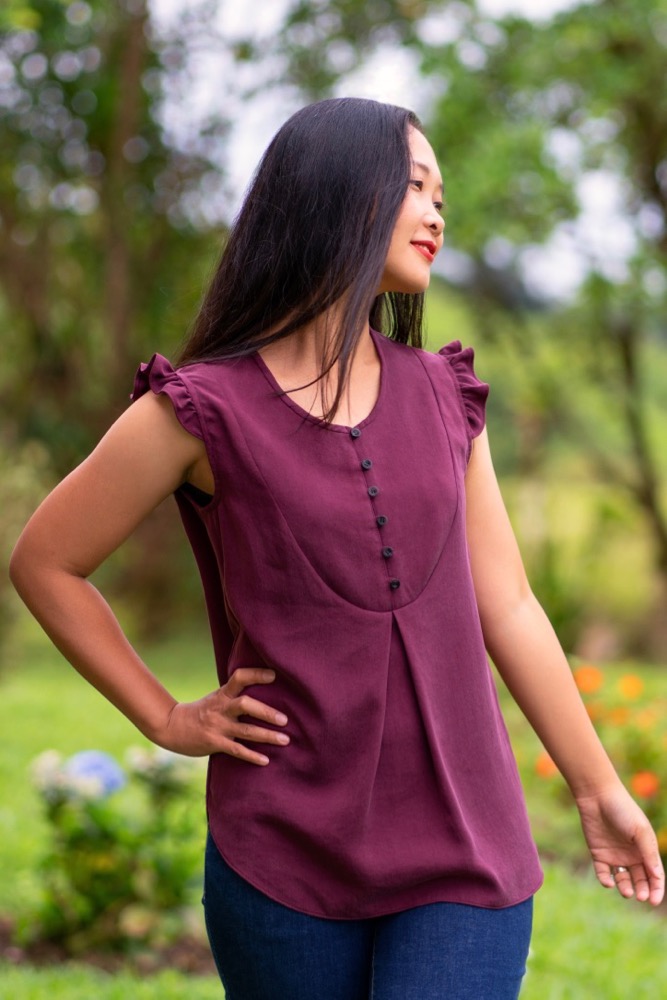 As with other woven garments in the Itch to Stitch shop, the Kauai Top comes in multiple cup sizes so you have a better fit without bust adjustment. The pattern also comes in a sleeveless option (view A), as well as a sleeveless with ruffles option (view B).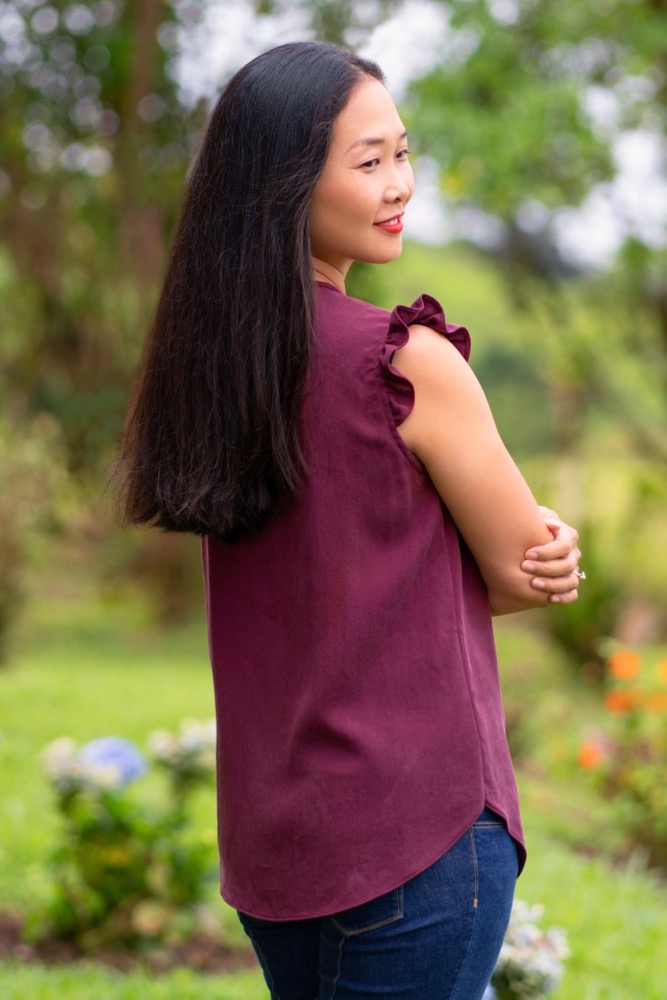 Kauai Top Features:
Options for A, B, C, D and DD cups
Button-down front bib with button loops
Center front pleat
Round neckline finished with bias binding
Shirttail hem
View A is sleeveless finished with bias binding
View B is sleeveless with ruffles finished with bias binding


You can pair the Kauai with some shorts or jeans. In the event of a cool evening, you can wear a cardigan or jacket over this sleeveless top. It is completely layered friendly!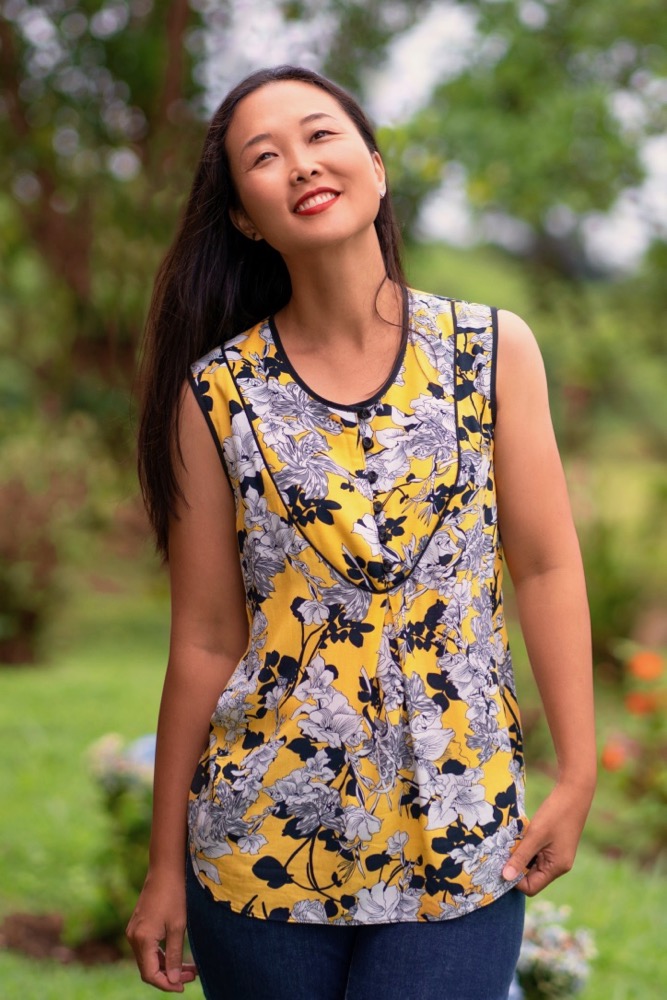 My testers are looking awesome in the Kauai Top regardless of height, age, size and shape. Let's look at their great handiwork!
The Kauai Top is designed to be made with lightweight woven fabric. I found that cotton voile or batiste is perfect for this top. Also, use lightweight woven, lightweight weft insertion or lightweight tricot interfacing.
The closure in the center front uses button loops. I love that they add a delicate look to the Kauai Top.
(note that in this photo, appliqué was added on the bib)
The shirttail hem of Kauai is also a feature that I like. It can be longer in the front and back, but the sides still don't look too long.
My sincere thanks to these talented testers of the Kauai! They've outdone themselves again!
Andrea
Brooke
Karen
Katrin
Taryn
Be sure to get your copy of the Kauai Top pattern before the sale ends on Sunday, June 9, 2019!