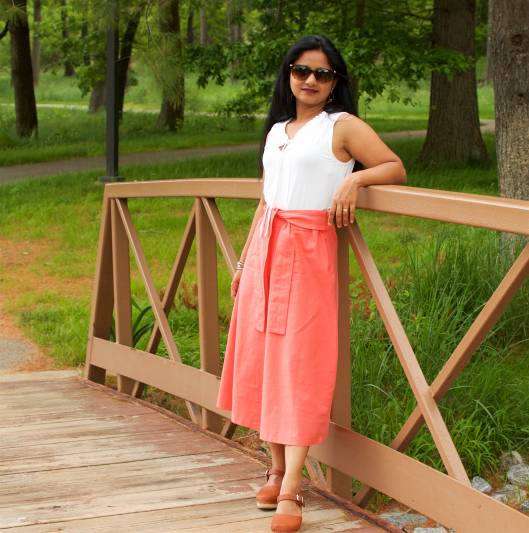 Emily Culottes and Vienna Tank by Indu—Make It Wear It
In this episode of Make It Wear It, I invited Indu to make two new garments from the Itch to Stitch catalog. She chose to make the Vienna Tank and Emily Culottes. And she's done a fabulous job on both!
Indu is a long-time tester of Itch to Stitch, and she has made many garments from Itch to Stitch's patterns. I wanted her to make two additional garments and show how she would combine others that she has made to create different looks. Yes, with so many patterns to choose from, of course one can be dressed head to toe by Itch to Stitch!
Special thanks to Sly Fox Fabrics


who sponsored Indu's fabrics. The cream eyelet fabric is from Sly Fox, and the coral linen is from So Sew English. Both are lovely, but I'll let Indu tell you about them below.
---
Hi friends,
I am so excited to share my Itch to Stitch summer makes with you today! Summers are for linen pants and eyelet tanks, don't you think?!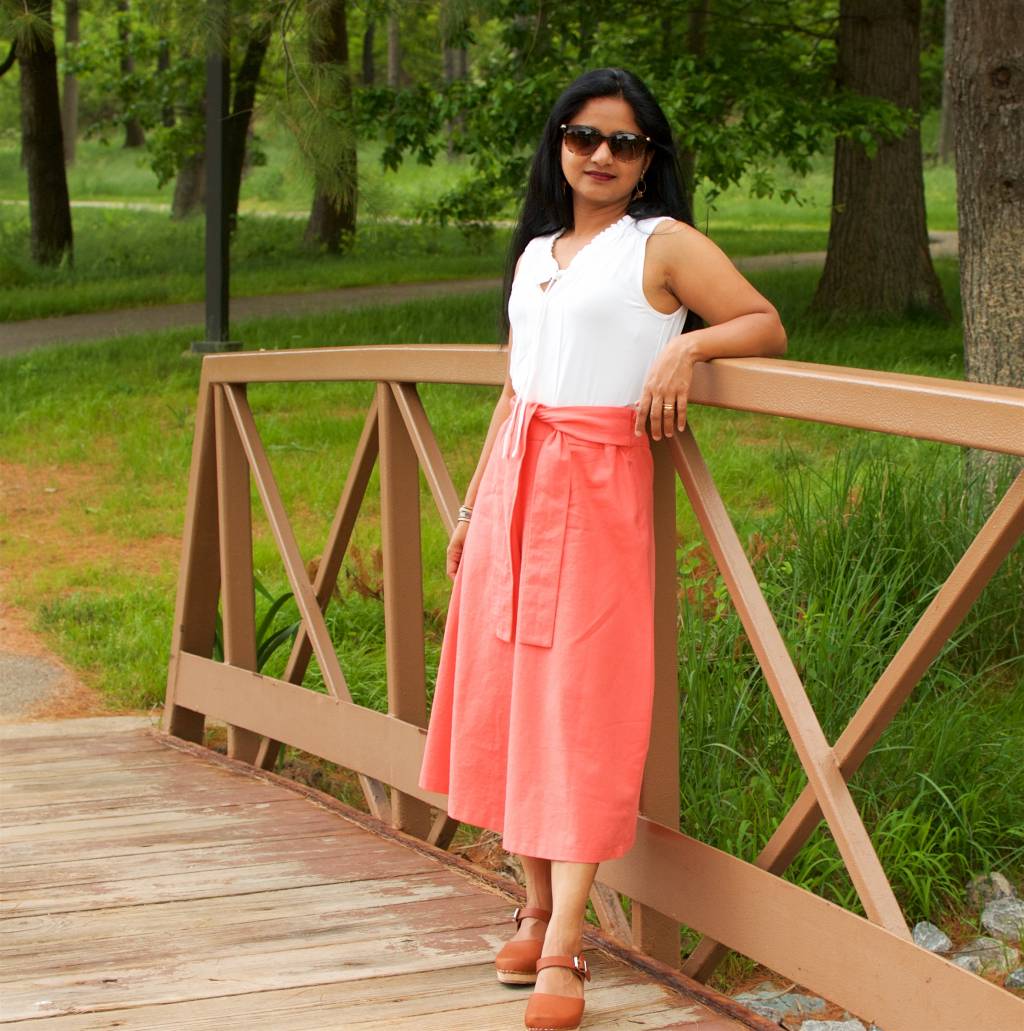 At the time that I was invited to participate in this blog tour, I hadn't tried on any wide leg pants, and the Emily Culottes were something that I had been considering. So for my summer pants version, I chose the Emily Culottes, which are wide leg pants with an A line shape. Some really good features about this pattern are a contoured waistband, which means a really good fit and shaping at the waist, and an invisible zipper closure, which means no bunching of fabric at the back from elastic. The Emily Culottes are supposed to sit at the natural waist, gently skimming the hip curve and stopping at about knee length. However, for my cropped length culottes, I chose to add about 7" at the lengthen/shorten line as per the instructions in the tutorial. I really love this length; it makes building outfits with different footwear so much more fun. I've paired them with my beloved clogs here, but I know they'd be equally fun paired with sneakers or high heels!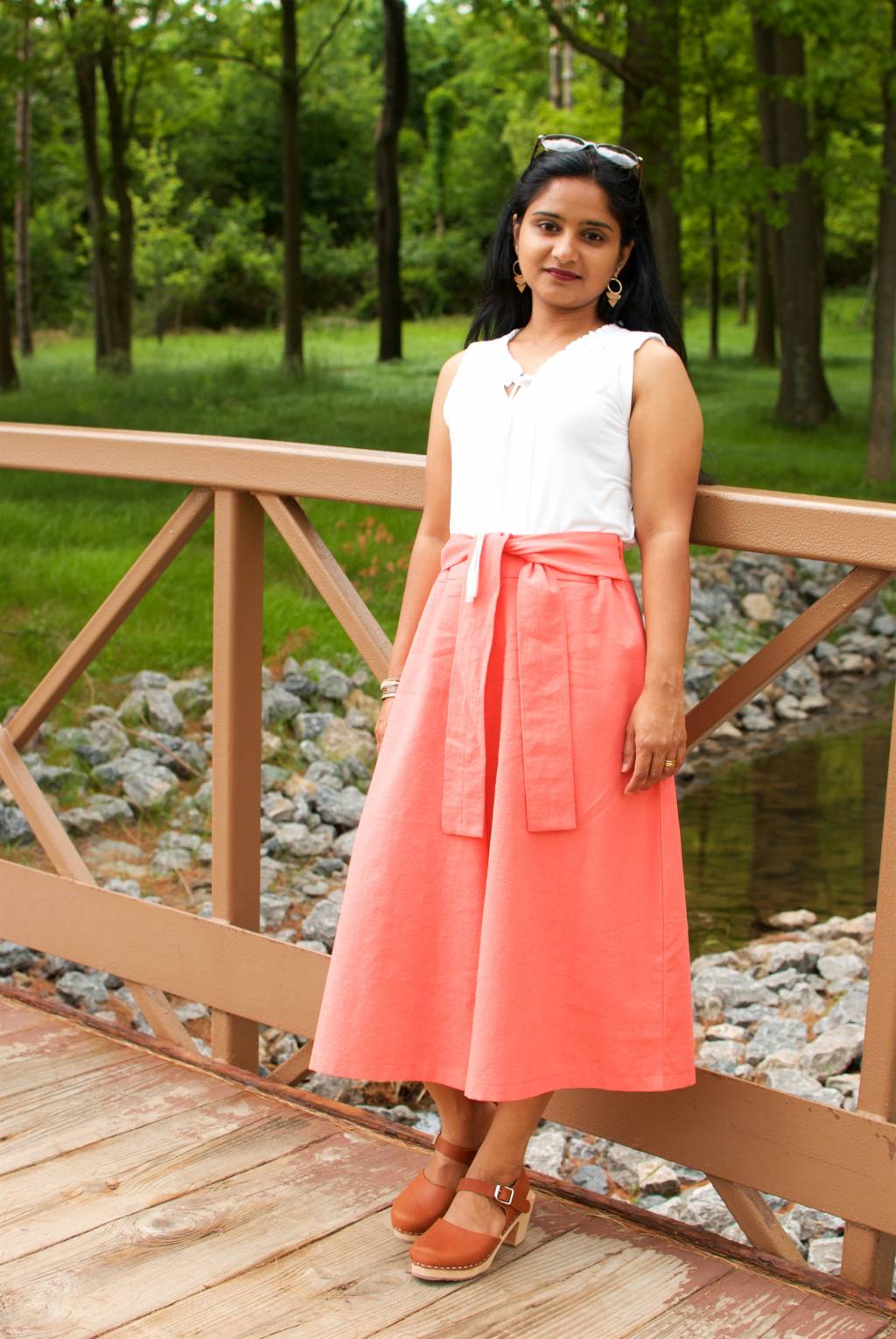 The coral linen is a deviation from my usual choice of color, but I've been wanting to try this color for a while. Did you know it's also the Pantone color of the year?! 🙂 This fabric from So Sew English fabrics was the perfect weight and texture for these pants. Because it doesn't have rayon, it's not thin or even extremely drapey, but it is really soft and is the perfect weight for making bottoms. It is also completely opaque despite the light color.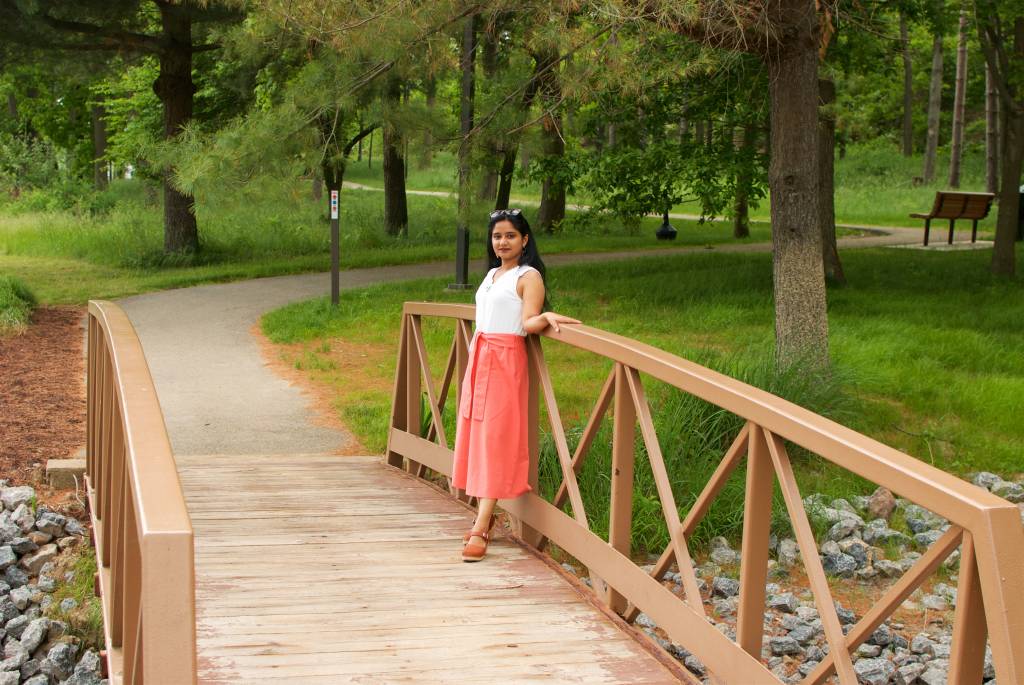 Based on my waist (26.5") and hips (36"), I am between sizes 0 and 2. Since I didn't want to risk the fitted waist being too snug, I made my Emily Culottes a straight size 2. They are slightly bigger in the waist but I was prepared for that with my waist ties. I've been seeing pants and culottes like these everywhere and really love the waist belt/sash option.
The pattern includes options to add front pleats to the culottes, slanted welt pockets in the back or patch pockets, as well as button tabs at the waist.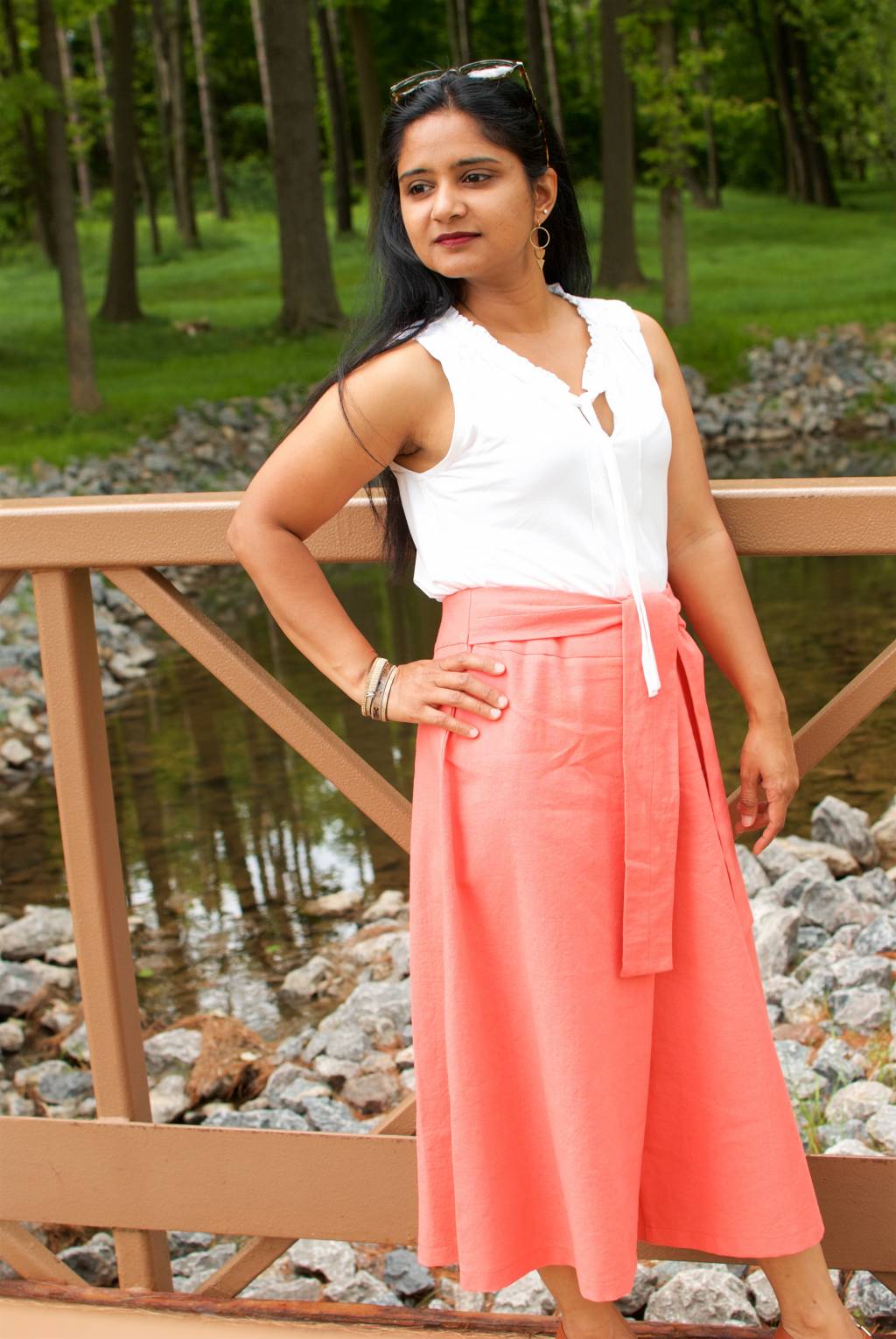 For my Vienna Tank Top, I used a gorgeous cream eyelet fabric from Slyfox Fabrics. It is beautifully lightweight, perfect in texture and color, which is so hard to capture. But I love how the eyelets add to the delicateness of this pattern's neck ruffles. The Vienna Tank Top is perfect for a summer romantic top, which features an integrated yoke, shoulder gathers, back yoke gathers, neck ties and optional neck ruffles. This simple pattern is designed to be made with woven fabric for the yoke and ruffles and knit fabric for the body. For the knit, I picked a viscose jersey in heavy cream color, also from Slyfox Fabrics. It is soft and has great stretch, and was just the perfect coordinate for my eyelet yoke. It is, however, a bit see through like most white fabrics are, so I'm wearing a cami underneath. For the Vienna Tank Top, based on my measurements (32" bust, 26.5" waist and 36" hips), I made a size 0 at the bust blended to size 2 at the hips.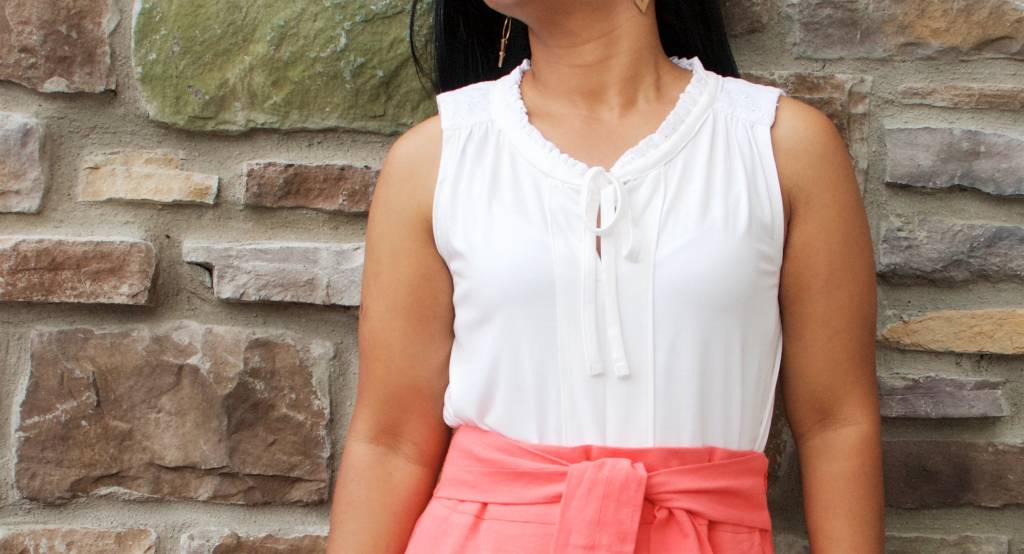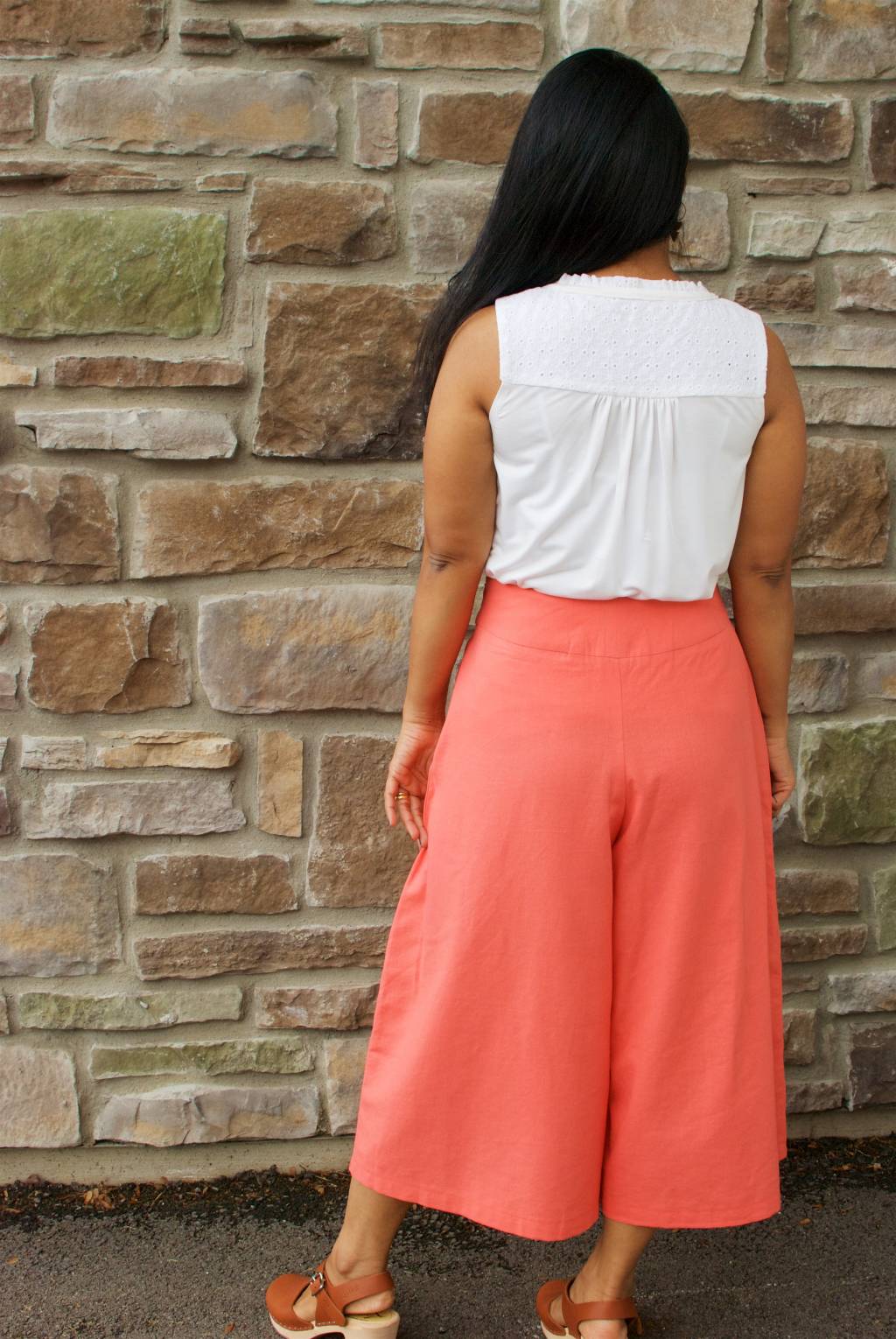 Both the Emily Culottes and the Vienna Tank Top, like all other Itch to Stitch patterns, come in sizes 00 – 20. They also have the layered feature that enables you to print only the size/sizes you need, not to mention the excellent written instructions with illustrations. I have made so many Itch to Stitch Patterns in the past, and will continue to do so. One of the things that I love most about Kennis's patterns is the precision in how the patterns are drafted, and how beautifully they fit and flatter so many sizes and shapes.
Both the culottes and the tank top are going to be workhorse garments this summer and they fit seamlessly into my existing wardrobe. I thought it would be fun to show some other ways I'll be wearing these pieces during this hot hot summer vacation I'm having in India. 🙂 Here I've paired the Emily Culottes with another favorite pattern, the Plitvice Top made in ITY rayon spandex, and changed into heels.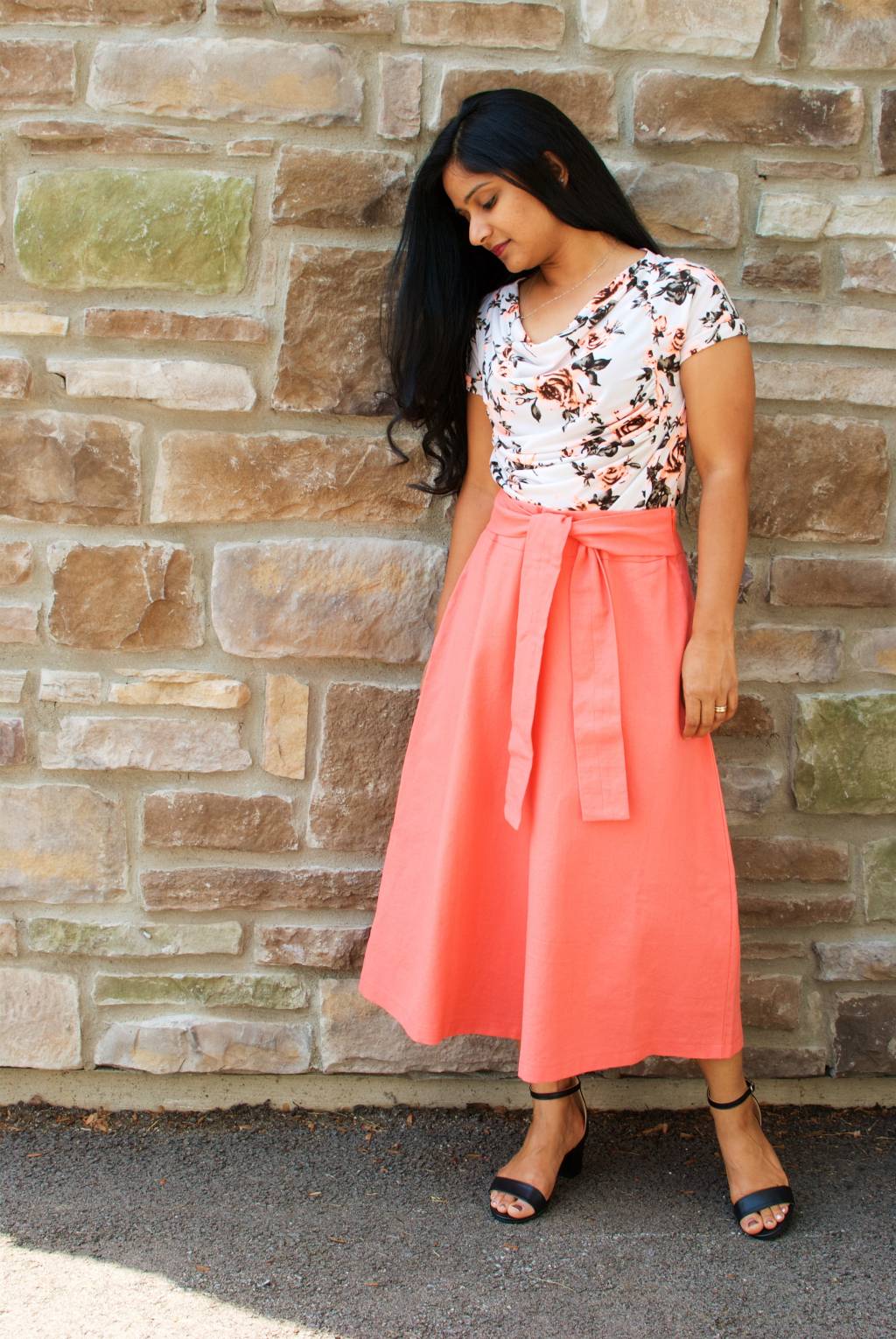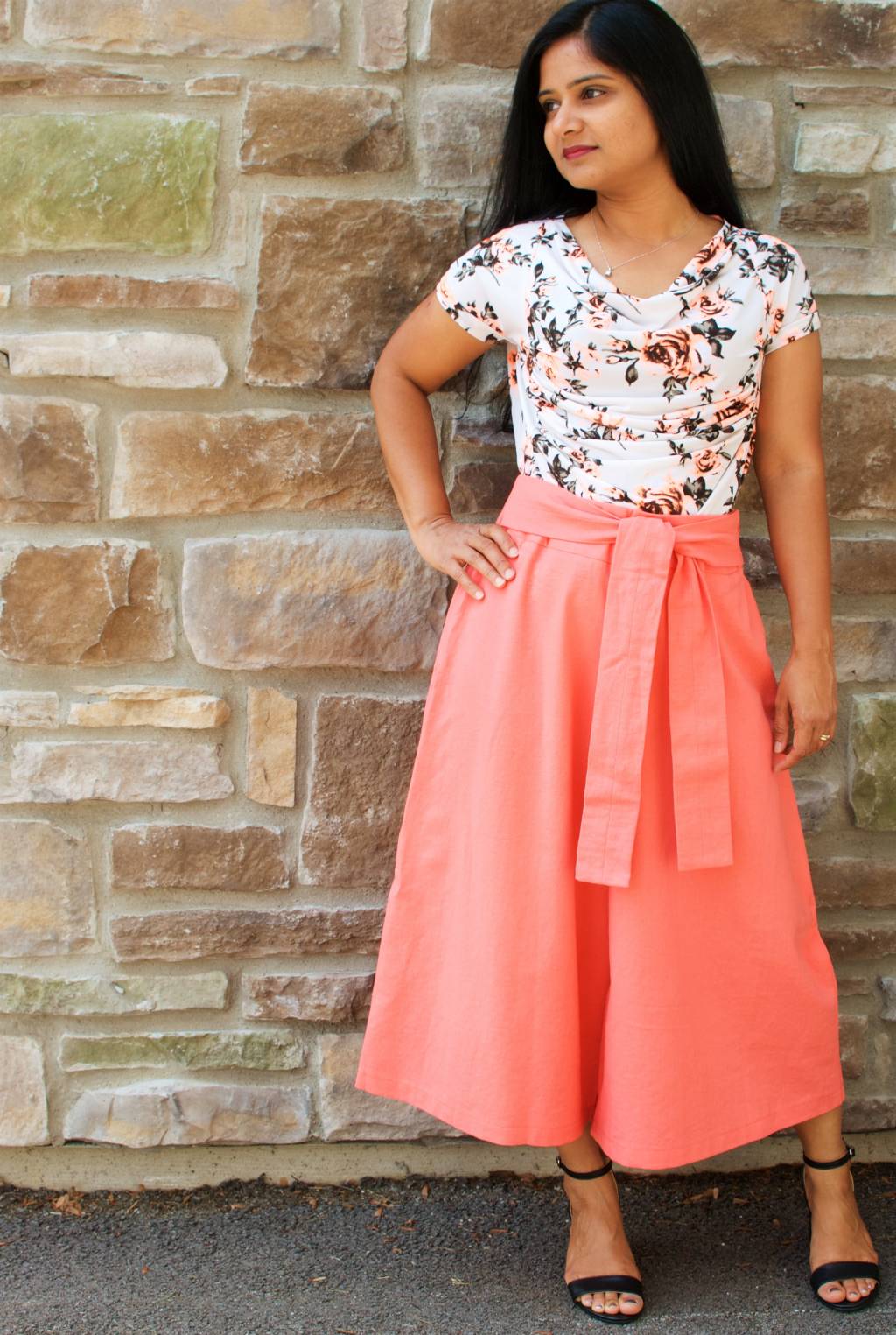 I wish white wasn't so hard to photograph, but this sleeveless Chirripo Top in eyelet fabric has my heart. I wore this a ton last summer and I was so excited to pull it out this year! It has an eyelet border as well, and is quite roomy by design, and I wasn't sure how well it would pair with my Emily Culottes. But honestly I think this is my favorite pairing.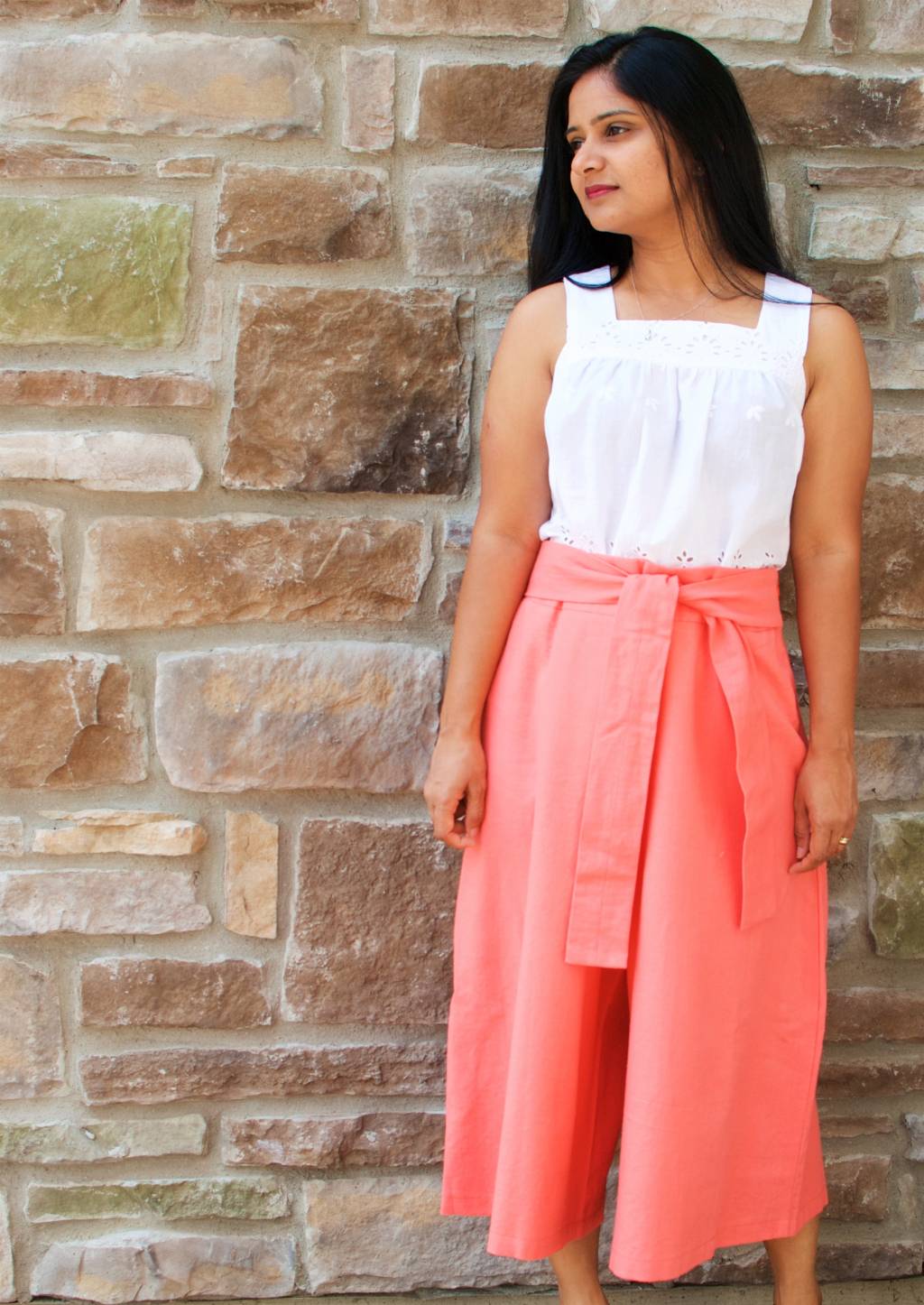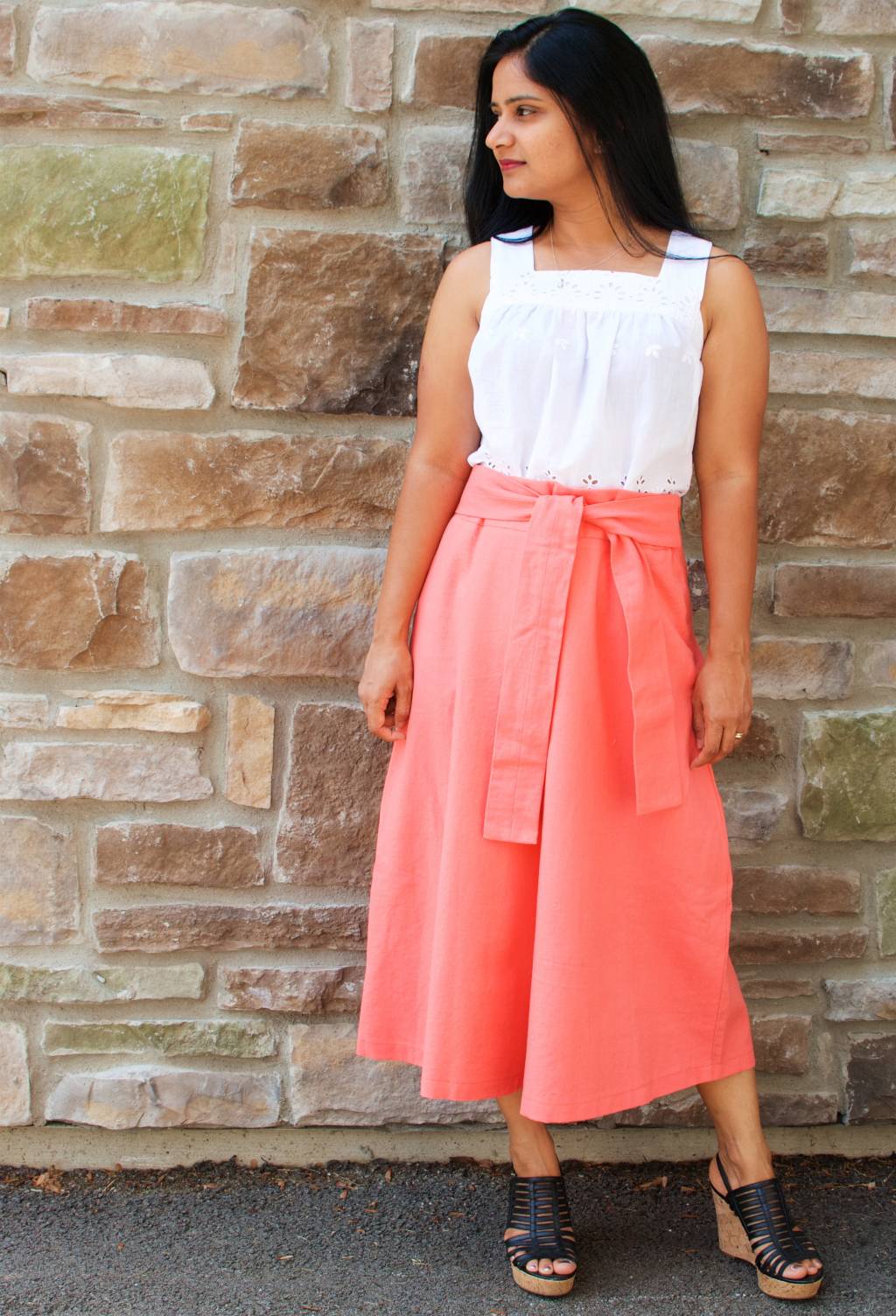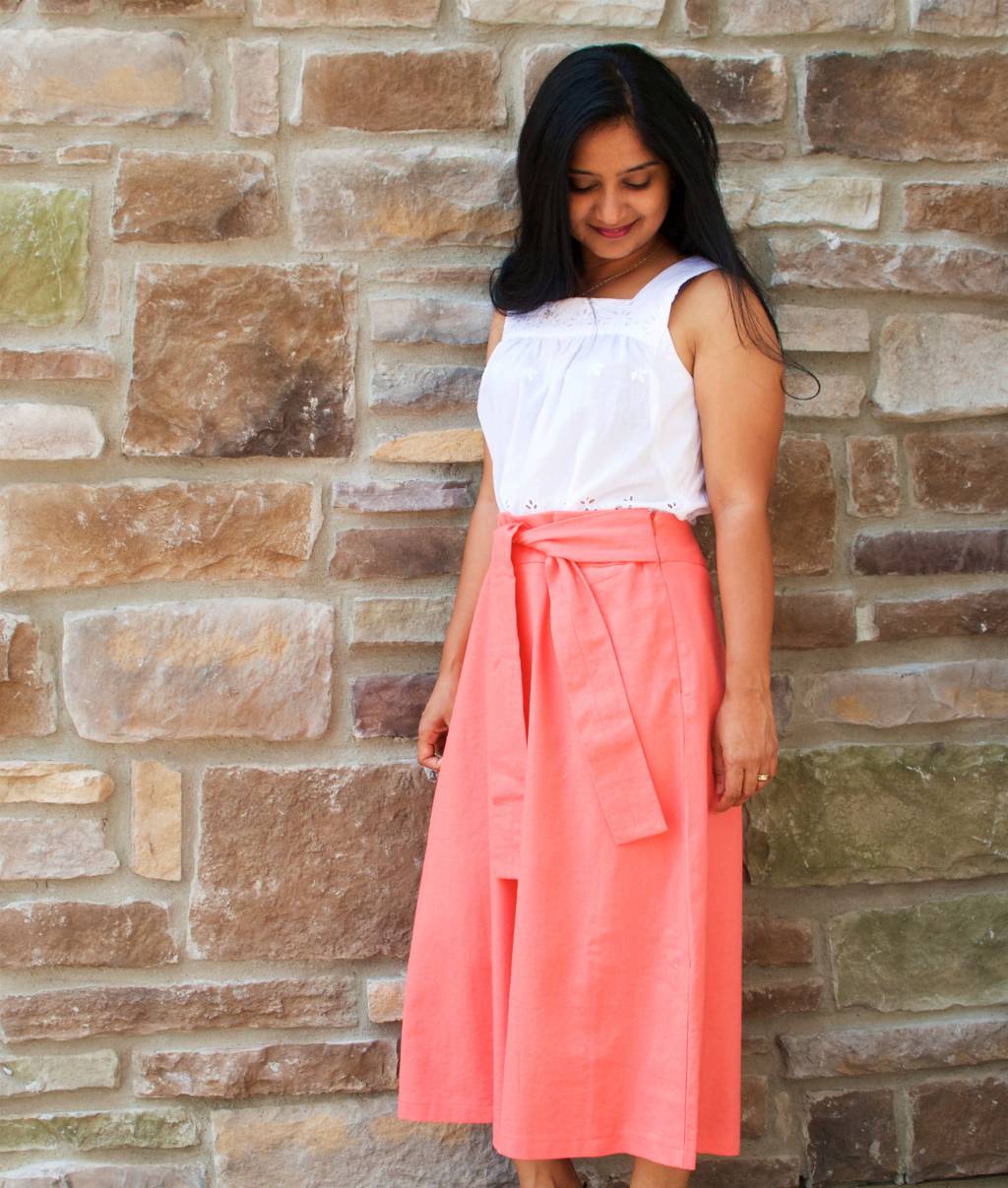 Planning and making these outfits was so much fun! And I am thankful for these wonderful additions to my current wardrobe.
This post was sponsored by Slyfox Fabrics and So Sew English Fabrics who provided the fabrics for my outfit today. Both the patterns were provided by Itch to Stitch patterns, but all opinions expressed in this post are mine alone.
Thank you for having me Kennis!
---
Interested in following the Make It Wear It blog series? You can follow Itch to Stitch's blog on Bloglovin' or you can also sign up below to get the Itch to Stitch newsletter. Either way, you'll be notified when the first issue of Make It Wear It is up.