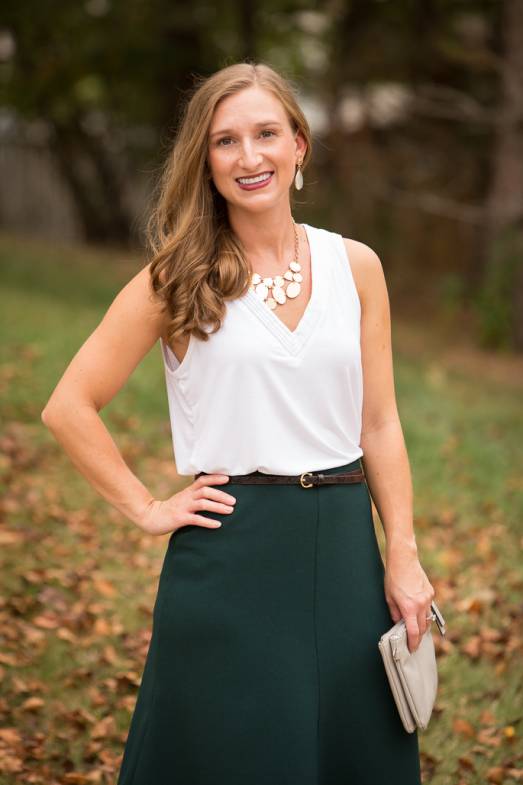 Seville Skirt by Mackenzie—Make It Wear It
I think an understated skirt is suitable for all seasons. Mackenzie is showing us in this issue of Make It Wear It how she wears her Seville Skirt and looks as elegant as can be.
But first of all, let me give thanks to our fabric sponsor, Beautiful Textiles.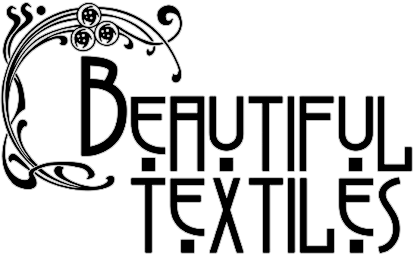 Take one took at their catalog and you will see that they truly live up to their name! The fabric Mackenzie used here is their Deep Forest Green Crepe Suiting. The drape is lovely, and the color is gorgeous!
Now let us go into the detail of this beautiful Seville Skirt!
---
Hi there! I'm Mackenzie and I blog over at BobbinandButton.com. I'm a self-taught sewist and love to share all the tips, tricks, and mistakes I've learned along the way. I love browsing Pinterest for sewing inspiration, so when Kennis asked if I'd join in her blog series, I knew I had to do something from Pinterest!
I love wearing skirts for fall because they are so versatile, and versatility is a must for fall! We don't exactly have cool fall weather yet in Virginia, so I wanted a skirt that would work well with and without tights or leggings so I can wear it all season long. I pulled inspiration from a few different Pinterest images and knew I wanted a dark green knee-length skirt.
I especially drew a lot of inspiration from this Gabriela Hearst skirt. I love the clean lines and the belt but wanted something that fell right below the knee. I also didn't want to spend almost $1400 for the Gabriela Hearst skirt! The Seville skirt pattern is just what I needed to make this happen!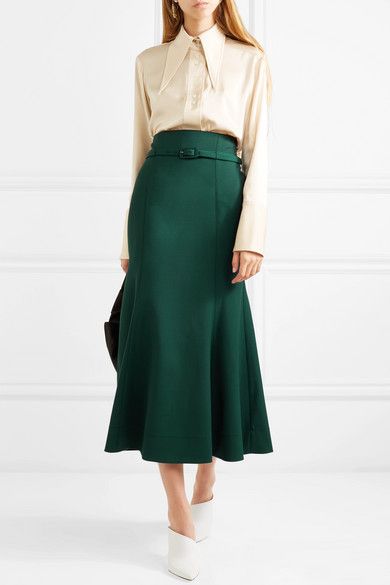 My fabric sponsor for this project was Beautiful Textiles and I had such fun browsing all their fabric! I was very impressed with their collection of fabric and they just happened to have the perfect color green crepe suiting to recreate my inspiration.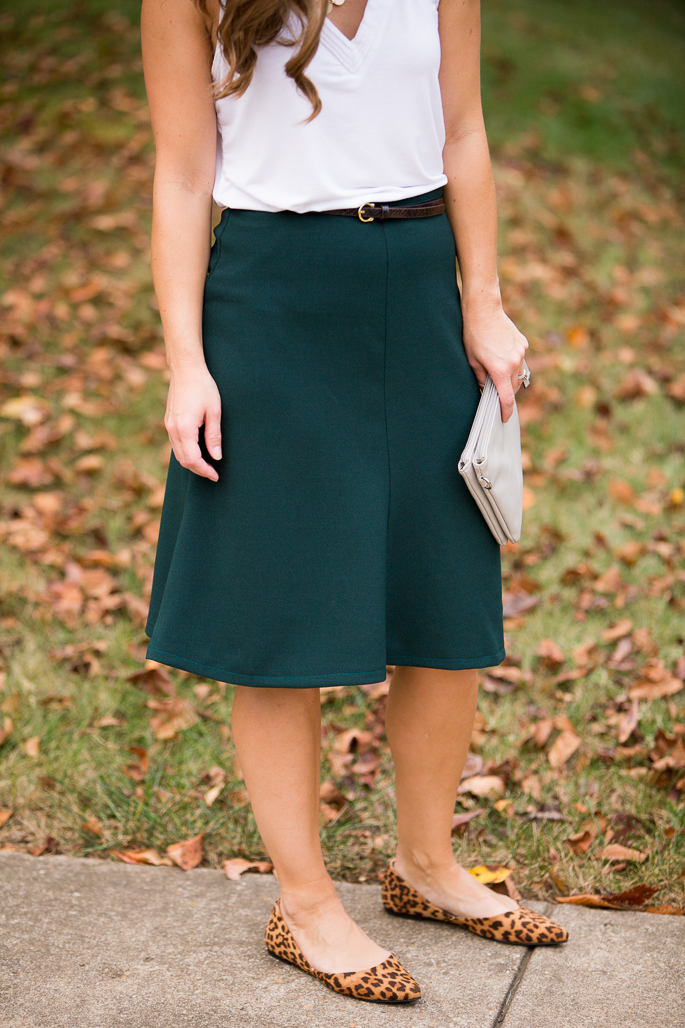 If you follow me at all, you know that I love PDF patterns as the instructions are much more detailed and complete than the standard paper patterns. Kennis's patterns are no different! Step-by-step instructions are included along with drawings of each step. The Seville Skirt came together much quicker than I expected and the only challenge I had was putting in the invisible zipper. I have sewn them before so I'm not sure where I went wrong, but it's not quite as "invisible" as I'd like-ha! Despite that little mishap, I love the way the skirt came out.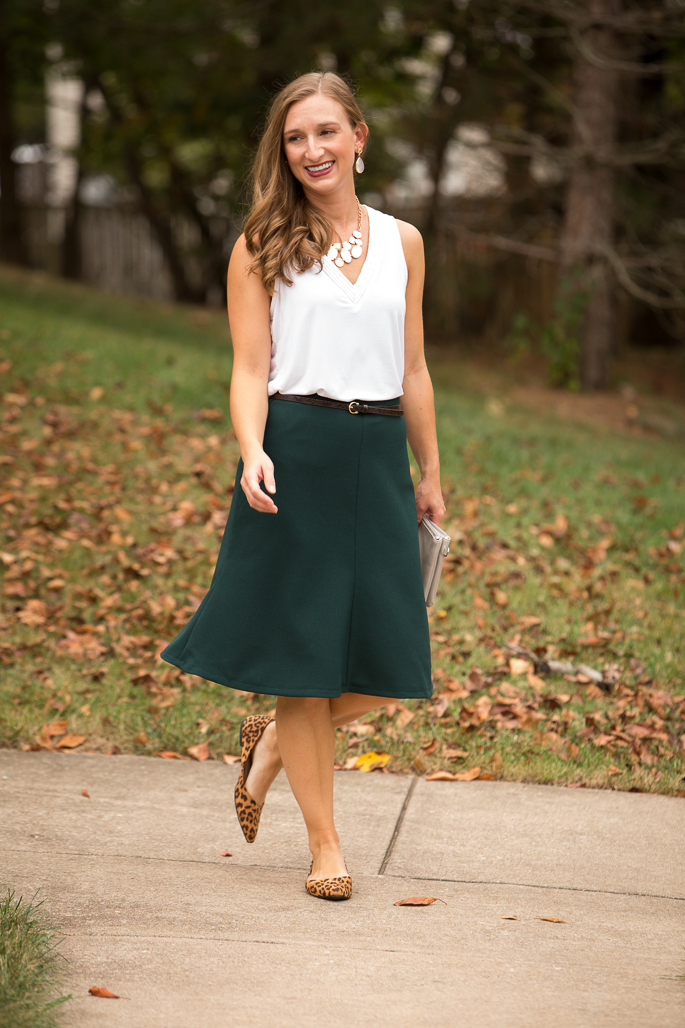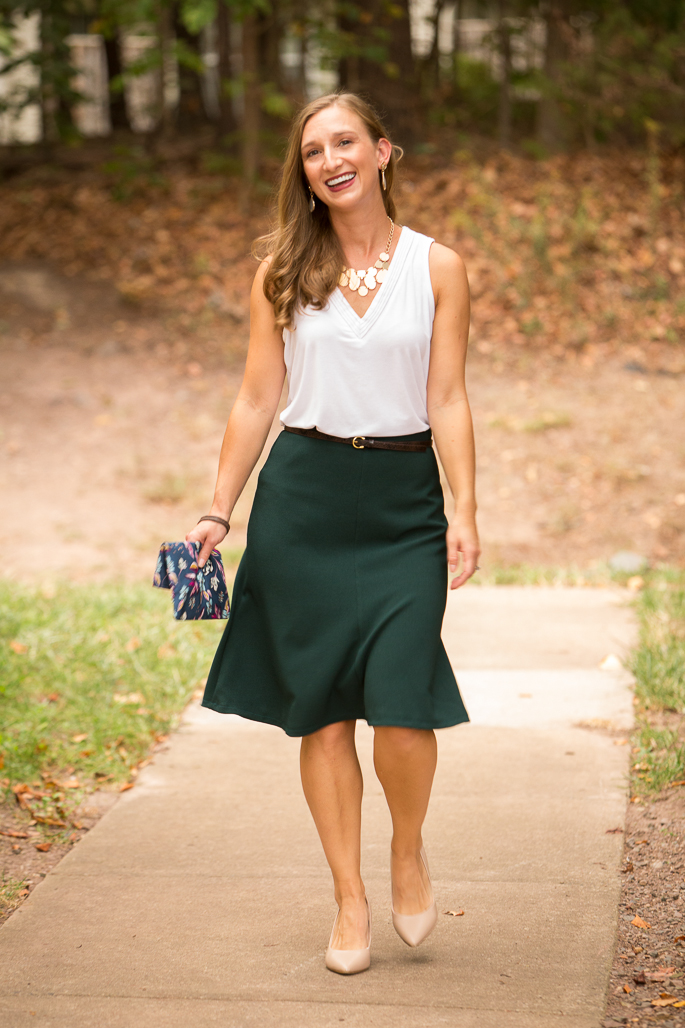 This skirt can be dressed up or down and the green can be paired with many colors. I styled it with a thin brown belt and wore both nude heels and leopard print flats to show the versatility of the skirt. When the weather turns cold, I'll wear it with black tights and booties.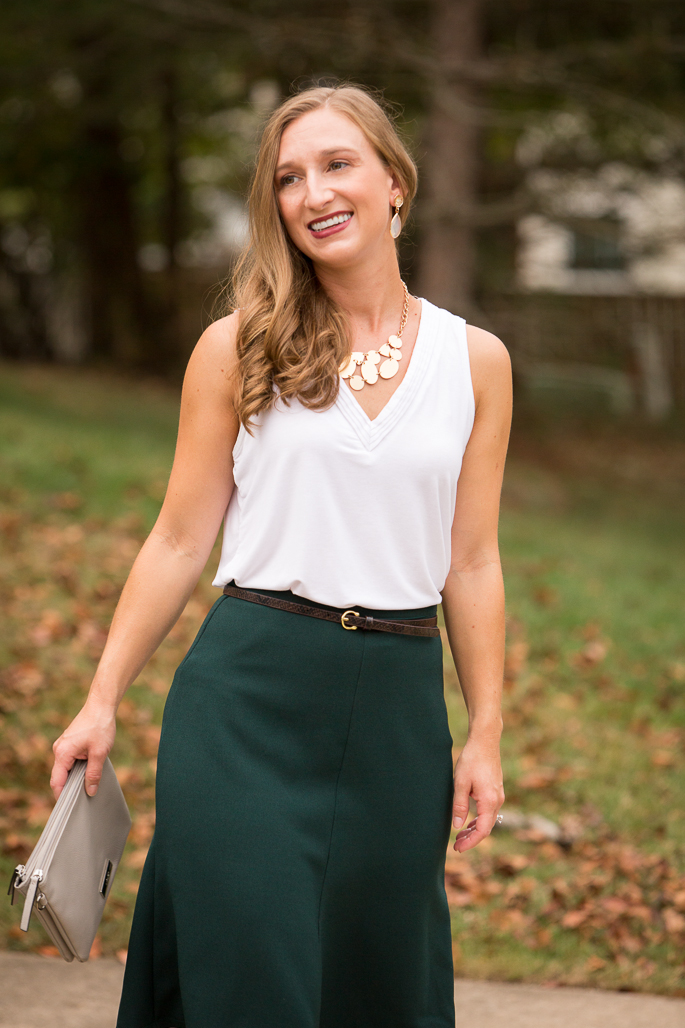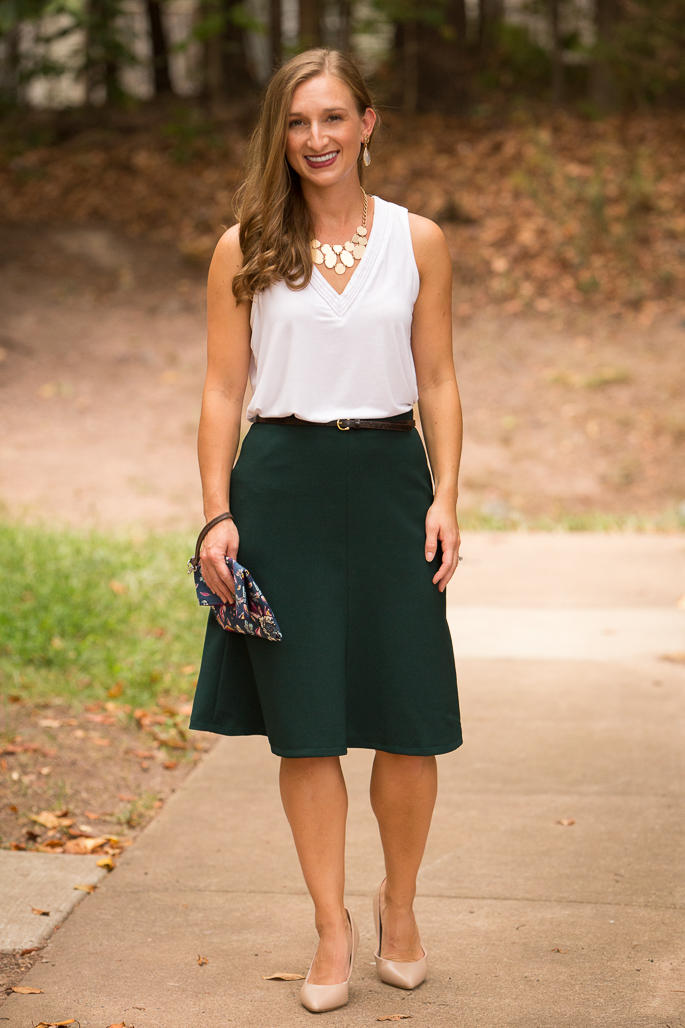 This skirt is a great wardrobe staple–great for office wear or a casual outfit. I know I'll be making more!
---
Interested in following the Make It Wear It blog series? You can follow Itch to Stitch's blog on Bloglovin' or you can also sign up below to get the Itch to Stitch newsletter. Either way, you'll be notified when the first issue of Make It Wear It is up.