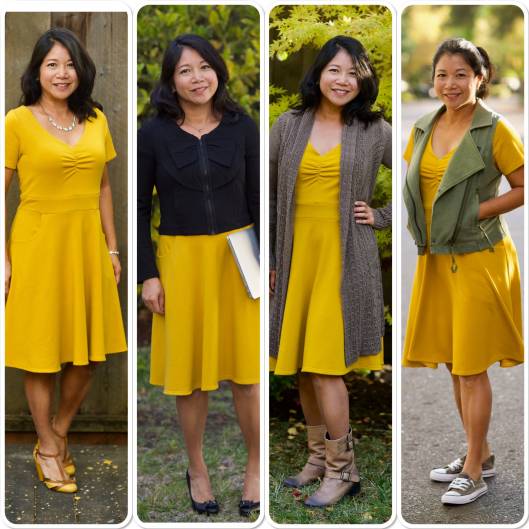 Davina Dress by Bernice—Make It Wear It
I am so inspired by Bernice's post and her photos! In this issue of Make It Wear It, Bernice made a yellow Davina Dress and wear it in so many ways. It's such a happy color and puts a big smile on my face!
Many thanks to imagine gnats as our fabric sponsor. I have to admit that while preparing for this blog post, I was sucked into the sweetest daydream that is imagine gnats' shop. Such a well-curated shop! (The bamboo/cotton stretch sweatshirting in moss is destined to be MINE! 😉 )

Now let's look at Bernice's beautiful outfits!
---
I have made 45 of the 67 Itch to Stitch patterns currently on Kennis's website, and when offered the opportunity to sew another Itch to Stitch pattern, my decision was a no-brainer. This Davina Dress increases my number of sewn Itch to Stitch patterns to 46, and I aim to sew all 67 (and counting) one day.
I love dresses. Dresses are easy to wear because you don't have to find a coordinating top and bottom. A friend once told me that when you wear a dress, you should add at least one other item such as a belt, scarf, vest, cardigan, sweater, jacket or jewelry to complete the outfit. I try to remember this advice but I frequently put on a dress and go because in my eyes it's a complete outfit by itself! I have to confess that my closet holds more than 200 dresses and I have no plans to pare that number down because I truly love each and every one. The majority are store-bought but the ratio of store-bought to sewn is changing towards sewn.
I had been eyeing the coordinating bamboo/cotton stretch sweatshirting and rib-knit fabrics that Rachael of Imagine Gnats carries in several colorways (moroccan, moss, heather almond, gold). Imagine Gnats also carries tri-blend Tencel/organic cotton stretch french terry with a coordinating rib knit in a rose brown color and I considered this substrate also. The fabrics offered by Imagine Gnats are so beautiful — I recommend you follow imagine gnats on Instagram at @imaginegnats to see new fabrics and sewn inspiration. I have ordered several times from imagine gnats and never been disappointed with the quality of fabrics.
Yellow is my favorite color and I chose to make my Davina Dress in the gold colorway bamboo/cotton stretch sweatshirting fabric. I also got some of the coordinating bamboo/cotton 2×2 ribbing with the thought of adding a neckband binding to the dress. However, when I read through the pattern and saw that Kennis designed the bodice to be fully lined, I decided to make the dress as is since the neckline finish is so clean. I did use the 2×2 ribbing for the waistband. Thank you so much to Imagine Gnats for sponsoring this blog post!
The instructions for the Davina Dress have you apply fusible bias tape to the bodice neckline edges and shoulder seams to stabilize them. (Whoops, in the picture above I had not yet stabilized the back neckline edge.) I lived in Tokyo for several years many moons ago. When we moved away I stocked up on fusible stay tape. I bought straight grain, half bias, and bias grain tape in black and white. In the picture above I show my rolls of half bias and bias tape. I haven't found an online source for these fusible stay tapes so if anyone has a recommendation, please let me know.
I used my coverstitch machine to hem the skirt and sleeves of the Davina Dress. This fabric sewed nicely through my sewing machine, my serger and the coverstitch machine. I want to highlight how easy it was to sew with this fabric.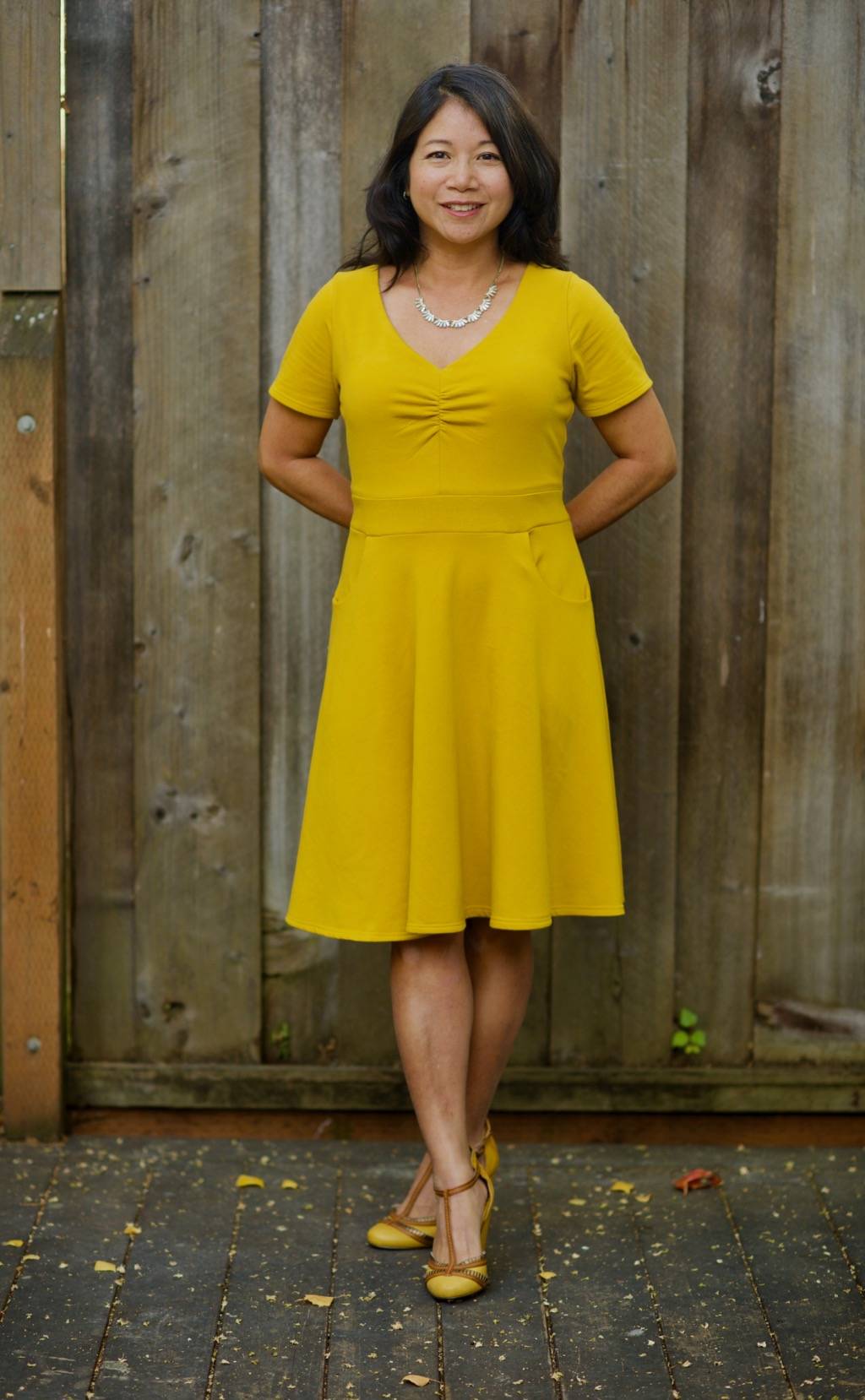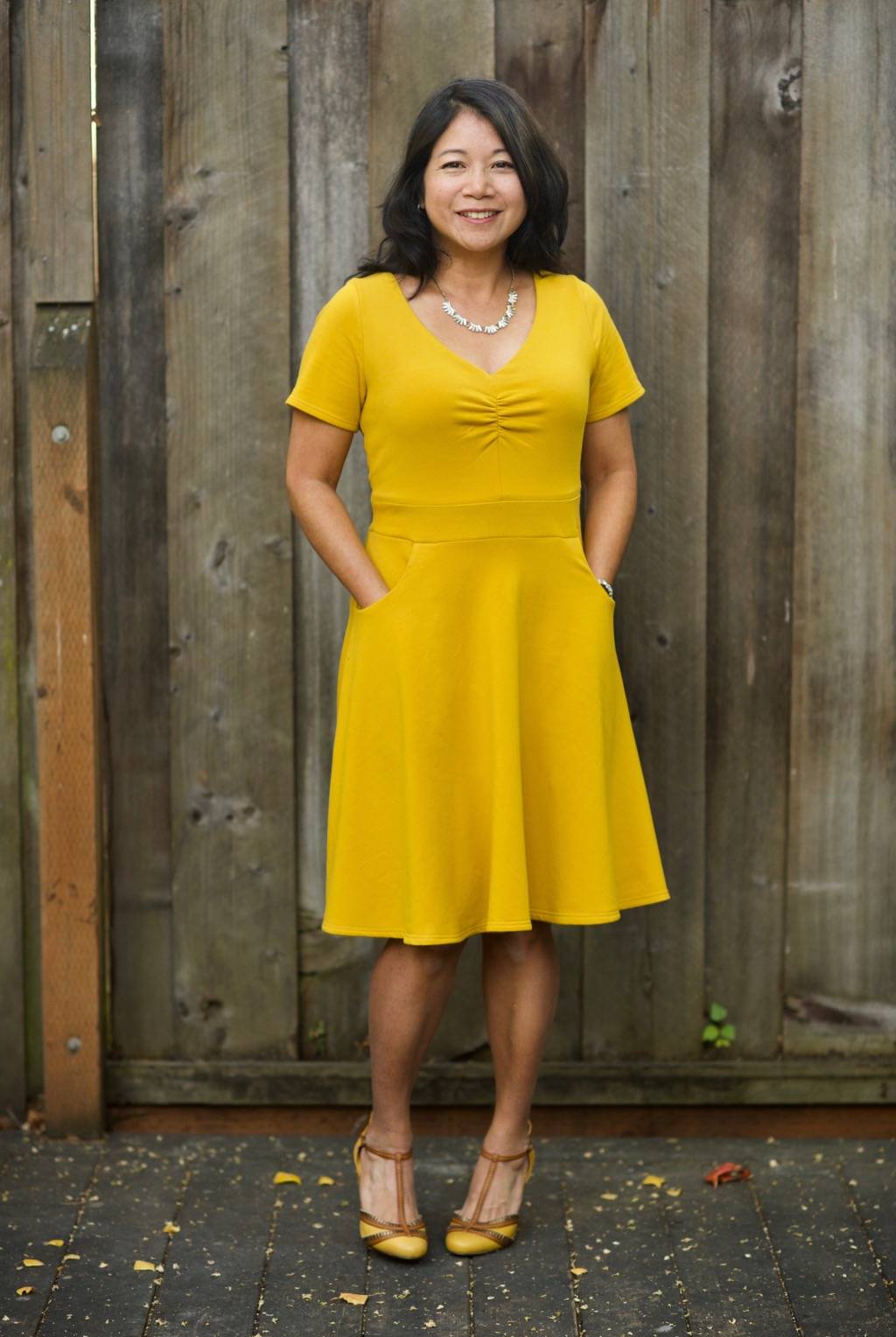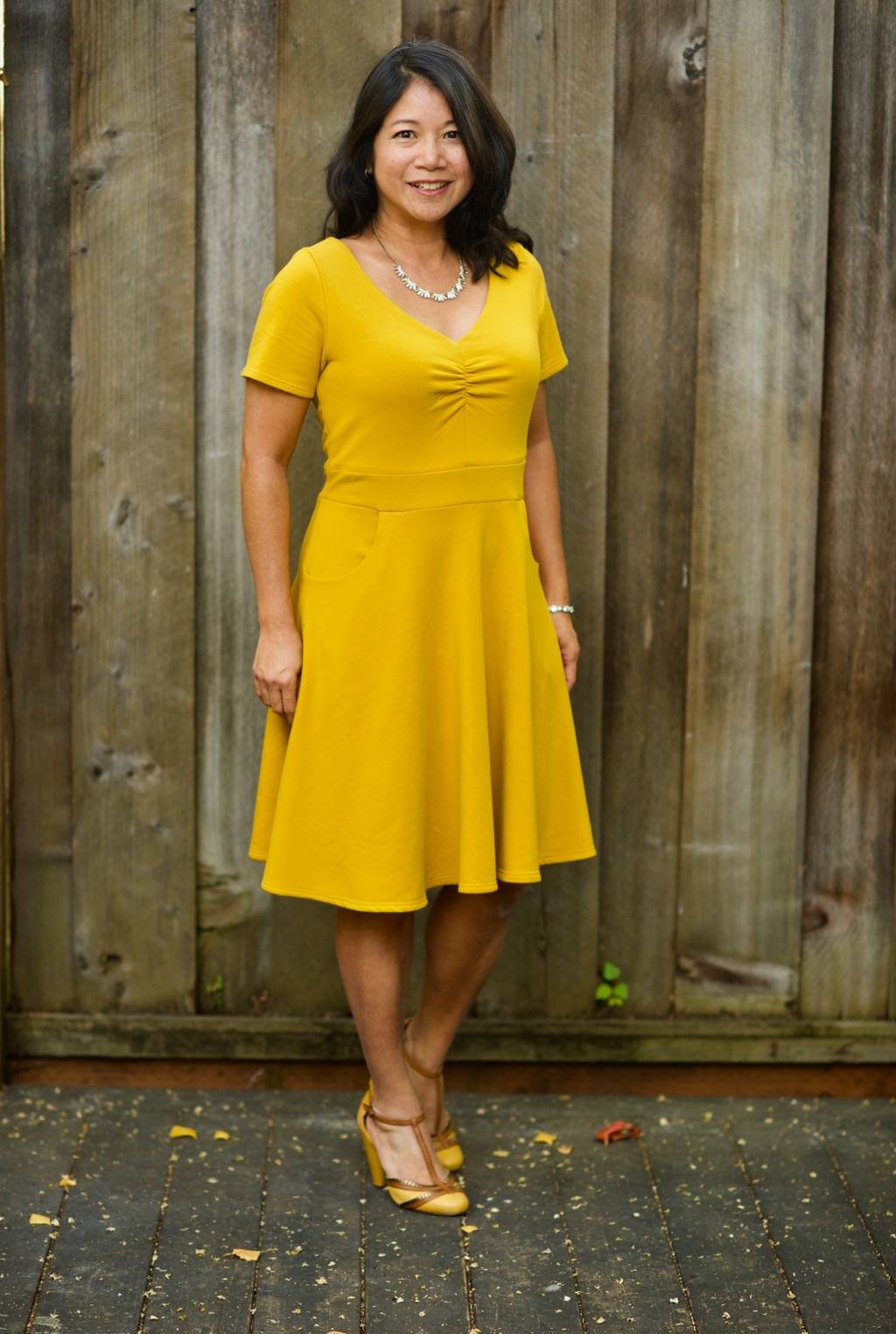 I think the Davina Dress looks amazing on its own with a statement necklace to fill the neckline! I will wear my Davina like this for date nights, to lunch, to plays, to art museums, and to breakfast.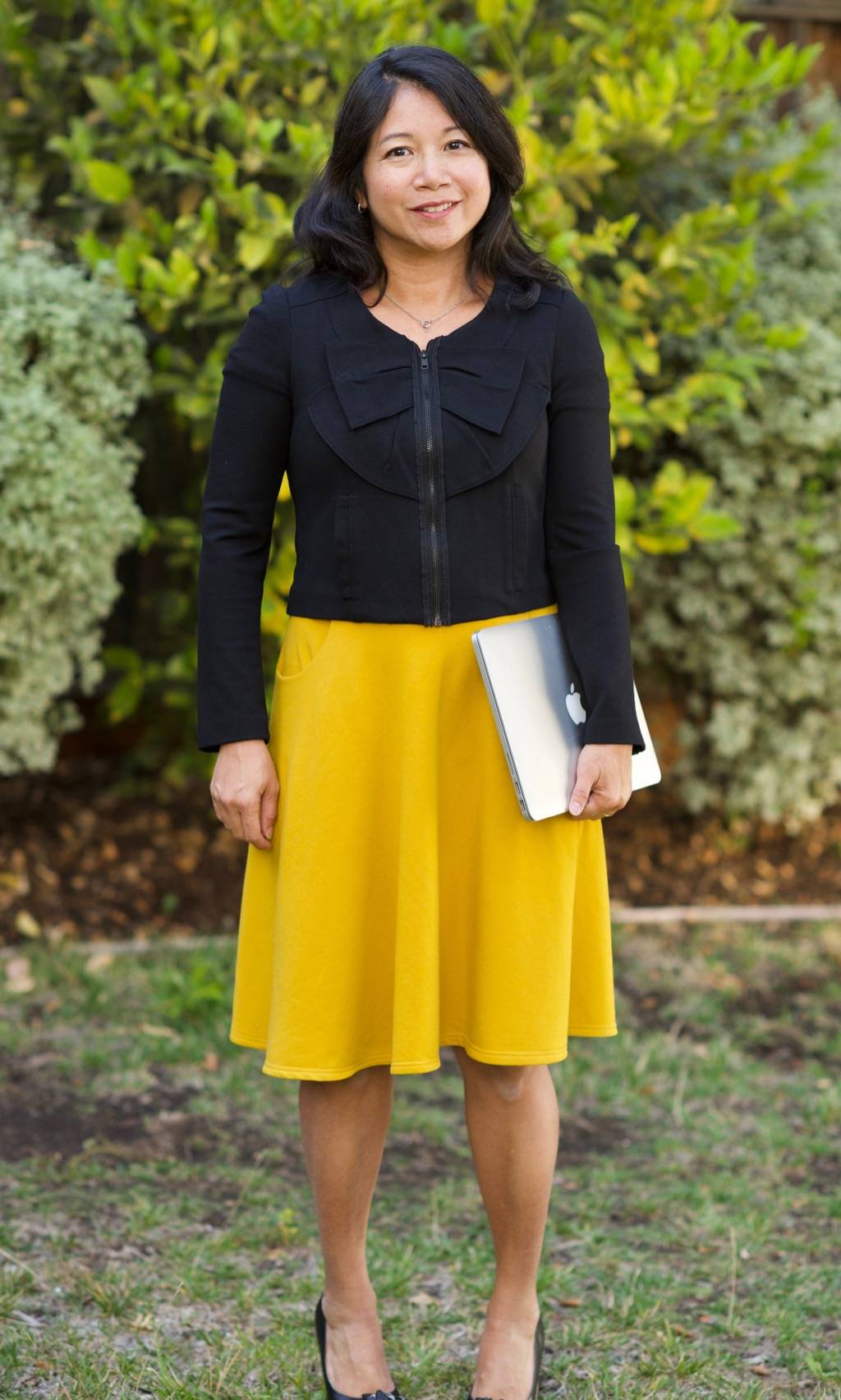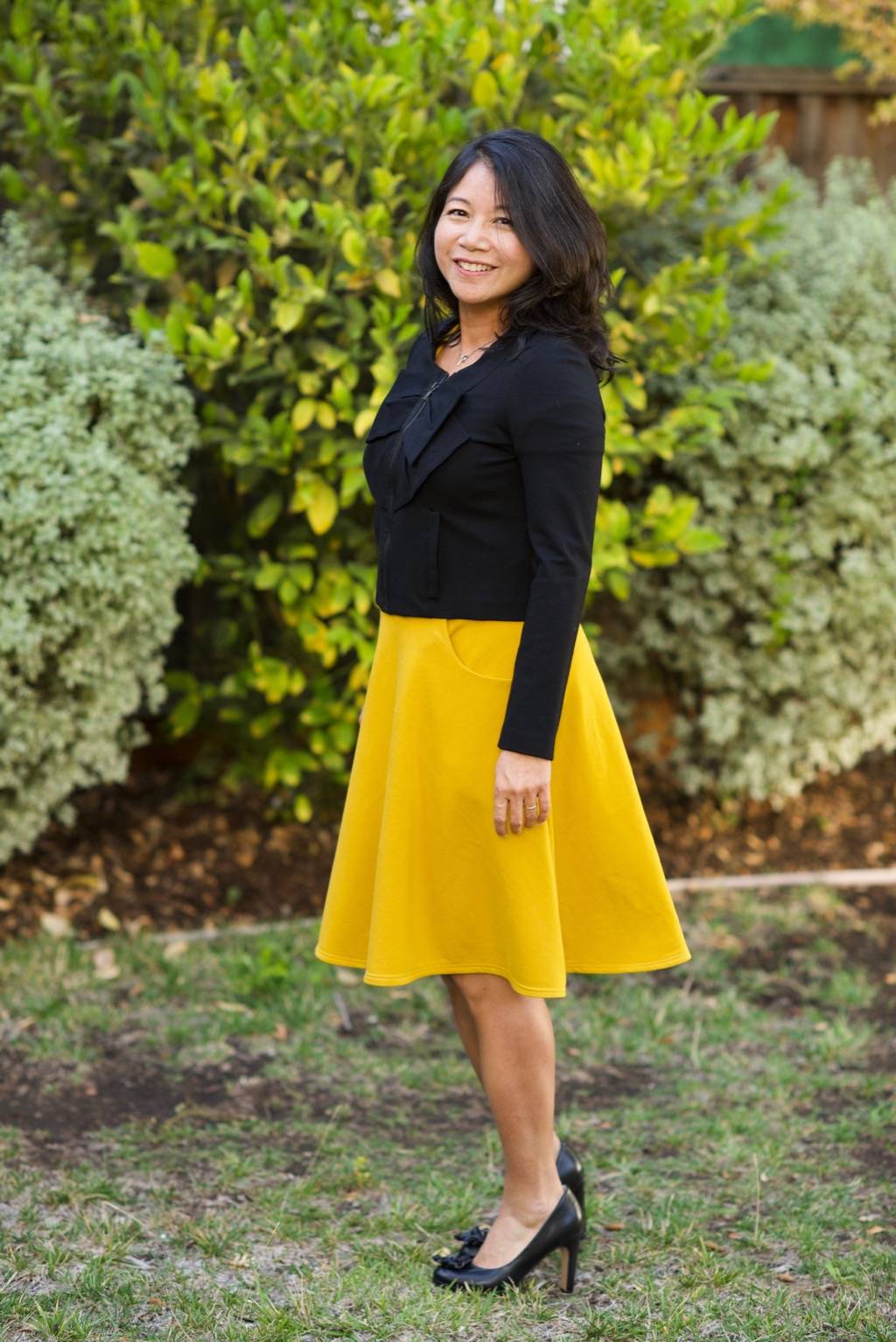 It's been 13 years since I've worked in an office. If I were to work in a dressy office or attend more formal meetings, I think the Davina Dress could be styled appropriately for the occasion with a cropped jacket (like the Salamanca Jacket; mine is purple and the colors didn't go well together) and heels.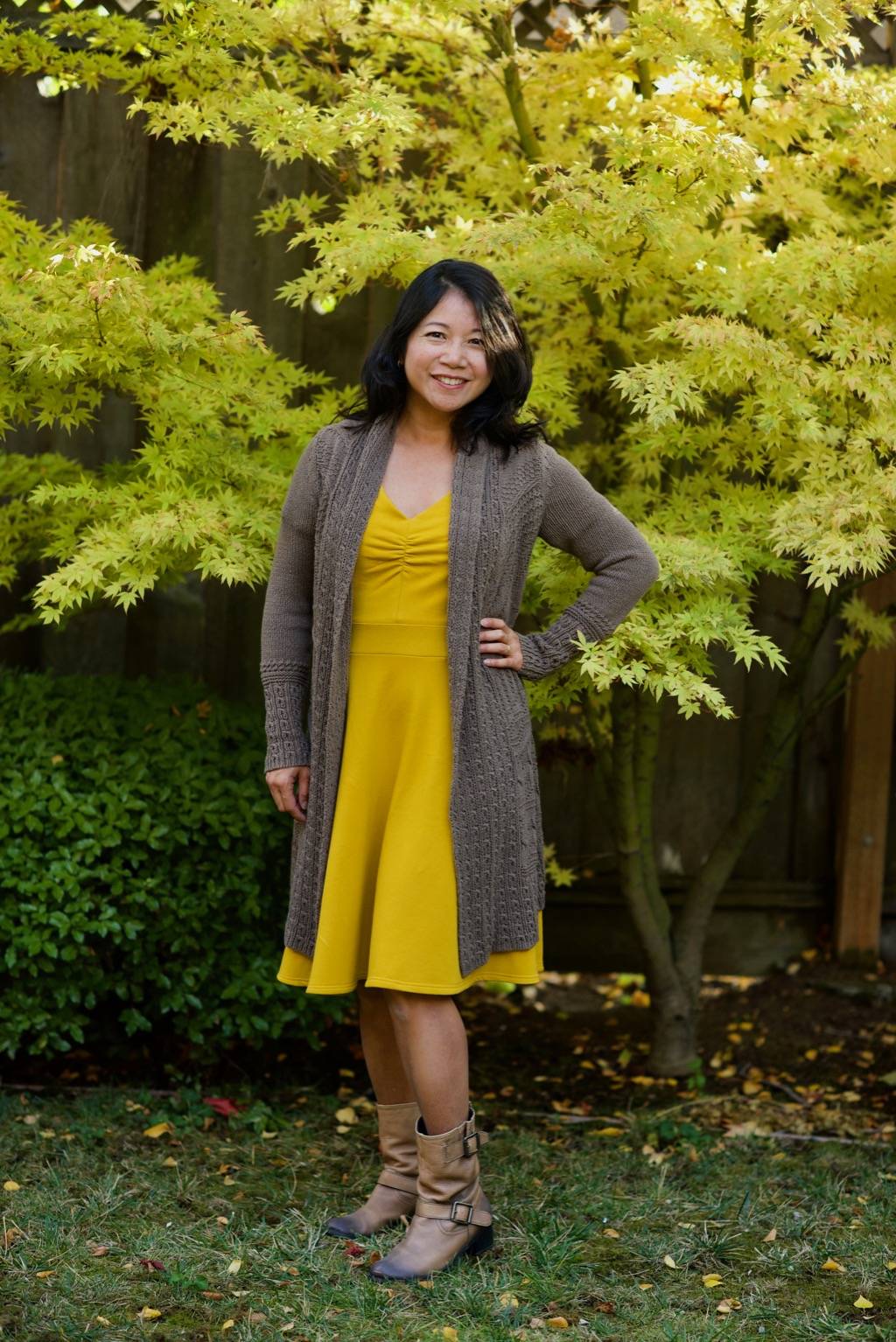 I think the Davina Dress could also work for a casual occasion with a sweater coat and boots. I also see the Davina Dress styled with knee-high boots and a shorter cardigan such as the Lisbon Cardigan.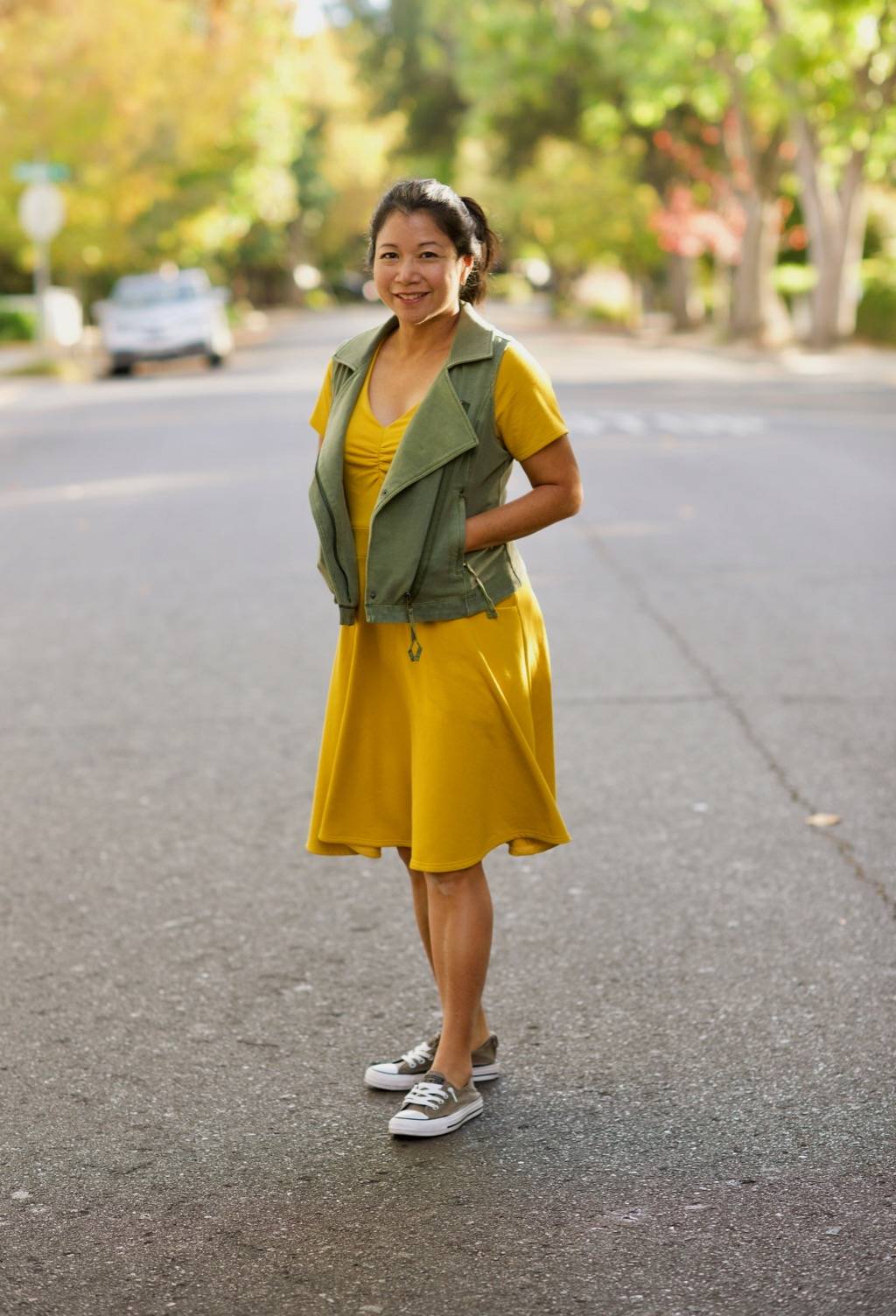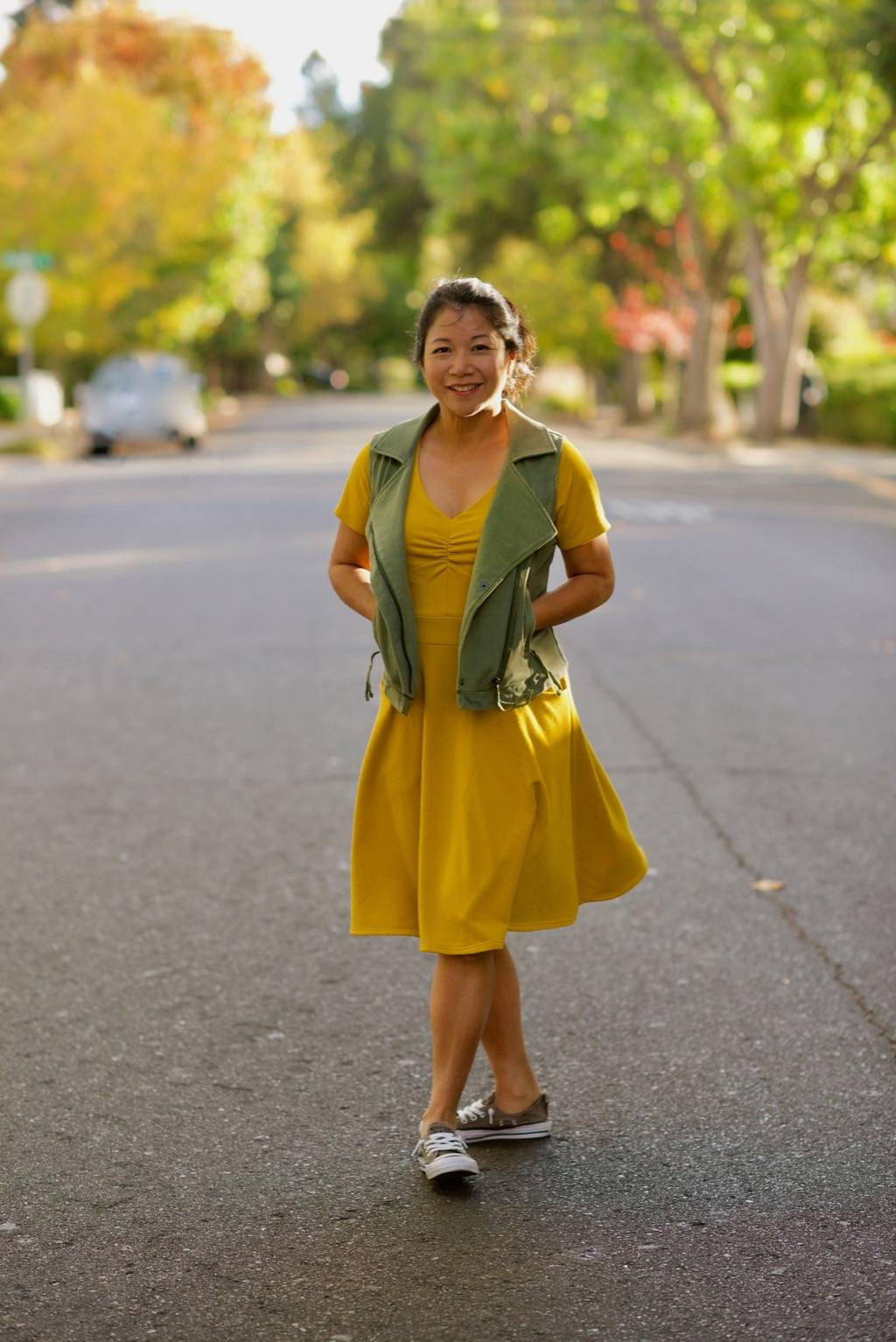 I have two boys that play sports. I spend a lot of time at baseball fields and basketball courts. I would wear my Davina Dress styled with sneakers and a cropped vest. In cooler weather, I would add a cowl or a scarf too.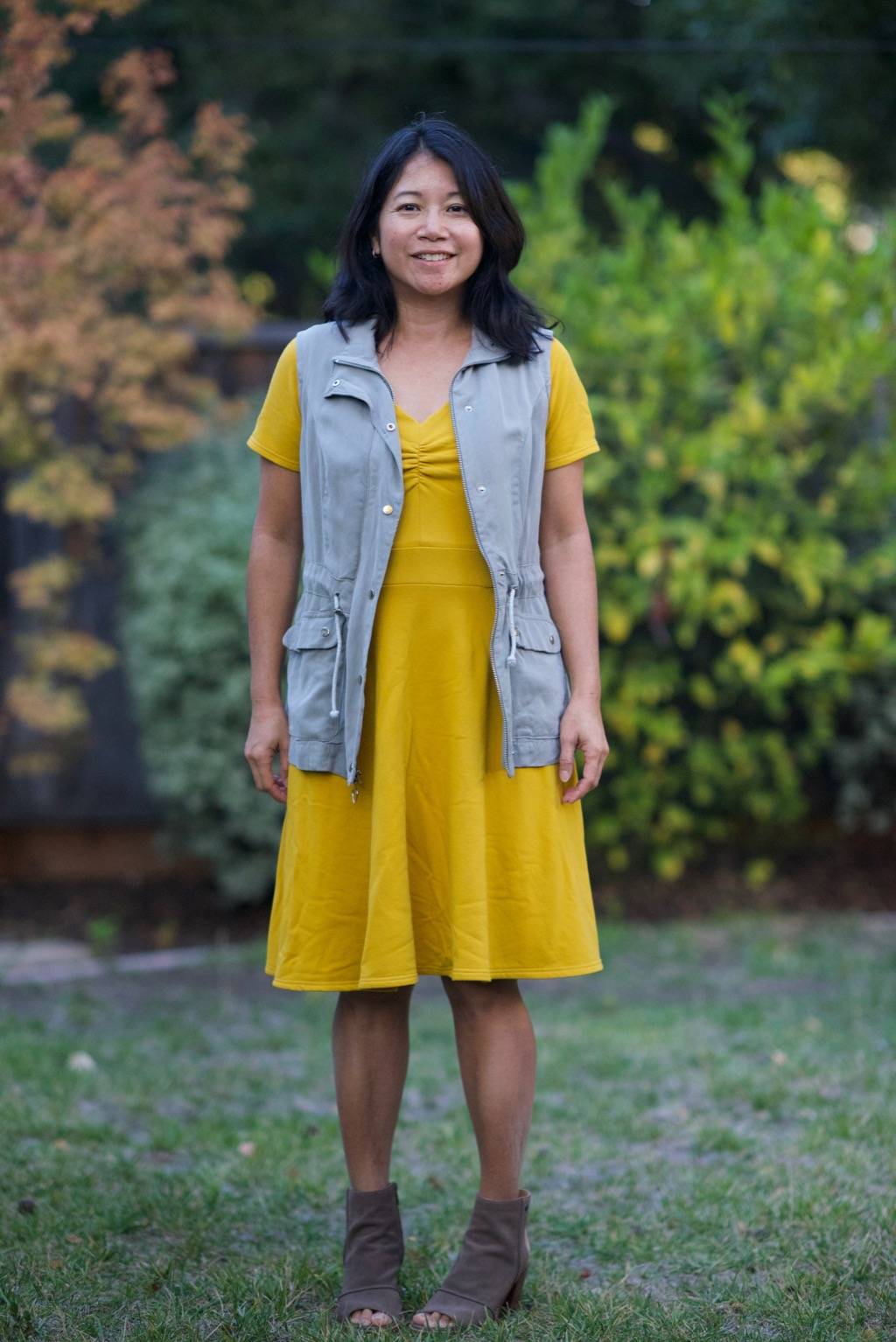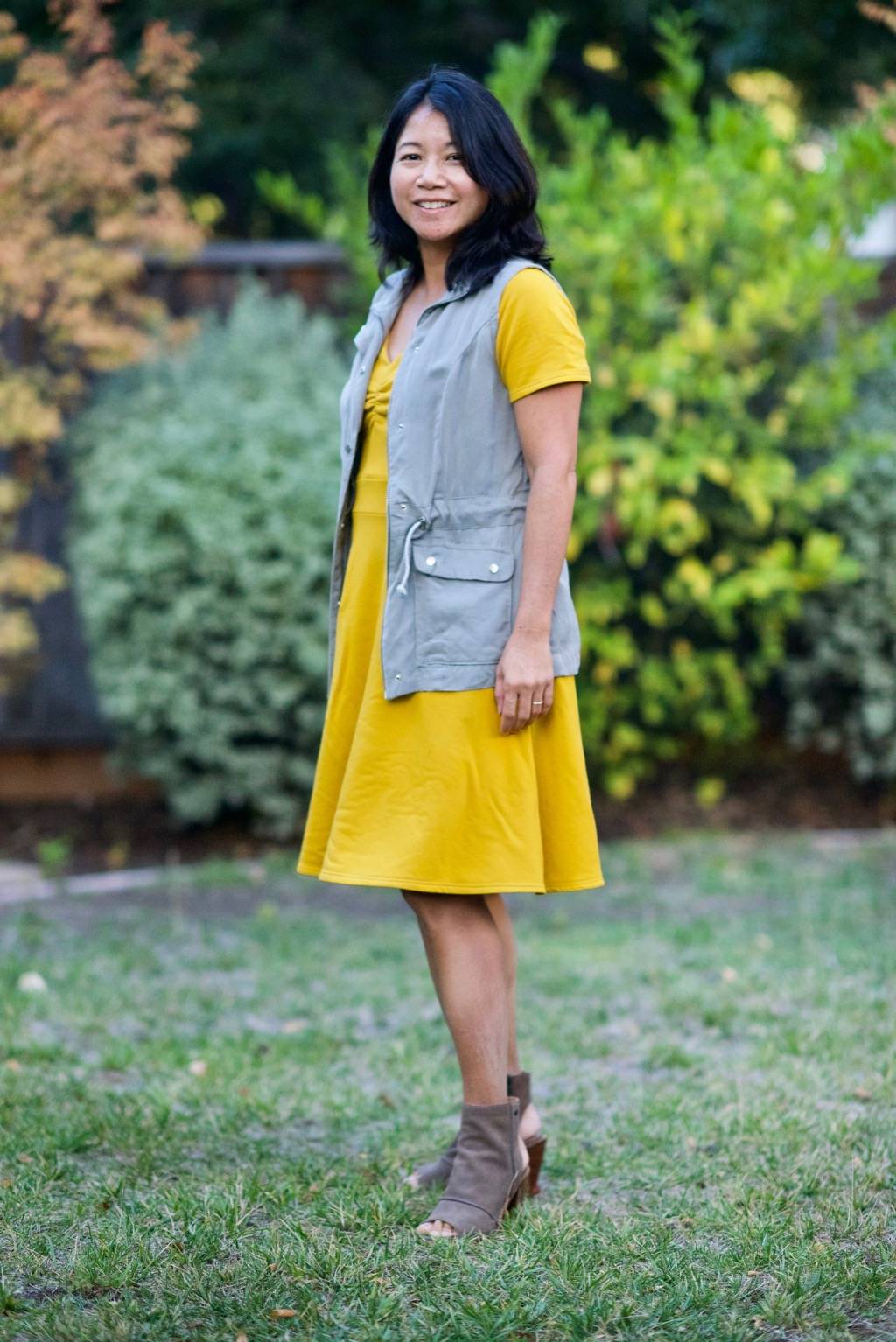 The Envigado Vest worn open with the Davina Dress works well too! I wouldn't wear the Envigado zipped up with the full skirt of the Davina though.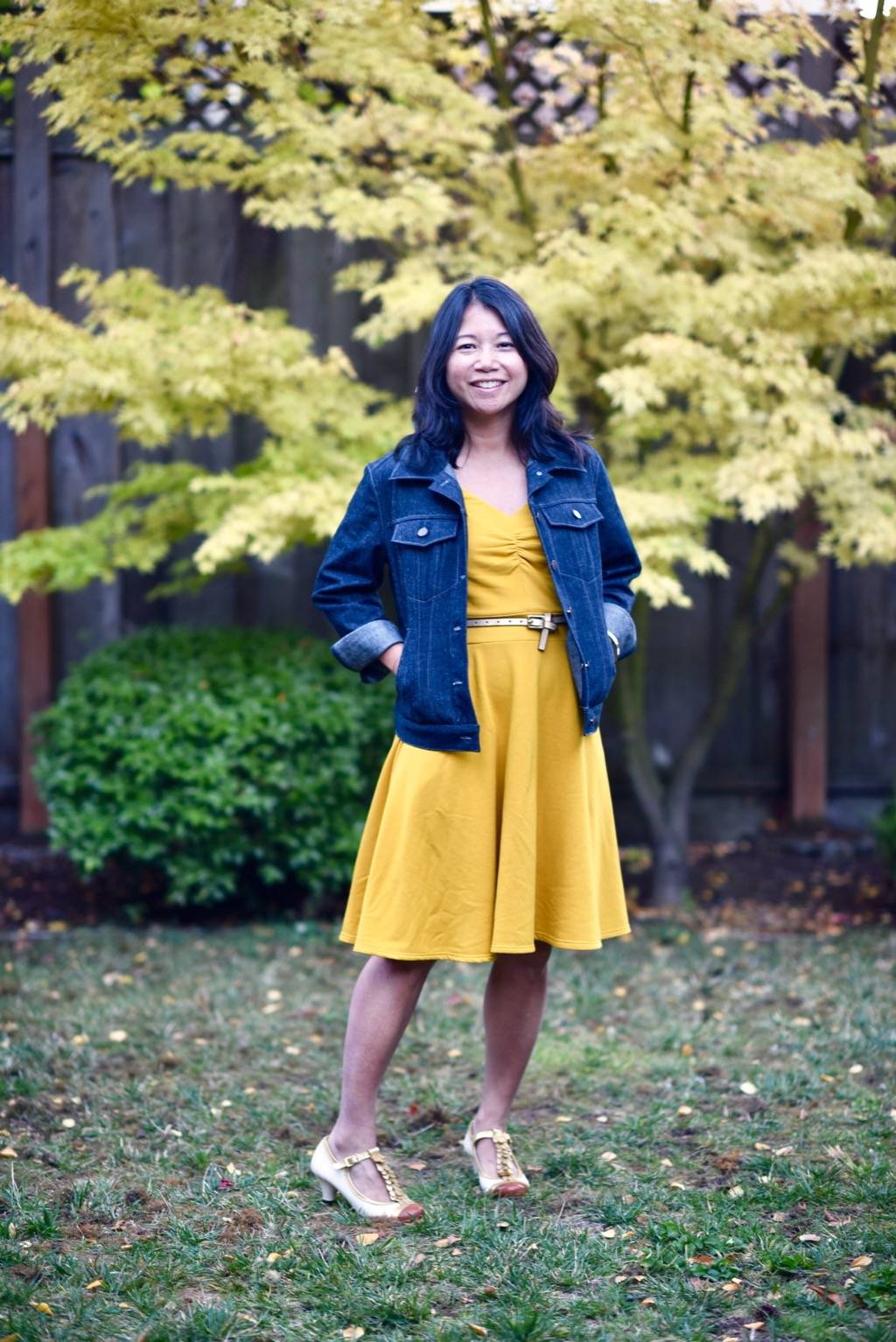 As you can see, the Davina Dress is quite versatile. A classic way I would wear my Davina Dress is with a denim jacket like my Atenas Jacket!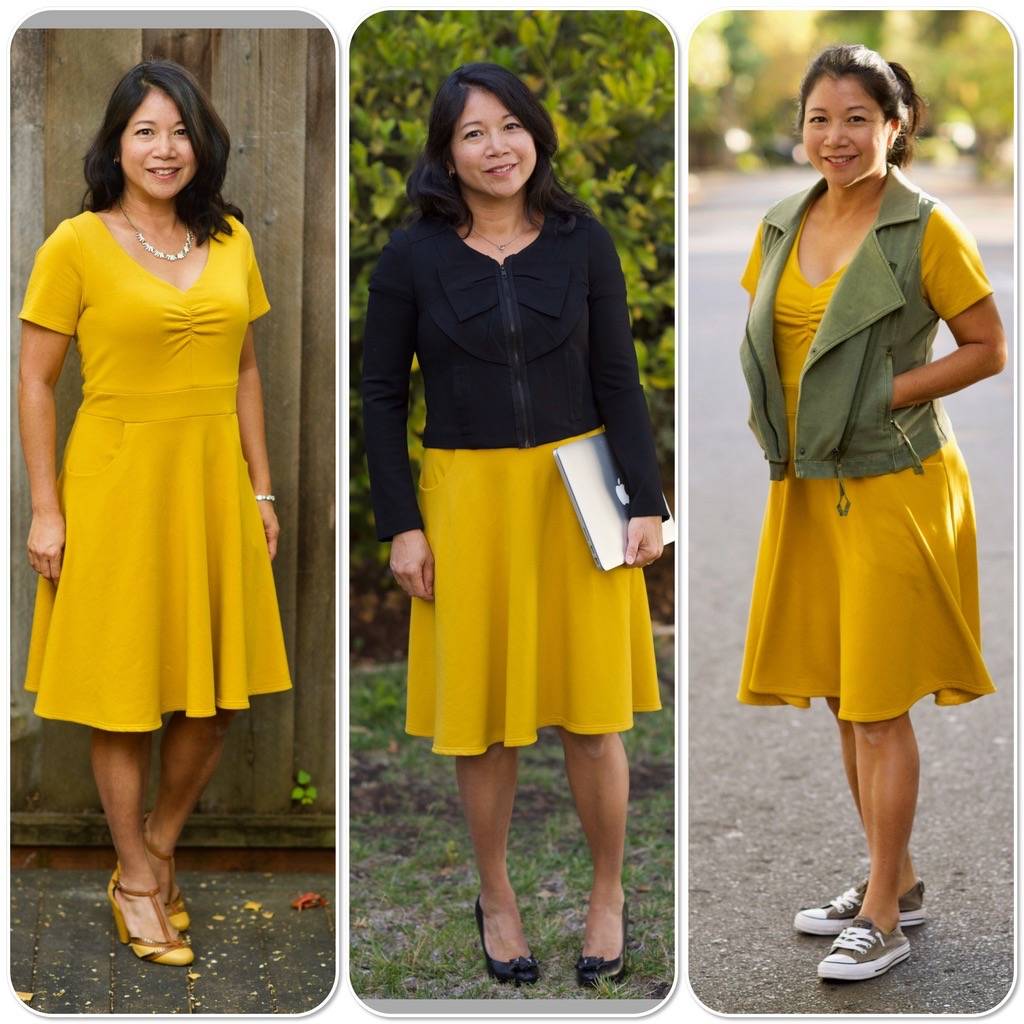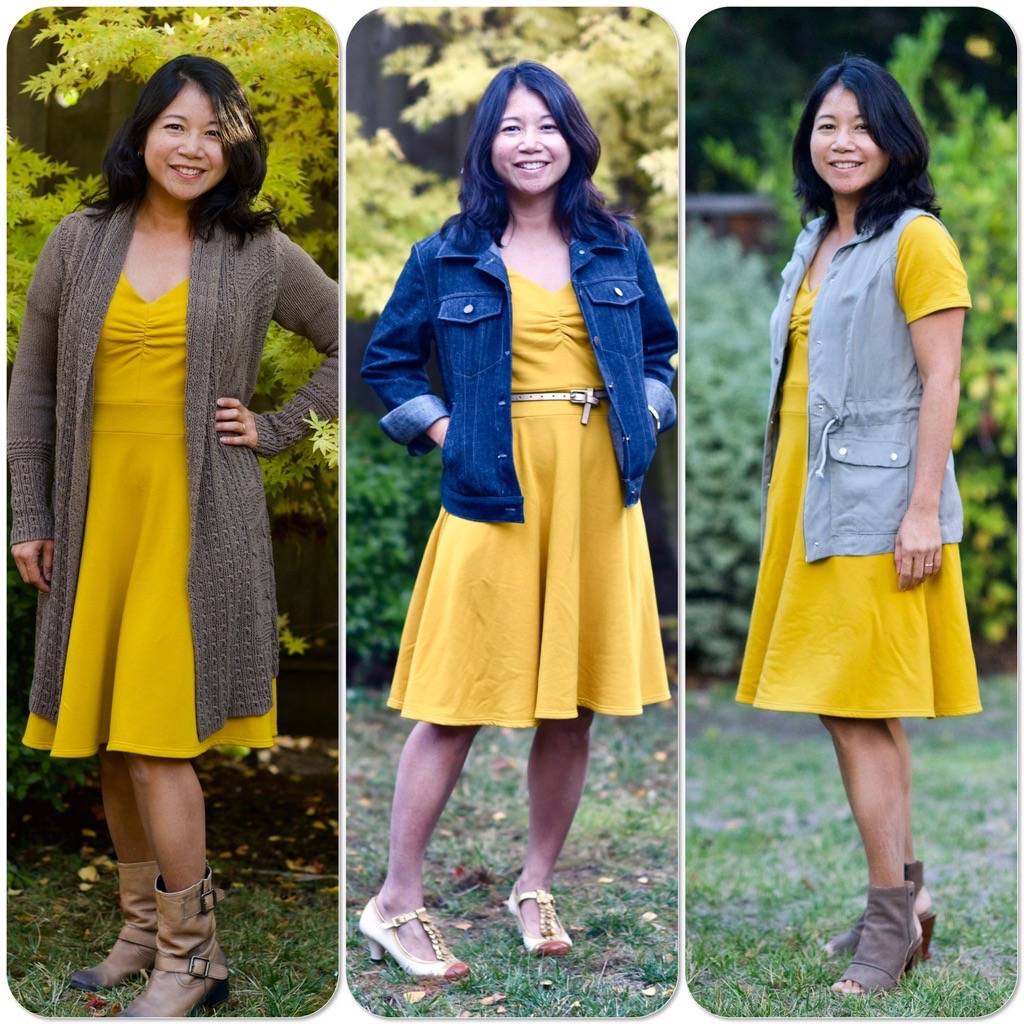 Now that I have my first Davina Dress, I want another one! I want to make one with ¾ length sleeves for the mild winters we have and a sleeveless one for next summer. This is a great pattern that is drafted so nicely with big pockets and a swingy skirt.
I also want every color of this cotton/bamboo sweatshirting fabric! Not only does it sew up easily, but it also wears like a soft, airy cloud. I've heard the saying secret pajamas before and this Davina Dress is like wearing pajamas!
Thank you for reading and letting me share my love of Itch to Stitch patterns and Imagine Gnats fabric!
-Bernice @sewbee73 on Instagram
---
Interested in following the Make It Wear It blog series? You can follow Itch to Stitch's blog on Bloglovin' or you can also sign up below to get the Itch to Stitch newsletter. Either way, you'll be notified when the first issue of Make It Wear It is up.