Seville Skirt Digital Sewing Pattern (PDF)
US$10.00
The Seville Skirt is a classic "fit-and-flare" skirt that showcases your femininity. You can use a woolen fabric to make an office-appropriate skirt, or you can use a bright-colored fabric to make a spring skirt. This understated skirt features an invisible zipper, as well as a lined option and an unlined option.
Seville Skirt Features:
Sits at natural waist and falls slightly below the knees
Fits above and flares below the hips
Side invisible zipper with waistband
Lined and unlined options
Layers feature (print only the sizes you need)
Skill Level: Intermediate
Sizes: 00 – 20 (See "Size Chart" tab below for detailed measurements)
Don't want to print and tape paper together? Seville Skirt pattern now includes an additional large format file that you can send to your print shop to print!
Buy More Save More
Spend US$20 or more, get 15% off your entire cart
Spend US$30 or more, get 20% off your entire cart
Discount applies in cart automatically
Description
Number of pattern pages: 15 (on A4 or Letter Size Paper)
Number of instruction pages: 12
See Pattern Release Announcement for more photos
Size Chart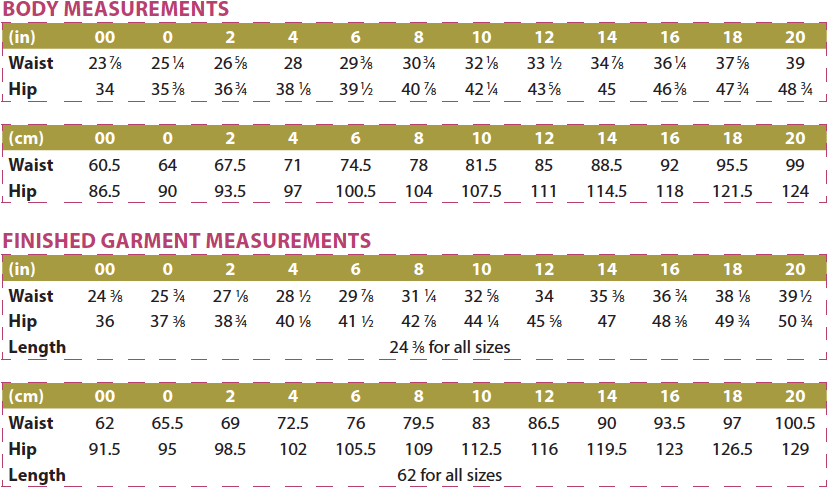 Choosing Your Size
Compare your waist circumference (narrowest part) to the "Body Measurements" table. Choose the size that best fits your waist. If you are between sizes, choose the smaller size if you like your garment more fitted; otherwise, choose the bigger size.
Compare your hip circumference (widest part) to the "Body Measurements" table. Choose the size that best fits your hips. If you are between sizes, choose the bigger size. The hips are designed to be quite fitted; if you prefer a more relaxed fit, choose a bigger size. Also, if you have protruding stomach, be sure to read itch-to-stitch.com/hips
It's OK to use different sizes for the waist and hip. All you have to do is print the sizes that you need (see "Printing Instructions" and "Blend Sizes" in the instructions), and blend the lines from one size to the next from the waist to the hip.
If you are taller than 5'7" (170 cm) or shorter than 5'4" (163 cm), you should consider lengthening or shortening the skirt (see "Lengthen/Shorten" on page 6), unless you have long/short legs.
I highly recommend that you check your fit by making a test garment with inexpensive fabrics that have similar weight and stretch as your final garment fabrics.
Material
Primary Fabric Use a woven fabric with some drape, such as rayon challis, charmeuse or georgette, for a fluid look. Use more stable fabric, such as cotton, woolen, broadcloth or linen for a more structured look.
Lining (Optional) Washable choices are cotton batiste and cotton lawn. For dry-clean garments, use Ambiance lining, polyester lining, China silk or charmeuse.
Interfacing Use light- to medium- weight fusible woven or weft insertion interfacing.
Other Material
One (1) 12" (30 cm) invisible zipper
One set of size 1 hook and eye
Fabric Requirements
Most natural fibers shrink in the wash; be sure to have enough fabric. The requirements below assume that the fabric is already pre-shrunk.
Imperial/Yards

Metric/cm

Only logged in customers who have purchased this product may leave a review.