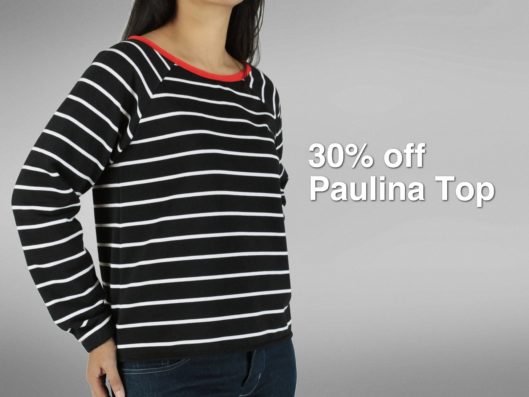 Paulina Top: Another Look (+ 30% Off This Week Only)
Do you have the Itch to Stitch Paulina Top pattern? The woven/knit layers along with the side cutouts are the signature look of the top. But I feel like making a quick and simple raglan top using a sweatshirt fleece in my stash. So I decide to use the Paulina Top pattern to create a different look.
The "hack" is quite easy. If you have the Paulina Top pattern, you'd know that the original inner and outer layers are cut from the same pattern pieces. So instead of cutting two layers, I am only cutting one layer. And I am also ignoring the cutouts by not cutting them.
I will be using the hem line of the outer layer, so I discard the lower portion with the shirttail hem.
Also, the outer layer Paulina Top is cropped, and for the raglan top, I'd like to make the bodice slightly longer. I use the lengthen/shorten line to extend the top by 2″ (5 cm). By the way, all Itch to Stitch patterns include lengthen and shorten lines as well as instructions to do so; the Paulina Top is no exception. I only have to follow the instructions to lengthen the top.
You might also notice that I have a orange-red neck band on my raglan top. The instructions of having the neck band on the outside is already included in the pattern – basically you would be installing the neck band "inside out" so the end result is visible on the outside.
Ta da! I love my Paulina top in this cozy sweatshirt fleece and the pop of color. I am going have so much use out of it.
You don't have the Paulina Top pattern yet? This week only (valid through Sunday, January 17th), the Paulina Top is 30% off! So go get yours now.