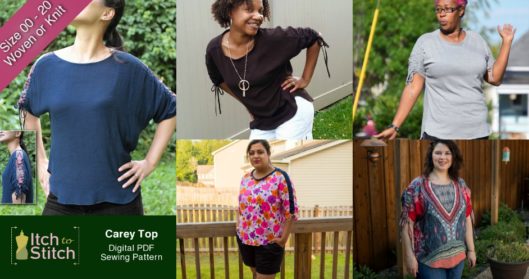 Carey Top Pattern Released!
Do you have a good summer-cross-fall pattern? Look no further than the Carey Top! I was envisioning that this top to be worn with shorts in the summer, specifically Angelia Shorts that I released a month ago. But I also think that Carey Top would look amazing with jeans, tights and skinny pants.
Carey Top uses very light-weight, flowy and soft woven fabric as well as knit fabric! Yes, you can use either woven or knit for this pattern. A light-weight jersey will work; my favorite fabric to use is rayon challis, but voile, georgette and charmeuse will work perfectly as well. If you go to a big-box fabric store, anything you see in the "Silky" section would work very well (most of them will not be actually silk, but they have the same smooth and soft texture). It's a loose-fitting top, yet it doesn't feel frumpy because of the fabric characteristics. You can feel free to eat a big meal in this top!
My favorite part of the top is the contrasting shoulder panels. You can be very creative there. A semi-transparent fabric adds great interest to the top. Or a contrasting color of the same fabric would also be lovely. If you like it to be understated, you certainly can use the same fabric as the main fabric.
There is a pattern piece and instructions to create the shoulder drawstrings, but you can also use purchased ones too – twill tape, cording or ribbon will do well as drawstrings.
As with any Itch to Stitch patterns, lengthen/shorten lines, along with the instructions on how to use them, are included in the pattern. That means you can lengthen the top to a tunic or a dress length. Style them with a belt and you are good to go!
The Carey Top pattern wouldn't be possible without my wonderful testers. My sincere thanks to:
Without further ado, here are their beautiful creations.
The Carey Top pattern is currently 20% off. Get your copy now!