Angelia Shorts Digital Sewing Pattern (PDF)
US$12.00
Angelia Shorts are essential for your summer wardrobe. Sitting slightly below the waist, Angelia Shorts have a contoured waistband with a button closure and a fly front zipper. They also feature a flat front and a relaxed fit at the thighs. Three views are included in the pattern.
View A
View A is a streamlined version of the shorts with 4" (10 cm) inseam. This view is perfect for someone who is newer to shorts sewing, and wants to focus on learning how to do a fly front zipper, and/or contour waistband. You should use View A when you sew your test garment to check the fit.
View B
View B looks so polished that no one would guess that you sew these yourself! It has all the bells and whistles:
Front patch pockets
Angled pocket tab closures
Cuffs
Bottom side tabs
Front coin pocket and back patch pockets with button closures
Belt loops
4 1/2" (11.5 cm) inseam
View C
View C is the longer view of the shorts. It has:
A length that falls right below the knees
Waist drawstring
Leg drawstrings
Front patch pockets with button closures
Back patch pockets with button closures
You could also swap some features to create a view of your own! For example, you can easily add back pocket to your View A or remove angled pocket tab closures from your View B.
Print only the size(s) you need with "layers" feature (no more mingled lines!)
Sizes: 00 – 20 (See "Size Chart" tab below for detailed measurements)
Skill Level: Intermediate+
Don't want to print and tape paper together? Angelia Shorts pattern now includes an additional large format file (size A0 paper) that you can send to your print shop to print!
Photo courtesy of Bella Sunshine Designs, Donna L., Gabriela L., Markita H., Melissa O., My Little Sewing Dreams and Shannon Mac Designs.

Size Chart
Choosing Your Size
Compare your waist circumference (narrowest part of the waist) to the "Body Measurements" table. Choose the size that fits your waist the best. If you are in between sizes, pick the larger size.
Compare your fullest hip measurements to the "Body Measurements" table. Choose the size that fits your hip best. If you are between sizes, pick the larger size.
It's OK to use different sizes for the waist and hip. All you have to do is print the sizes that you need (see "Printing Instructions" and "Blend Sizes" in the instructions), and blend the lines from one size to the
next from the waist to the hip.
The crotch length measurement is the distance between your center front at the waist and your center back at the waist between the legs. The measurement will be useful for deciding whether you need to lengthen the shorts (see "Lengthen/Shorten" in the instructions). Therefore, note the measurement for the size you have chosen, but do not use it to choose your size.
I highly recommend that you check your fit by making a test garment with inexpensive fabrics that have similar thickness and stretchiness (if your fabric has Lycra) as your final garment fabrics. You can make View A without the topstitching to test the fit.
Material
Primary fabric Bottom-weight or medium-weight woven fabric with or without stretch, such as twill, poplin, cotton blends, linen and denim. Knit fabric is not suitable.
Interfacing Use light- to medium- weight fusible woven or weft insertion interfacing.
Other Materials
View A
One (1) 7" (18 cm) or longer zipper
One (1) 3/4" (1.9 cm) button
View B
One (1) 7" (18 cm) or longer zipper
Eight (8) 3/4" (1.9 cm) buttons
View C
One (1) 7" (18 cm) or longer zipper
Five (5) 3/4" (1.9 cm) buttons
Five (5) yard (460 cm) cording or ribbon
Fabric Requirements
Most natural fibers shrink in the wash; be sure to have enough fabric. The requirements below assume that the fabric is already pre-shrunk.
Imperial/Yards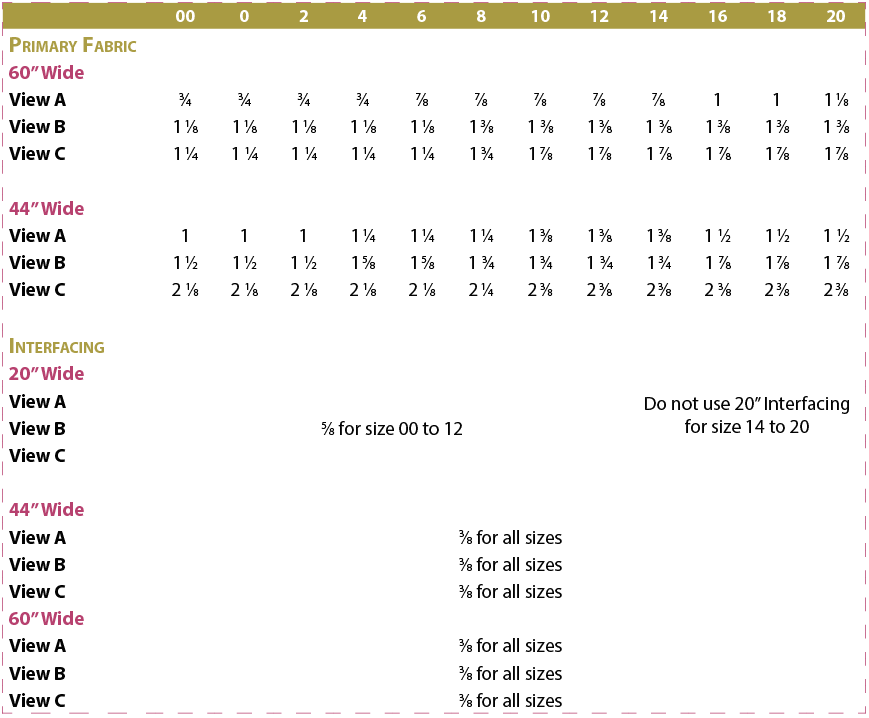 Metric/cm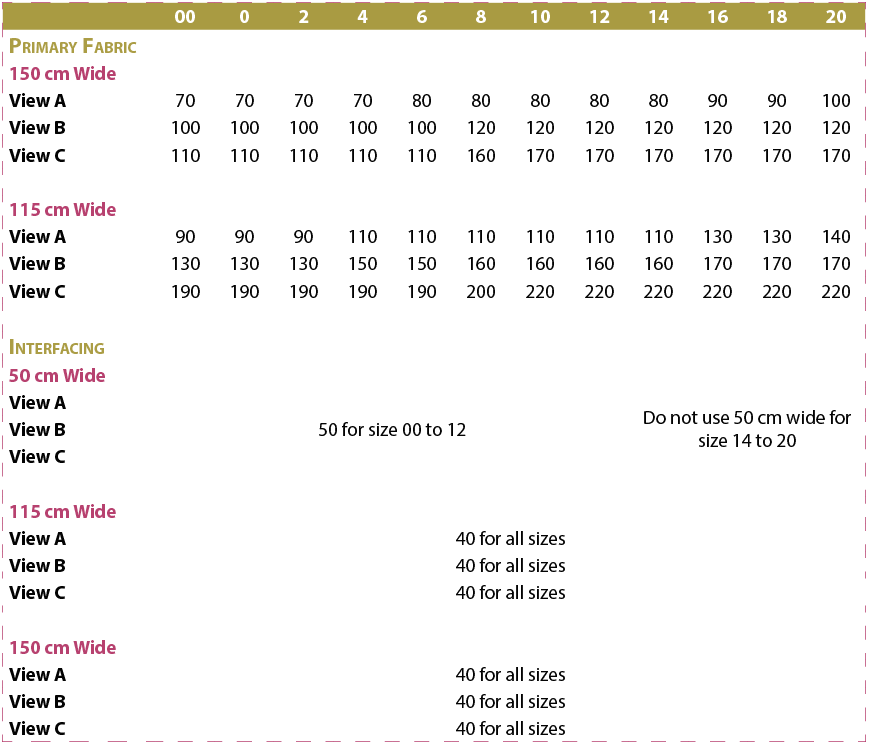 Only logged in customers who have purchased this product may leave a review.