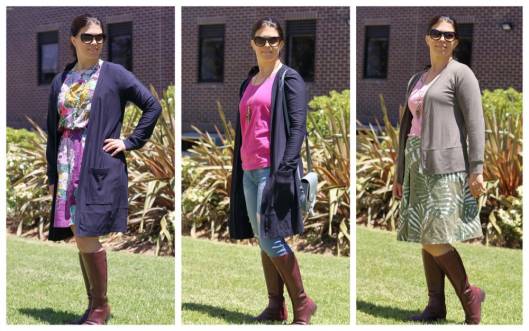 Aveiro Cardigan by Kate—Make It Wear It
The Aveiro Cardigan comes in different lengths and sleeve options, but if I have to pick a favorite option, it's the long sleeve, duster (long) length combo. I didn't own a cardigan that long before, and after I made one and wore one, I was completely sold.
In this issue of Make It Wear It, Kate is loving her Aveiro Cardigan too. I love that she is extending her summer wardrobe into the cooler weather.
The beautiful, luxurious fabric that Kate used is sponsored by The Fabric Store. All their fabric is seriously drool-worthy. Even though The Fabric Shop is operating out of New Zealand, if you purchase a certain amount, the shipping is free. My friend in the US ordered from them, and she said that the shipping is astonishingly fast. If you want to get yourself a special gift, The Fabric Store is where you should be looking! The Fabric Store is big on sustainability, so you will feel good knowing that you are supporting a good company. And you also get 10% off on your first purchase if you sign up for their newsletter!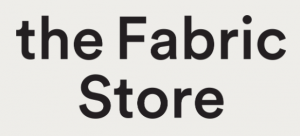 Let's take a look at Kate's Aveiro Cardigan!
---
I love my handmade wardrobe. I gravitate towards the clothes that I have made to fit my body. Itch to Stitch patterns feature strongly in those favourite pieces. But what happens when the weather starts to turn cold, and all the pretty summer clothes are put in the back of the drawer??? That's when I pull out my cardigans and start layering.
I love cardigans because you can still see your favourite clothes underneath. And with the Aveiro Cardigan, there are so many options in one pattern. There are 4 different cardigan lengths for the Aveiro. This means that you can make a cardigan to suit different pieces.
When I first saw the Aveiro pattern, I knew I wanted to replicate a duster (long cardigan) that was sadly eaten by moths. So when I saw the Premium Merino at The Fabric Store I was in love. The merino fabric is organically produced, and as a fibre has amazing thermal properties, but is easy care. Washing instructions are provided on the website (which I followed carefully). Even better, as an Aussie, the fabric arrived quickly from New Zealand. And when I opened the package, the fabric was beautifully presented, with a handy card to attach a swatch, and include planned project notes.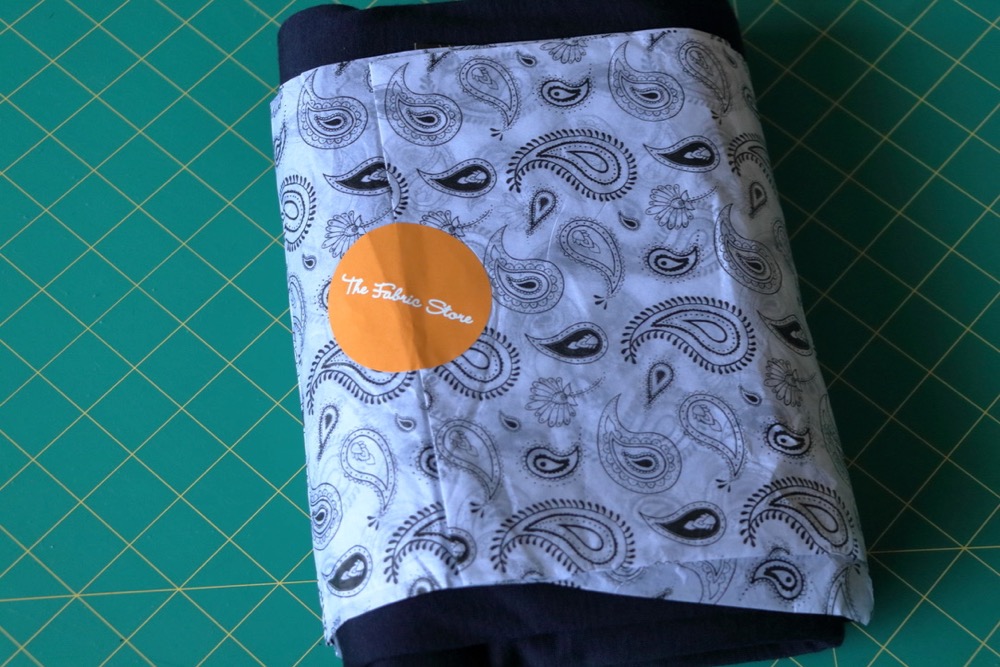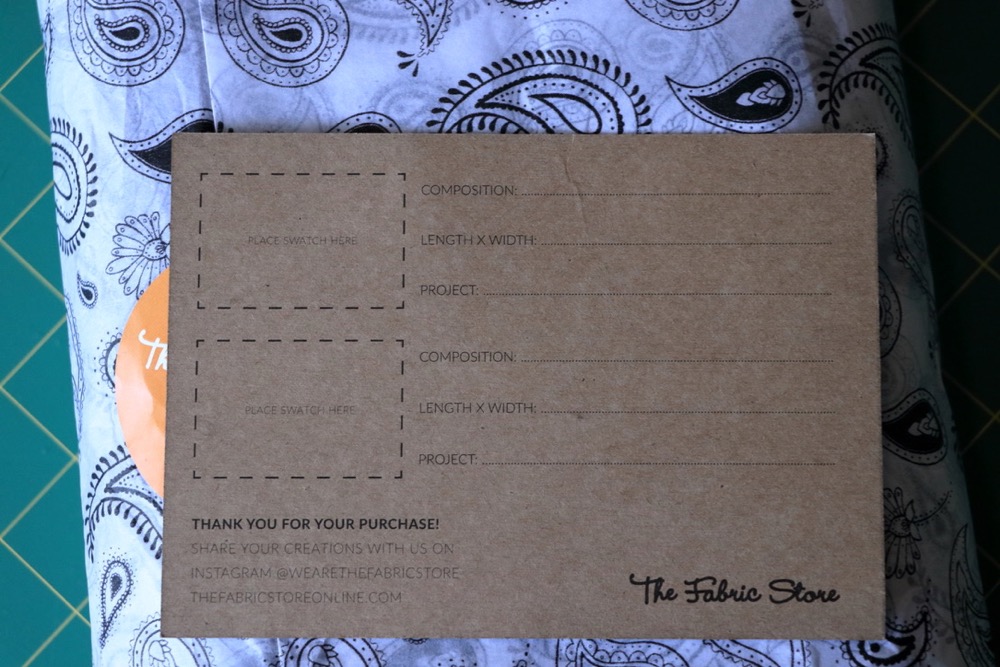 Despite my duster plans, my first version was a standard length, in a fabric from my stash. I wanted to make sure I was familiar with the pattern and had all the sizing sorted out before cutting into that beautiful merino.
One of my top tips for extending your wardrobe, and making clothes that you will actually wear, is to choose colours carefully. Think about what colours your favourite clothes are and choose a cardigan fabric that will work well with them I have a lot of neutrals in my wardrobes – browns, olives and blues – so playing with those colours helps to extend the options available.
Once I had the pattern put together, and pieces cut out, it was a really quick sew. I sewed it all on my serger. So no messing about putting twin needles in and out. This cardigan is perfect for my Emily Culottes. With some tights, boots, and a long-sleeved tee, I can keep wearing my culottes, even in cooler weather.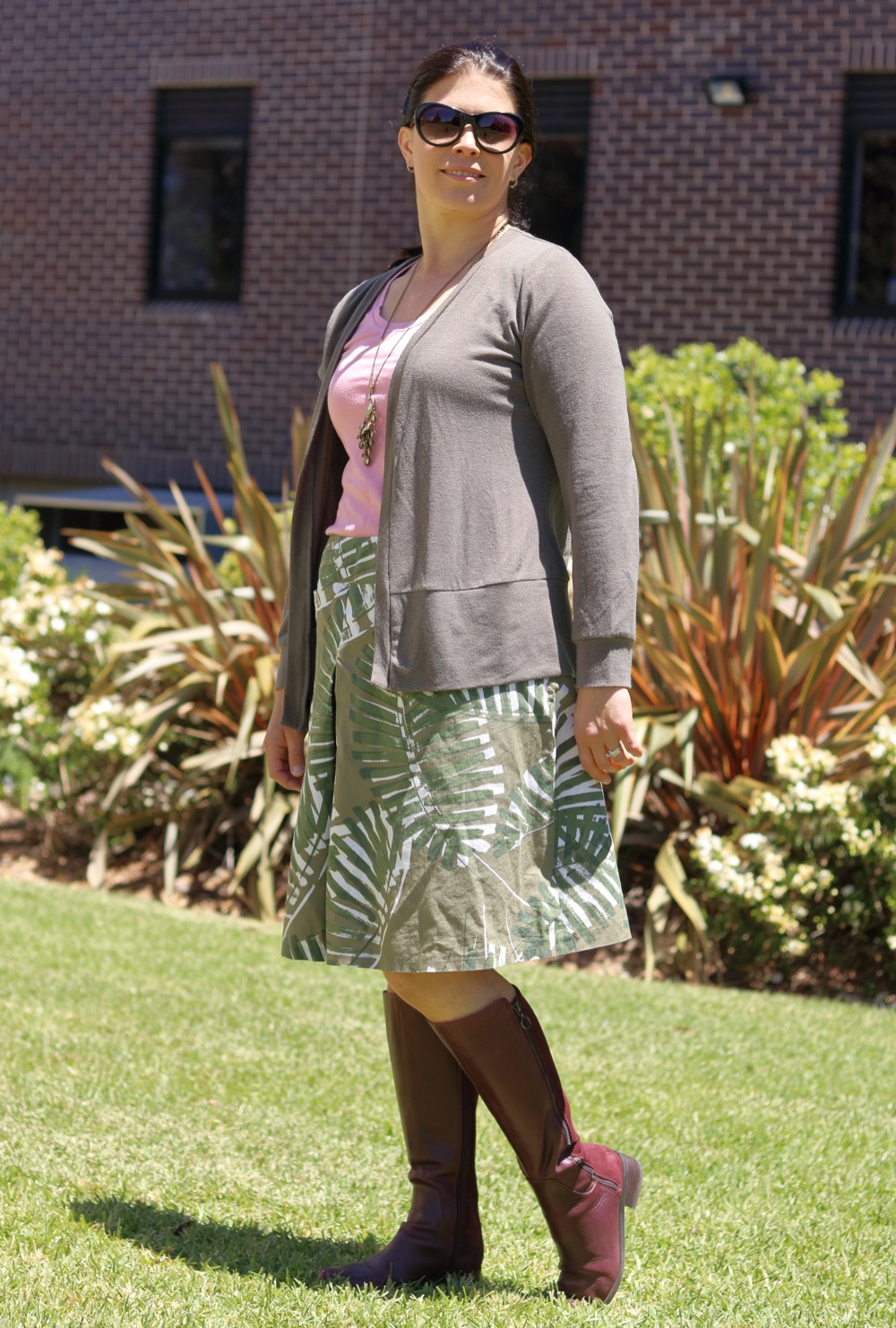 And so on to the full-length version. I managed to fit a size 8-10 out of 2 metres of fabric (hooray for nice wide cuts of fabric). Before cutting I measured the total length of the pattern pieces (excluding seam allowances), then clipped a bulldog clip on a measuring tape and held it up to my shoulder to make sure it would be long enough. I'm relatively short so it fell just where I wanted it – a little below the knee. The long version includes pockets (which are essential).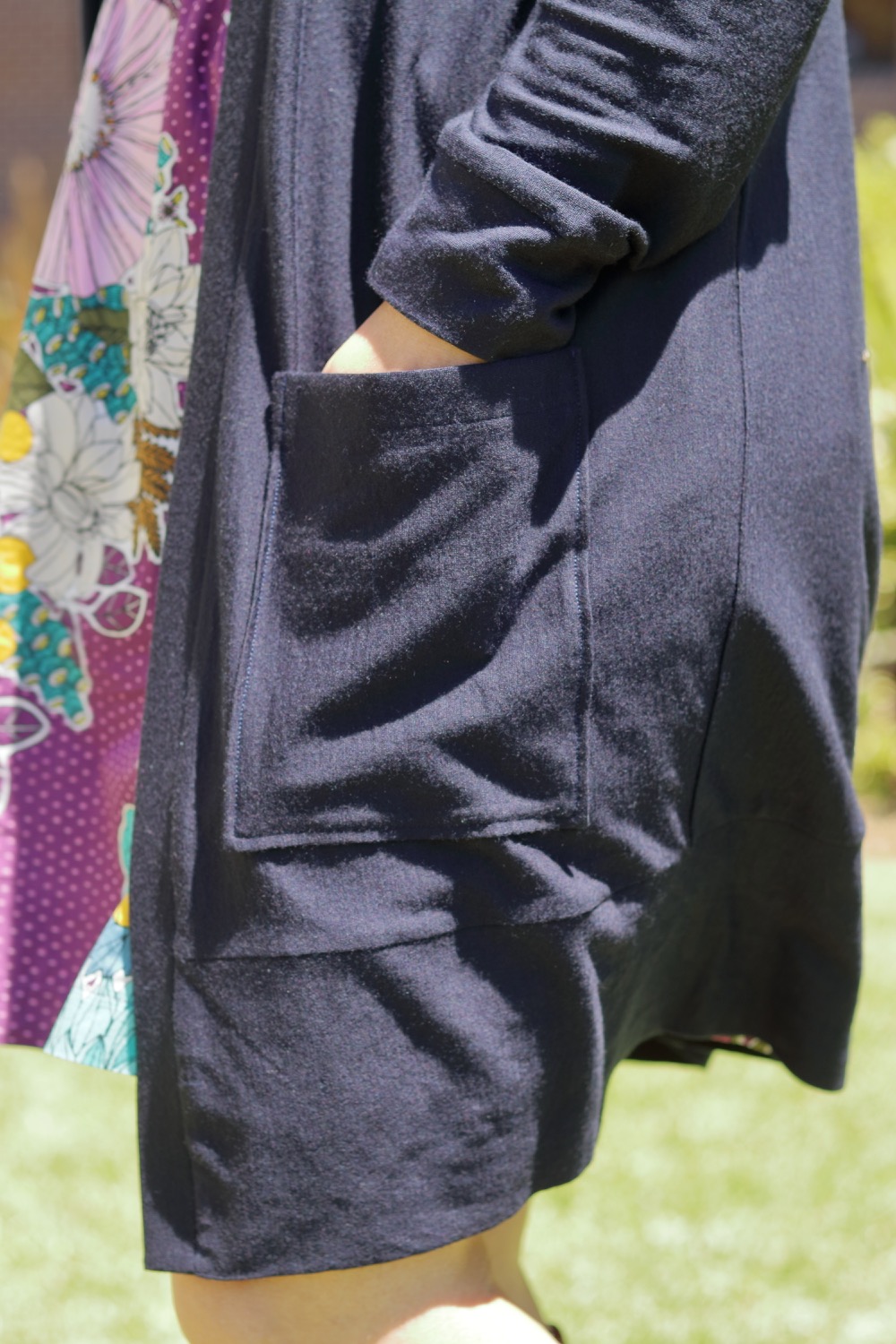 And after not very much longer, I had a finished long cardigan. It was a warm day, with a cool wind, so the Aveiro with my Melrose Dress was a winning combination.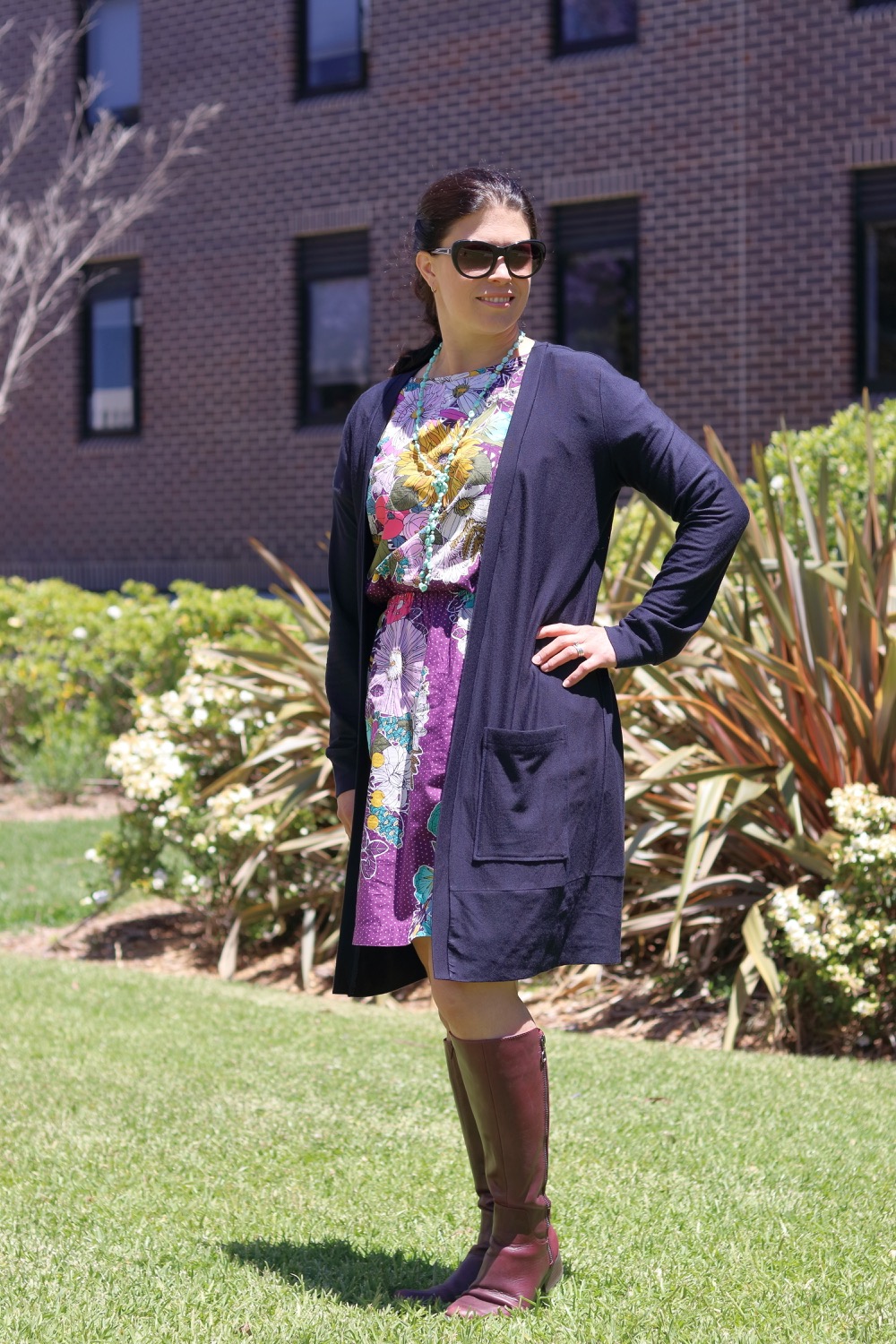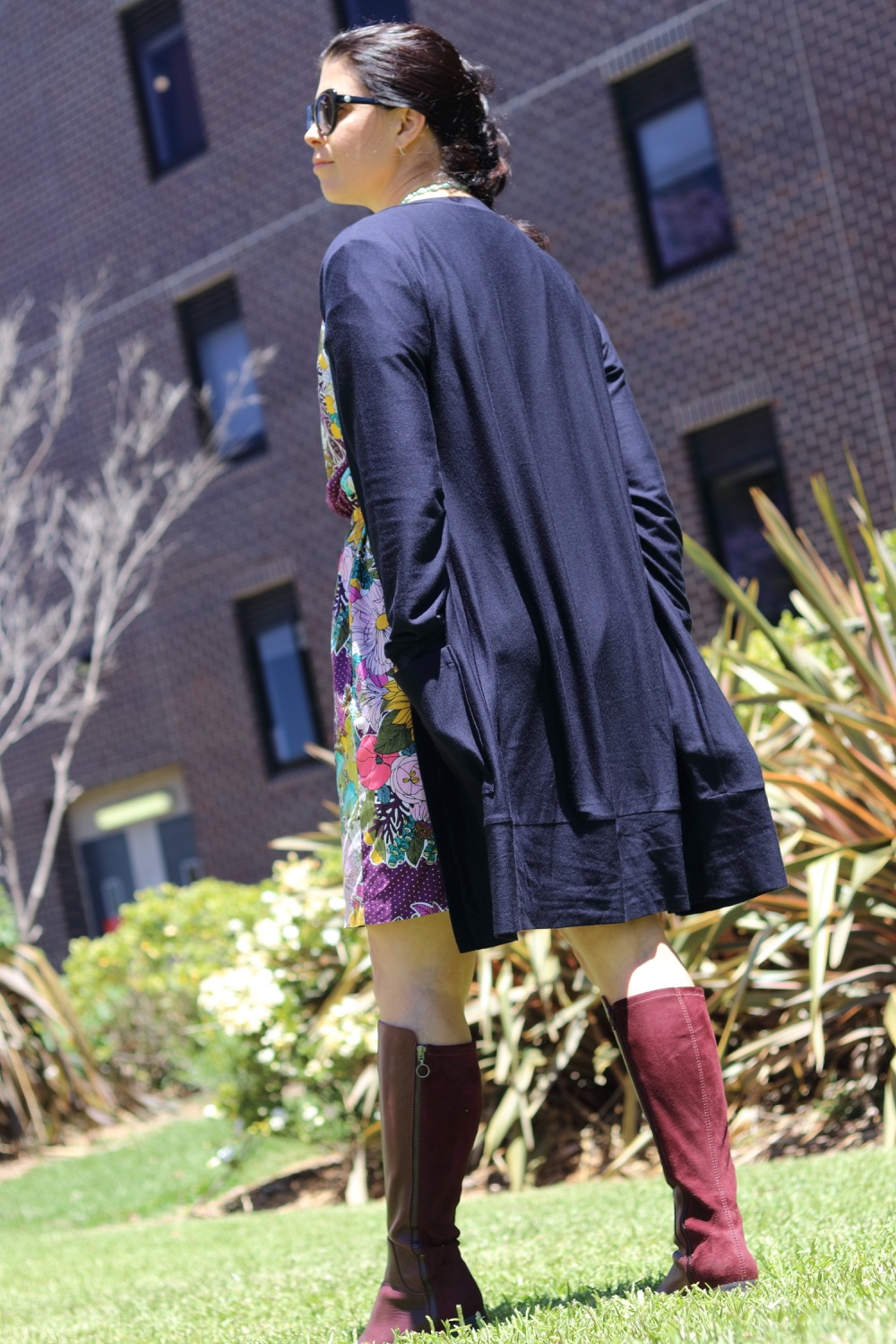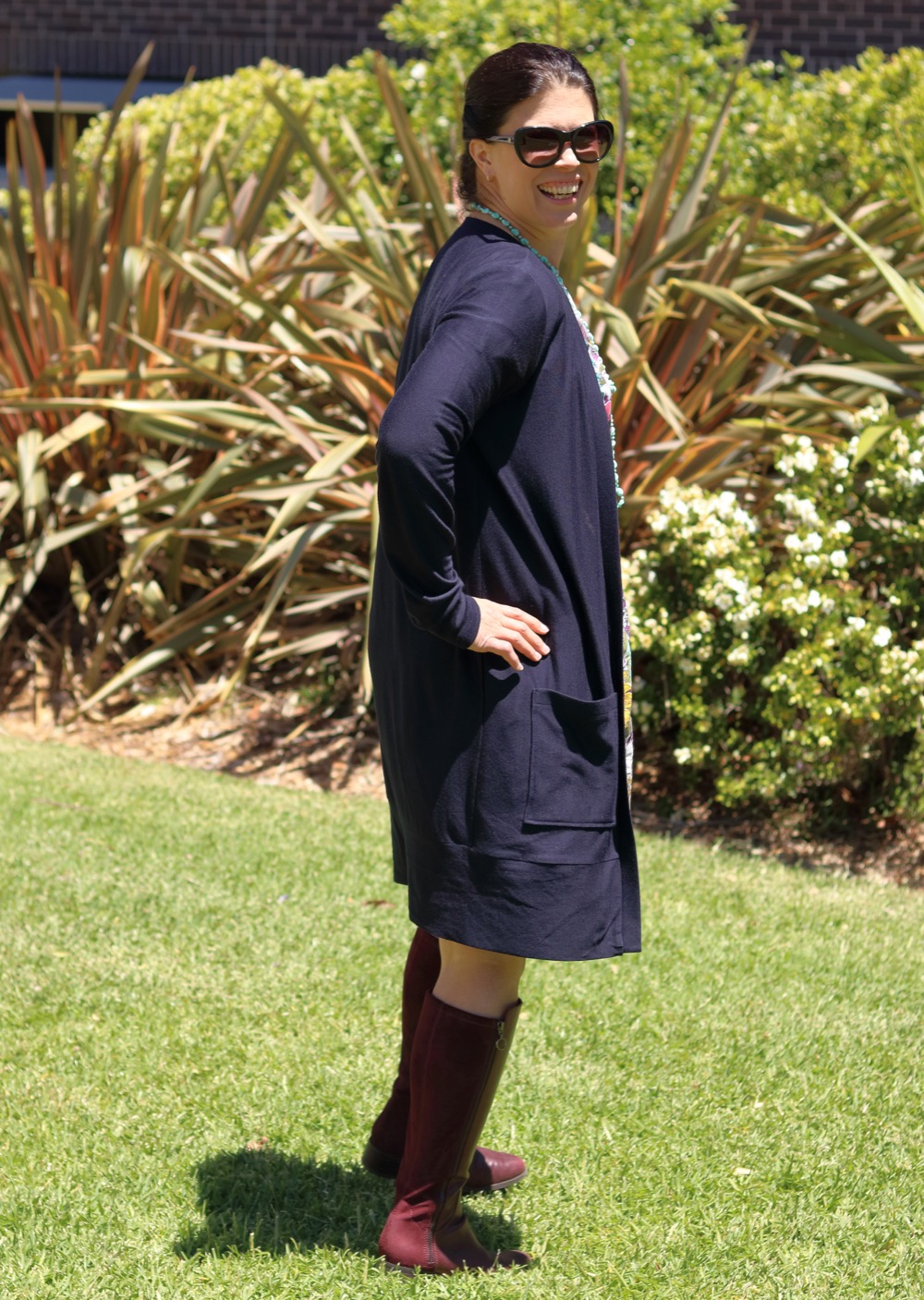 But the vision I had in my head was this combo. Aveiro, my favourite jeans, boots and Lago Tank. I haven't made any Itch to Stitch jeans yet. So they will need to be next on my list of things to sew. I love this look, and I keep finding more clothes I can pair with either of my cardigans. Next up will be a bolero version – perfect for summer dresses, when it cools down of an evening.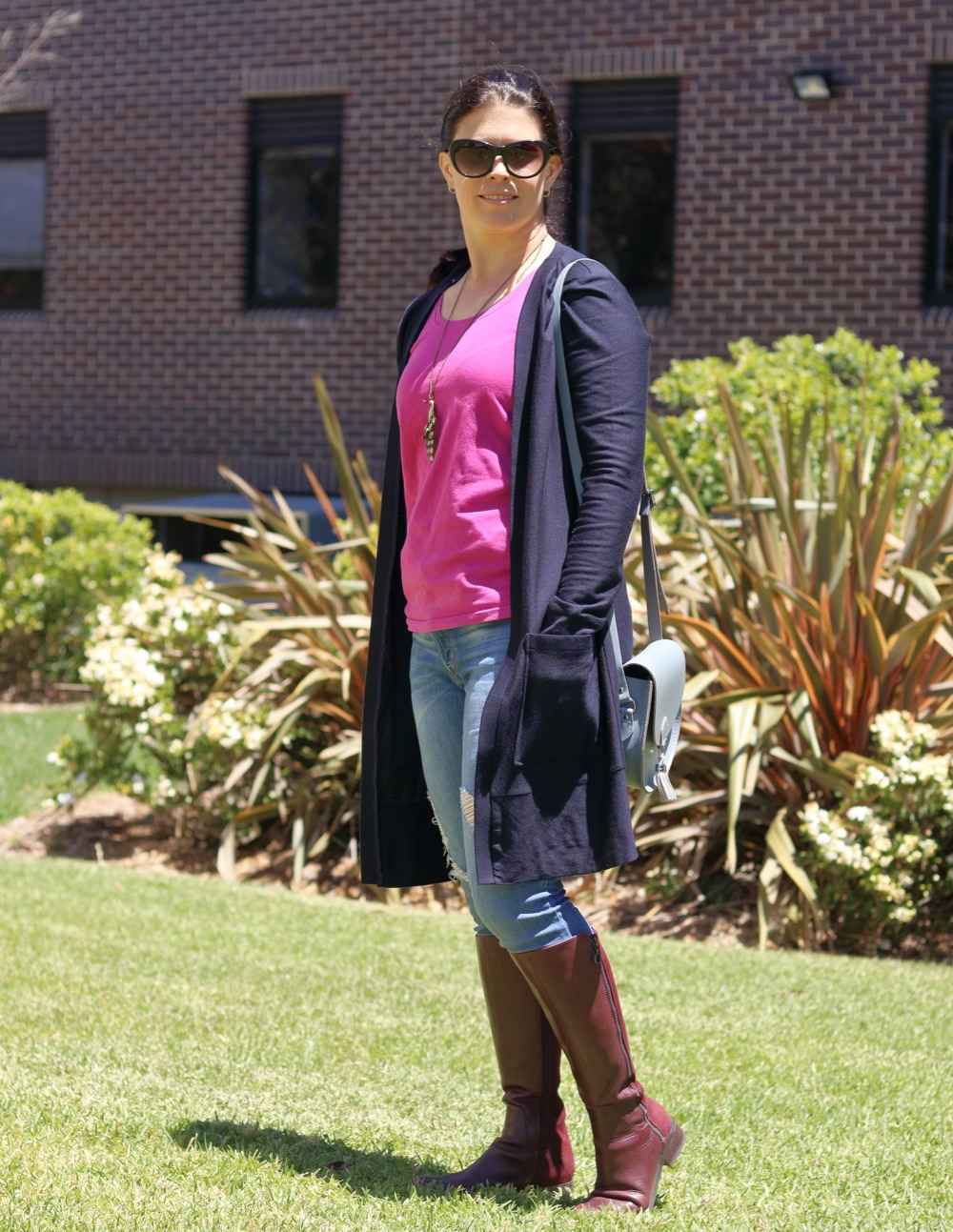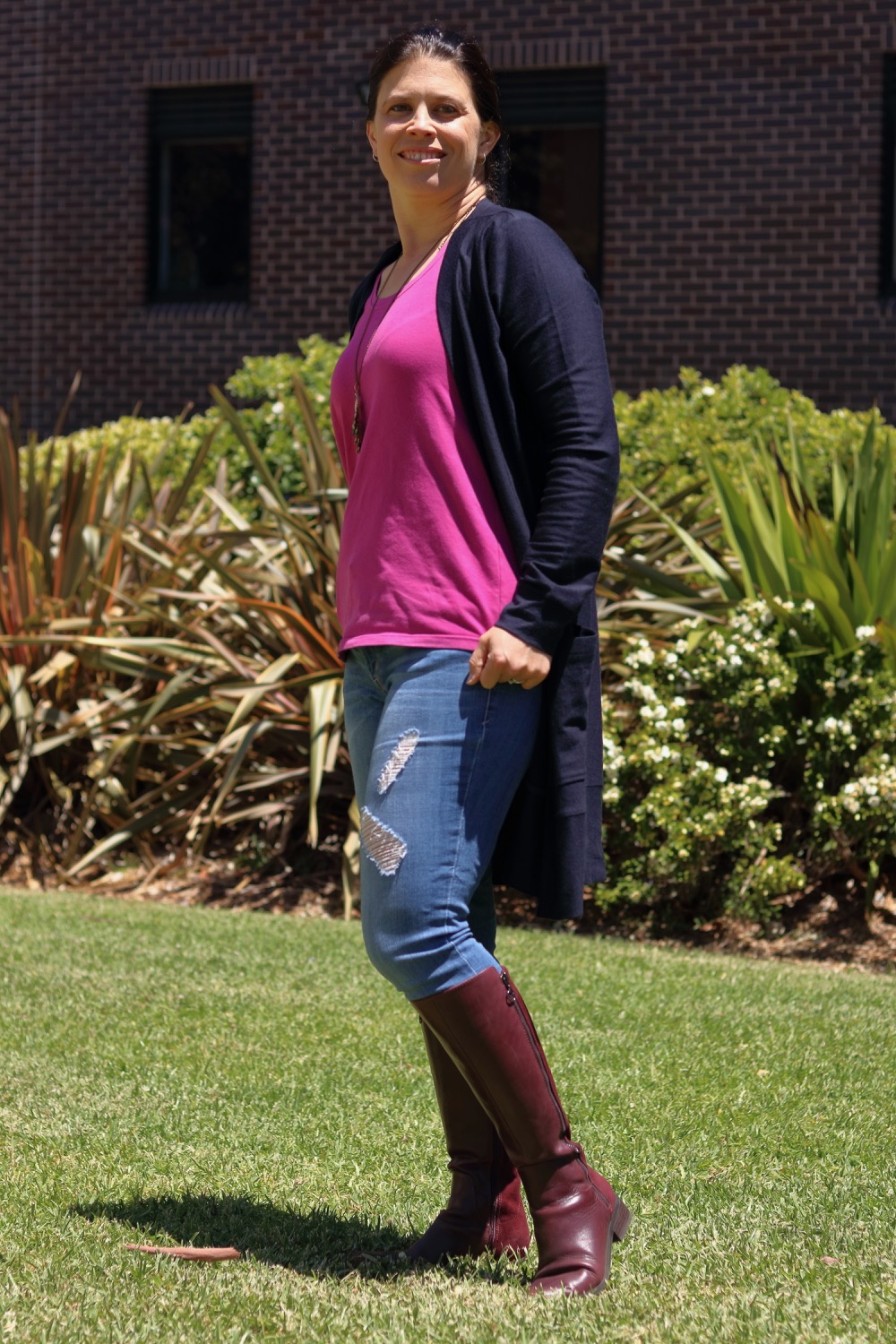 Thank you, Kennis, for this versatile pattern. I'll soon have a cardigan for every occasion.
And thanks to The Fabric Store for supplying the beautiful merino fabric.
---
Interested in following the Make It Wear It blog series? You can follow Itch to Stitch's blog on Bloglovin' or you can also sign up below to get the Itch to Stitch newsletter. Either way, you'll be notified when the first issue of Make It Wear It is up.