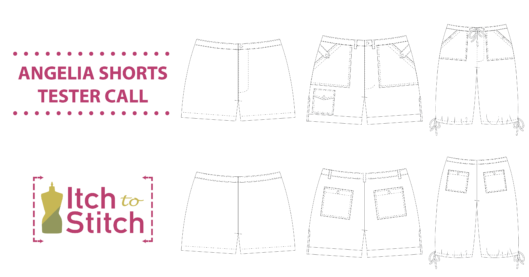 Angelia Shorts Tester Call
TESTING CALL CLOSED
The testing call is now closed. Thank you so much for your support! The Angelia Shorts pattern is now available in the shop.
+++++++++++++
Summer has arrived (at least for most of us). A pair of functional and cute shorts is definitely in order. I have been longing to create a pair (or 5) since I wear shorts quite often, given where I live. Finally I am creating a pattern and it is ready for testing! Are you interested in testing it?
Angelia Shorts have lots of "extras" for customization. But here are some core features:
Sit 1″ (2.5 cm) below waist
1 1/4″ (3 cm) wide contour waistband
Fly front zipper closure with a button at waistband
Relaxed fit at the thighs
There are three views of the shorts.
View A
View A is streamlined version of the shorts. This view is perfect for someone who is newer to shorts sewing, and wants to focus on learning how to do a fly front zipper, and/or contour waistband. These shorts have a 4″ (10 cm) inseam.
View B
View B is the very opposite of View A. It has all the bells and whistles. These shorts look like the ones you buy from a store. No one would guess that you make these. They have:
Front patch pockets
Angled pocket tab closures
Cuffs
Bottom side tabs
Front coin pocket
Back patch pockets with button closures
Belt loops
4 1/2" (11.5 cm) inseam
View C
View C is a longer version, so perhaps it's a misnomer to be called "shorts". They just cover your knees, so are perfect for ladies who are not comfortable with short shorts and would like more coverage. These are the features:
Length right below knees
Waist drawstring
Leg drawstrings
Front patch pockets with button closures
Back patch pockets with button closures
The reality is that some of the features can be swapped for different views. For example, you could make View A but with back pockets, or you could make View C with pocket tabs. However, because there are so many "extras", for the sake of simplicity, I have created these three views. For the purpose of this test, I am open to testers creating a version outside of these pre-set views, but I also would like some of you to create the exact views.
Body & Finished Garment Measurements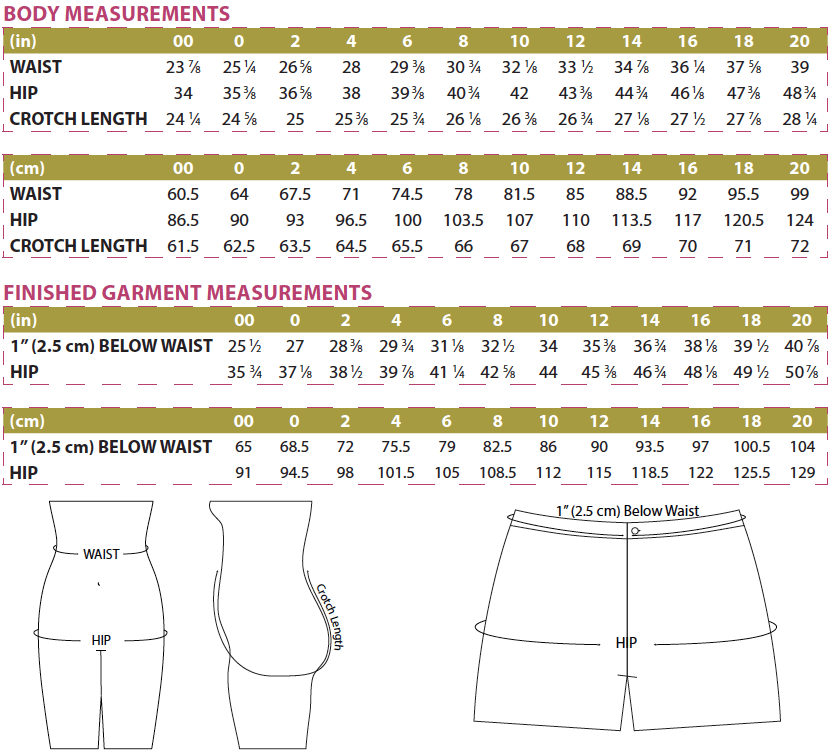 Material Requirements
Primary fabric Bottom-weight or medium-weight woven fabric with or without stretch, such as twill, poplin, cotton blends, linen and denim. Knit fabric is not suitable.
Interfacing Use light- to medium- weight fusible woven interfacing.
Other Materials
View A
One (1) 7" (18 cm) or longer zipper
One (1) 3/4" (1.9 cm) button
View B
One (1) 7" (18 cm) or longer zipper
Seven (7) 3/4" (1.9 cm) buttons
View C
One (1) 7" (18 cm) or longer zipper
Five (5) 3/4" (1.9 cm) buttons
Five (5) yard (460 cm) cording or ribbon
Fabric Requirements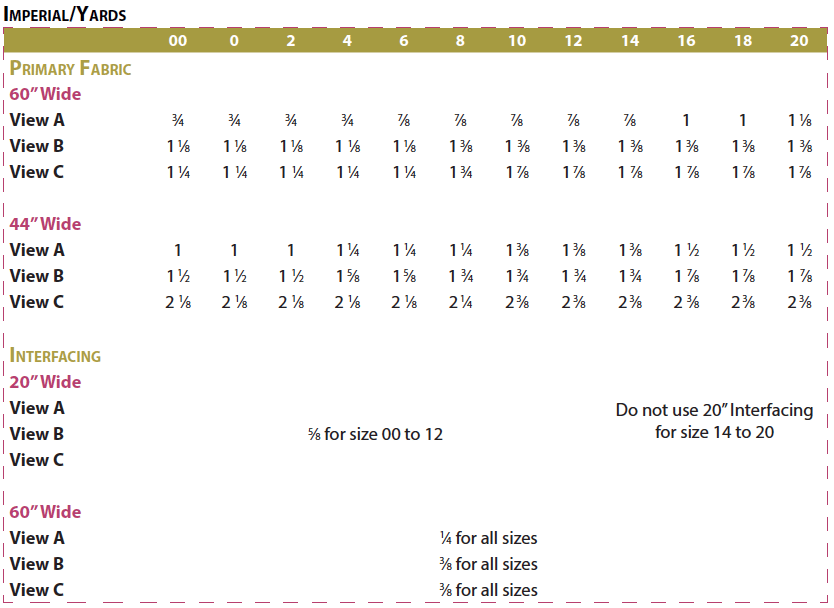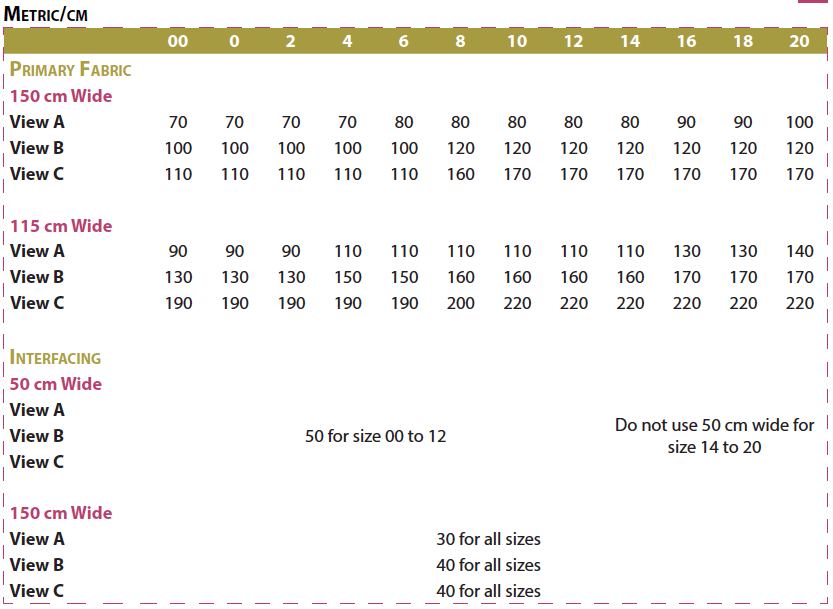 Timeline
I plan to start testing Saturday, May 30th, and would like to receive your modeled photos with the skirt by Tuesday, June 9th. But as always, if there's any important change to the pattern, we'll extend testing as needed.
Tester Selection
The chosen testers will be invited to a private Facebook group where we can discuss the pattern, share pictures and discuss revisions. I will send the invite/link to the email that you provide. So please make sure you enter the correct email in the form below.
In return for your time, effort, professionalism, input and participation, upon completion of the testing, you will receive:
A final copy of the pattern
Feature you in a blog post that directs traffic to your blog/site/store/Etsy store
Please sign up below if you are interested. Testing is one of the most crucial steps for producing a quality pattern. I appreciate your applying!