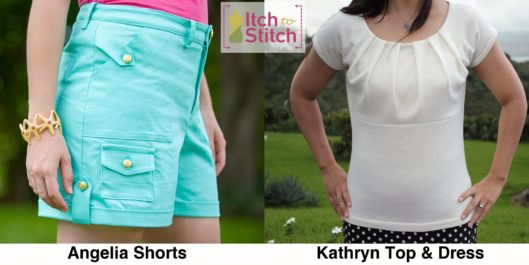 Two Patterns Released – Angelia Shorts and Kathryn Top & Dress
*Join Itch to Stitch Facebook group to get a coupon for additional bundle discount*
I have been cooking a set of patterns that can be worn together for the summer, and now they are ready! Please welcome Angelia Shorts and Kathryn Top & Dress.
Let me introduce Angelia Shorts first. I wear shorts all the time and have a pair that I wear to pieces. What does a sewing pattern designer do in that situation? Create a pattern so that I can make 10 pairs, of course! The ready-to-wear shorts gave me some idea that I ultimately incorporated into the shorts. For example, the coin pocket and topstitching are features that I love.
The contoured waistband of Angelia Shorts sit just 1″ below waist. Compared to shorts that you see in the stores, these are relatively high-waisted shorts. That is because I get the joy in knowing that my underwear does not show when I bend down. Angelia Shorts also are quite relaxed in the thighs area, which is also based on my preference. I have strong thighs and I think by having a bit of room there, the legs look a bit slimmer. The closure of the shorts is a center front fly zipper.
The pattern includes three views.
View A is the simplest of all. This streamlined version has 4″ (10 cm) inseam and is perfect for for someone who is newer to shorts sewing, and wants to focus on learning how to do a fly front zipper, and/or contour waistband. If you are going to make a test garment to check the fit (which is highly recommended so that you can have a perfect-fitting pair in your final fabric), you should also be using View A.
On the contrary, View B has all the bells and whistles:
Front patch pockets
Angled pocket tab closures
Cuffs
Bottom side tabs
Front coin pocket and back patch pockets with button closures
Belt loops
4 1/2" (11.5 cm) inseam
View C is for those who like more coverage. These "shorts" actually cover the knees.
View C has:
A length that falls right below the knees
Waist drawstring
Leg drawstrings
Front patch pockets with button closures
Back patch pockets with button closures
You could also swap some features to create a view of your own! For example, you can easily add back pocket to your View A or remove angled pocket tab closures from your View B.
These shorts received great feedback from my testers. Here are what they said about the pattern:
"Loved it. Very high quality."
"I love the different mix and match options available with this pattern."
"Another very professionally done pattern…making your clothing look like RTW garments and getting it all down in instructions so thoroughly for others to follow."
"I absolutely love the design and fit of the shorts. They fit me nicely and are extremely comfortable. Also, like the fact that I can mix and match options and details between all three views. Very well written and the illustrations were clear and helpful. Oh, and this is also my first time sewing a pair of "pants". 🙂"
"I love the details of view B, and the fit is amazing (I have never sewn pants that fit so well)."
"This pattern is really good for anybody wanting to sew their first pair of shorts as they can use view A as a practice for inserting the zipper, and then go on to view B once they feel happy with the fit."
"Wonderful pattern! I was amazed at how easy it was to make myself a pair of shorts for my odd size."
"I love the design of these! The front pockets with the tabs are just too cute! I'll make more! 🙂"
"This shorts are just great. I love how you have 3 variations that all have such different looks. I have bought 2 other pdf shorts patterns that just did not work for me."
Who are these wonderful ladies who tested these shorts?
Thank you so much for your help!!
After making Angelia Shorts, I thought that a top is in order. And while making the top, why wouldn't I extend it to create a dress as well? So finally the Kathryn Top & Dress pattern was born.
The Kathryn Top & Dress pattern features:
Wide, round neckline with six pleats
Empire-waist seam to visually elongate your legs
Shaped at natural waist to show your curves
Extended shoulders covering your upper arms
Lined upper front
Options to make a dress or a top
A-line flare skirt ends at knee
As with all other Itch to Stitch patterns, layers feature is included, so that you can print only the size(s) you need. A large-format print shop version of the pattern is also included.
My sincere thanks go out to these wonderful ladies who helped me to thoroughly tested the Kathryn Top & Dress pattern:
Special thanks go to Christina from Wardrobe By Me who helped me to decide on the inner structure of the garment. Christina has over 20 years of pattern drafting experience in the fashion industry. She recently went solo and opened her pattern shop, Wardrobe By Me (go check out her gorgeous patterns!)
One of the testers actually did not read much English, but she successfully created a Kathryn dress just by looking at the illustrations. I thought that's a testament to the clarity of the instructions.
Both Angelia Shorts and Kathyrn Top & Dress patterns are now 20% (price already marked down). But I also posted a coupon code for additional bundle discount if you join my Facebook group, Itch To Stitch Designs.
Take advantage of the sales and go get your Angelia Shorts and Kathryn Top & Dress patterns now!
Keep stitching!