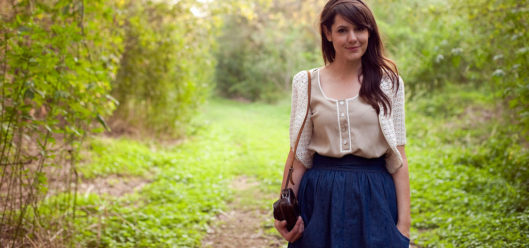 Pattern Giveaway – Megan Nielsen
**As part of Itch to Stitch's one-year birthday celebration, one featured designer will be giving away two patterns each day.**
I thoroughly enjoyed reading your answers to the daily giveaway questions. What I enjoy sewing is overcoming challenge – if I think something is difficult, I would practice until I can produce the best result I can achieve. When everything is put together, I can look at it and feel that I've done my best. I also enjoy thinking about the different designs and the possibility of new patterns.
One winner gets to take home two sewing patterns of her choice from Jamie Christina, and that person is…Mady. I will contact you, Mady. Congrats!
Today's featured designer is Megan Nielsen. I first noticed Megan Nielsen because of her beautiful graphic design. If you follow her on Instagram, you will get the opportunity to see her beautiful illustrations along with her patterns. Her branding is consistent and refreshing, which reflects the style of her pattern designs. And she's the first indie pattern designer I know to have an app for her patterns, so you can access your pattern instructions, important information and help tutorials from your phone or tablet. Wow! I do love it when technologies make my life easier.
Megan is generously giving away two patterns to one lucky winner today. To get a chance to win the patterns, please comment and tell us what you would sew or create if you cannot fail. I will pick a winner tomorrow.