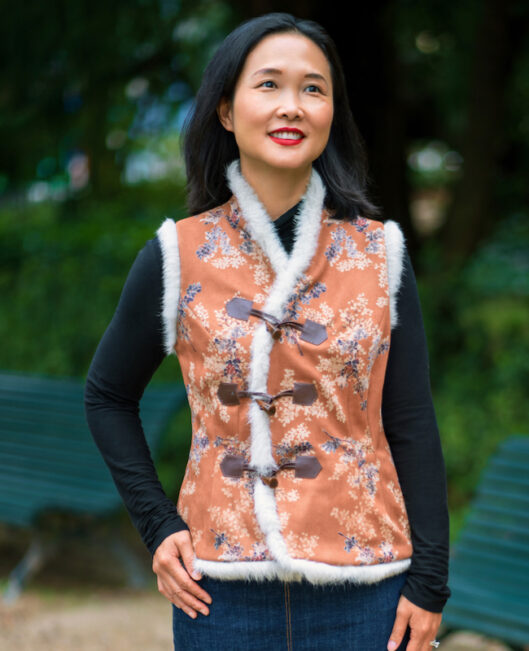 Please welcome the last Itch to Stitch pattern of the year, the Shau Vest!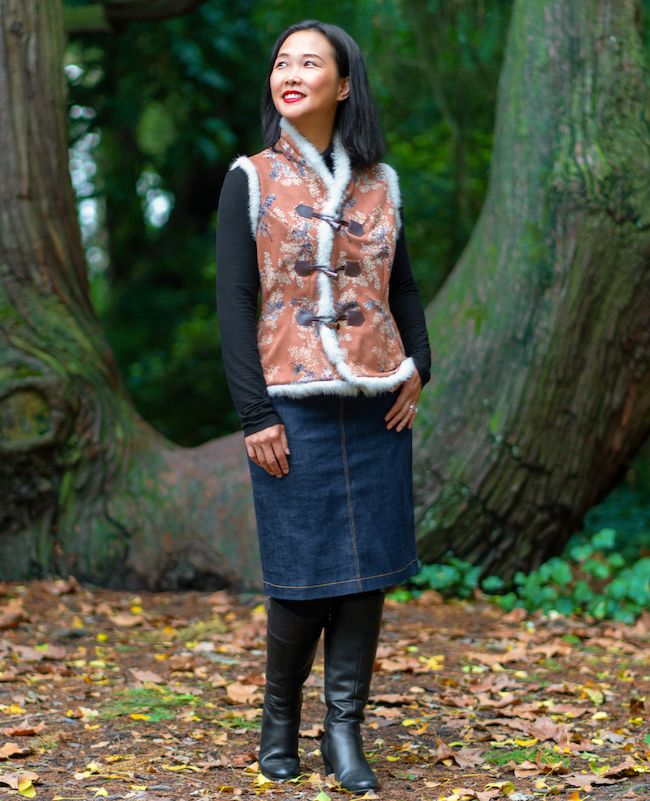 Here are the highlights of the Shau Vest:
Options for cup sizes
Asymmetric front
Fitted with waist and armhole darts
Option to line or not line
Edges finished with piping or bias tape
Designed for woven fabric or stable knit fabric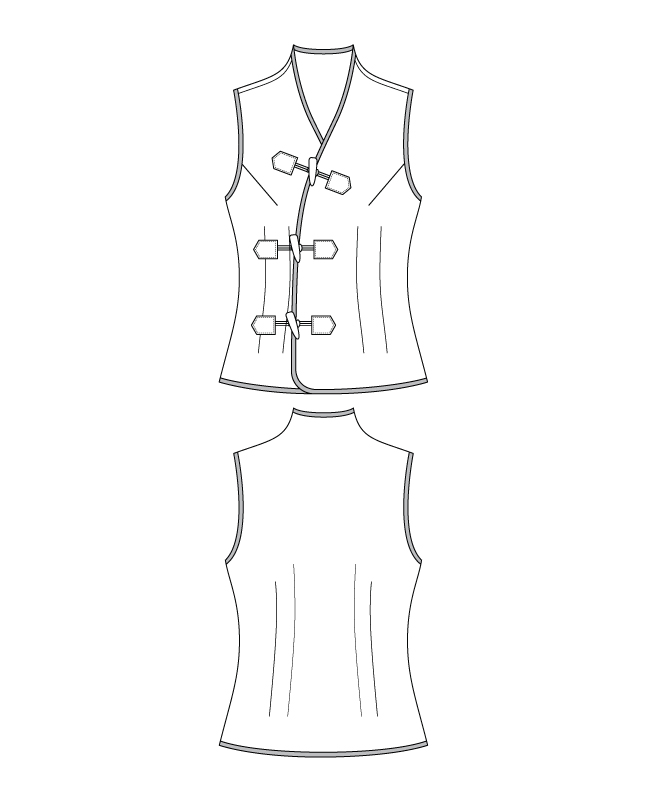 For one week (through December 7, 2022), the Shau Vest pattern is 20% off. The volume discount still applies—get 15% off your entire cart if your purchase is $20 or more, or 20% off your entire cart if your purchase is $30 or more.
Here's the back story of the Shau Vest. Ivy Haisell of Wonderful Sews and leader of various Facebook sewing groups (such as Modern Sewists of North America) asked me to be part of the Lunar New Year collaboration. The primary goal is to celebrate Asian culture and all the ways Asian sewists and Asian-owned businesses contribute to the sewing community. Initially, Ivy suggested that I adopt one of my patterns and give it an Asian spin, but I was thinking, why not make a brand new pattern for the occasion? Hence, the Shau Vest is born!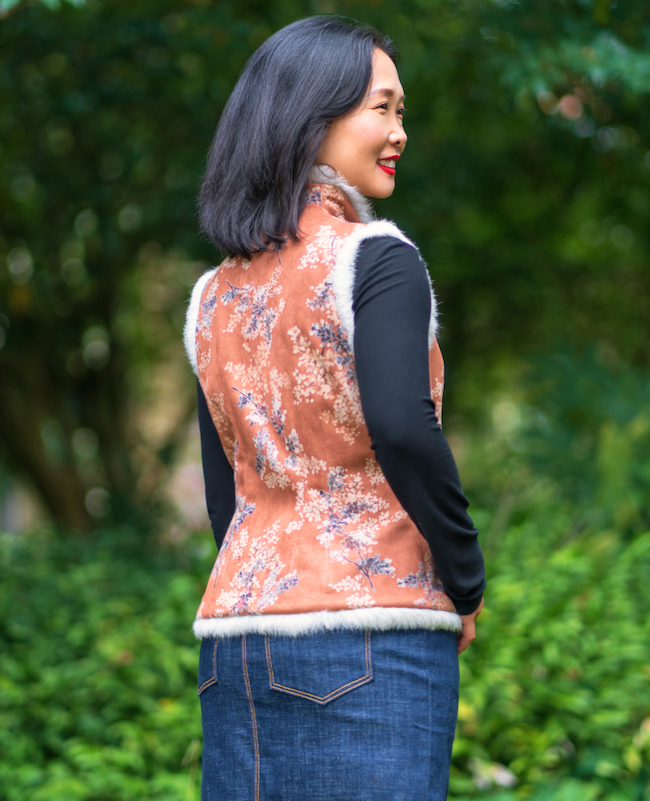 Depending on your background, you may or may not think the Shau Vest looks like an Asian-style garment. My American caucasian husband thought that the vest look a bit "hippy". But hey, no one calls him the fashion guru, ever. Here's my point though: I want the Shau Vest to be different for different people so people can make it their own. The way I interpret the Shau Vest looks very Chinese to me. You will see in the photos below that my testers also made the Shau Vest their own.
I was born and lived in Hong Kong until I was 15 years old. I think that if I left Hong Kong just a couple of years earlier, I would not have felt as strong of a connection to Hong Kong the way I feel now. Currently, my parents and extended family live in Hong Kong. I have close friends in Hong Kong. I speak fluent Cantonese. I visit Hong Kong about once a year (minus the Covid gap). In a way, I never feel I was at risk of losing a sense of my heritage even though I live far away from Hong Kong for more than two dozen years.
In Hong Kong, people tend to dress very casually. It's not uncommon for younger people to wear jeans and sweatshirts to attend a wedding. I thought that a full-blown qipao or cheongsam (a traditional Chinese dress) is a bit overboard for the Chinese new year (for me as a Hong Kong person). I'd say typically, a bride or the mother of the bride might wear a qipao, but otherwise, it's not common. In my opinion, Chinese people in other countries tend to dress more traditionally during these celebrations, and I understand the logic behind it. Besides, there are a few qipao sewing patterns out there. What I want is something that can be worn with a casual outfit, so the Shau fits the bill.
Instead of using the typical mandarin collar, I opted to integrate the collar with the main bodice in one. it's simpler and has a modern spin. You can use different closures. I can see that if I used the Chinese frog closures, my vest would have looked more Chinese. I asked my testers to be creative with their closure choices, and they truly delivered! What do you think of them?
The Shau is a fitted vest with many darts at the waist as well as a set of darts from the armholes. The design itself is versatile, and I think it's lovely pattern to hack too. And it's easy to get the fit right thanks to the darts.
Let's take a look at all the wonderful Shau Vests that my testers made!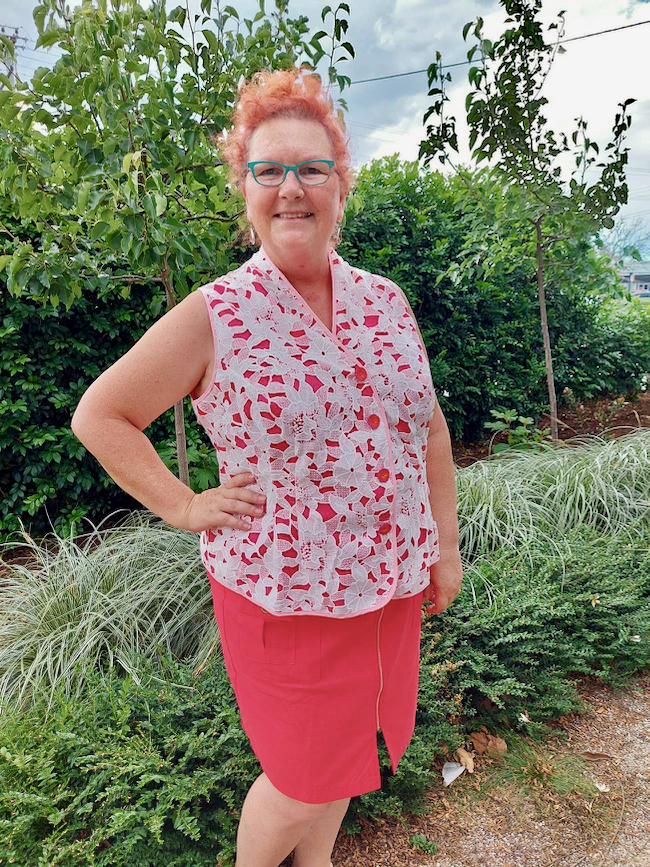 Thank you so much for your help!
I welcome you to celebrate the Lunar New Year with me (its date is different every year, and the upcoming one it's on January 22, 2023). Be sure to grab your copy of the Shau Vest while it's on sale!