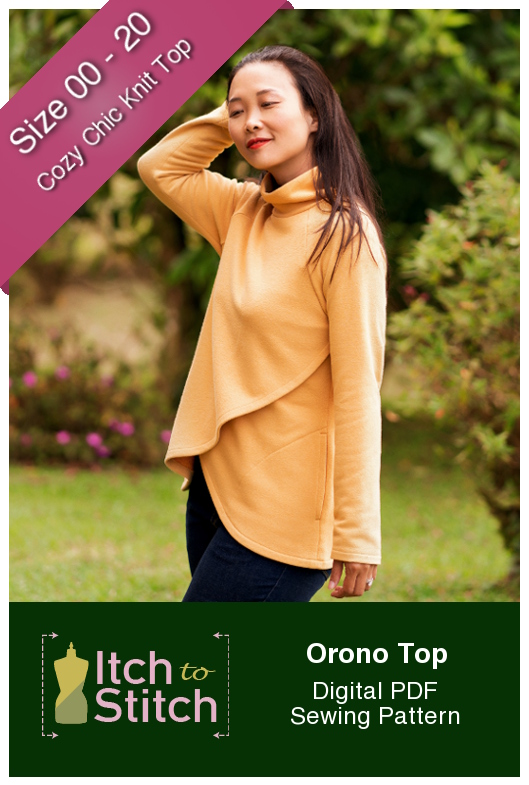 Who can say no to a cozy, unique top? I am one who never resists. Please welcome the Orono Top from Itch to Stitch!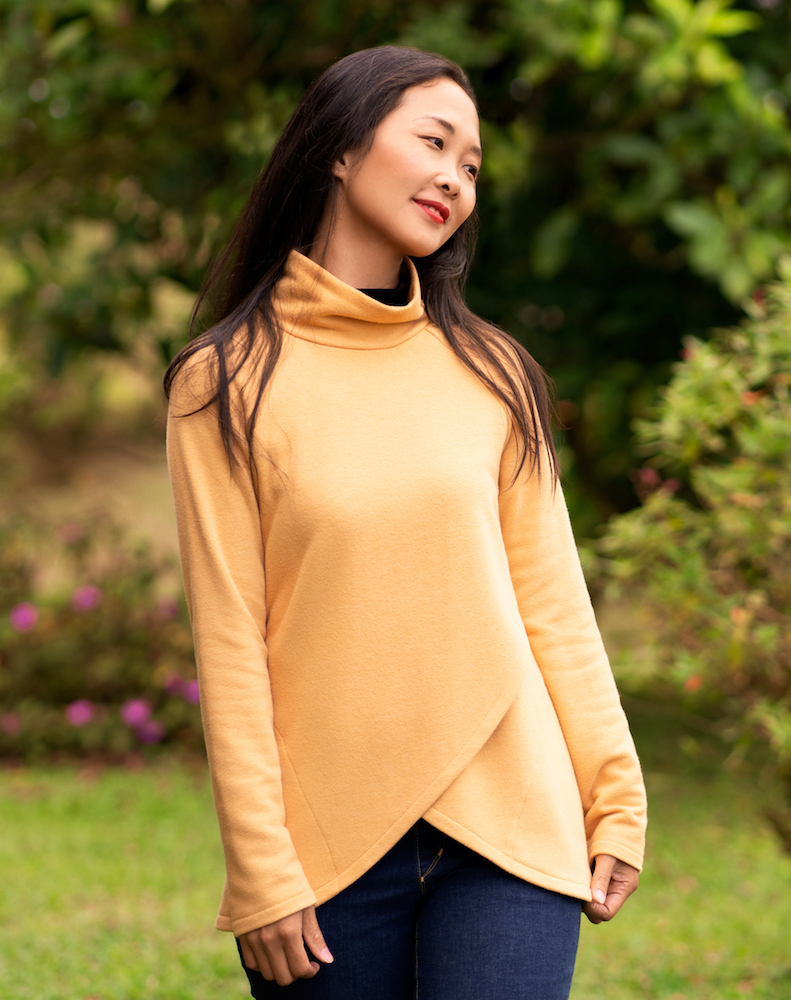 For one week, the Orono Top sewing pattern is 20% off. The volume discount still applies—get 15% off your entire cart if your purchase is $20 or more, or 20% off your entire cart if your purchase is $30 or more!
The feature I love the most, of course, is the overlapping front. They look like spring tulips that will be peeking out from the snow soon. But look closely and you will see that the petals have POCKETS! They are big and functional. One tester reported that they fit 6 eggs with no problem!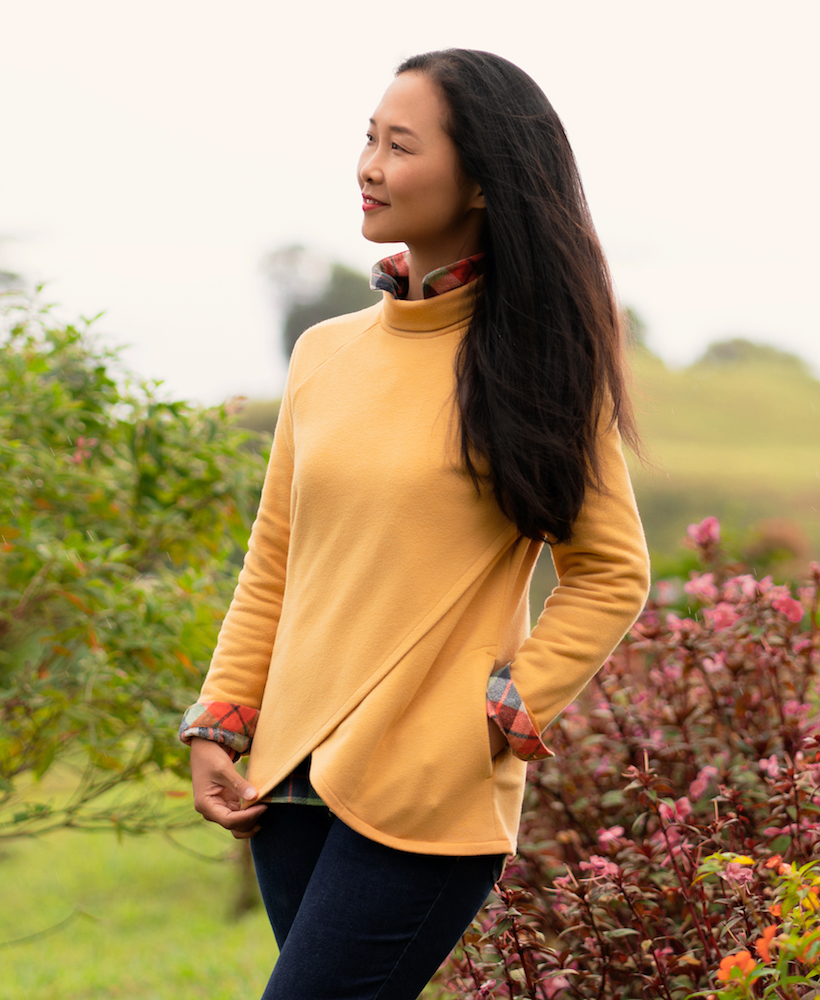 And to make the raglan sleeve fit better, I added a dart at the shoulder. Raglan sleeve without a dart or seam fits a little differently; you are pretty much just putting a flat piece of fabric onto the point/curve of your shoulder. The only thing that makes it fit is the stretch of the fabric, but inevitably, you will have many folds and pulls. Those folds and pulls don't bother; they are part of the game. But sometimes when I want to use a thicker and more structured fabric, I prefer having a dart or a seam on my raglan sleeve. That's why I add this nice feature on the Orono Top.
Also, the height of the collar is easily adjustable. A length/shorten line, as well as instructions, are included in the pattern.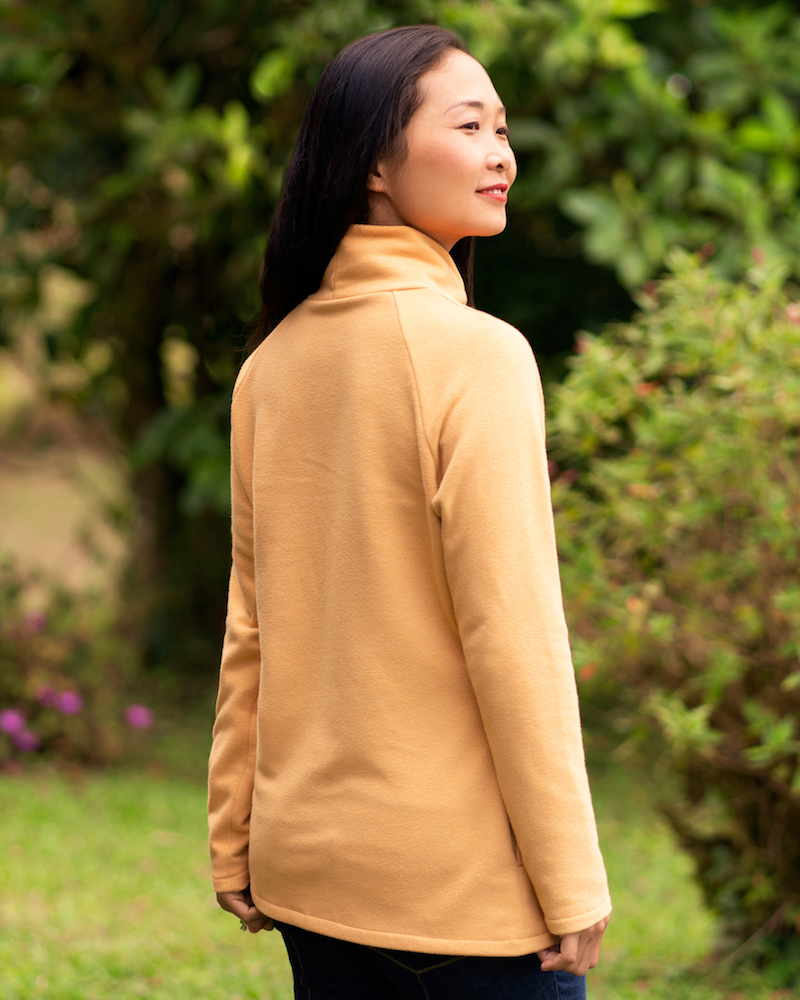 You can choose to wear the Orono Top as layer. I like wearing a shirt underneath with the collar and cuffs peeking out, or you can wear top with pretty lace trim peeking out from the petals in the bottom.
Here's the highlights of the Orono Top:
Stand-up collar
Long raglan sleeves with shoulder darts
Overlapping, petal-like front
High-low hem
In-seam pockets
Designed for structured knit fabric
Let's take a look at the testers' photos, shall we?
Which Orono Top is your favorite?
The pocket of Orono Top is easier to make than you think.
In fact, they are easier than regular in-seam pockets that you are used to.
I am quite happy how the testers' Orono Tops have turned out.
My big thank you to these testers:
Allison
Andrea
Anita
Jan
Margaret
Val
I have done some leg work and inquired several online fabric stores for fabrics that fit the stretch requirement. (Understand that the stock could be different by the time you are reading this. If the fabric is no longer available, please let me know and I'll remove from this list.)
Simply by Ti:
Sly Fox:
So Sew English:
Beautiful Textile:
Fabric Mart:
Fabric.com:
Knit Pop:
l'oiseau Fabrics (Canada):
I hope you love the Orono Top as much as I do. Get your copy of the pattern before the sale ends on Sunday, February 24, 2019!