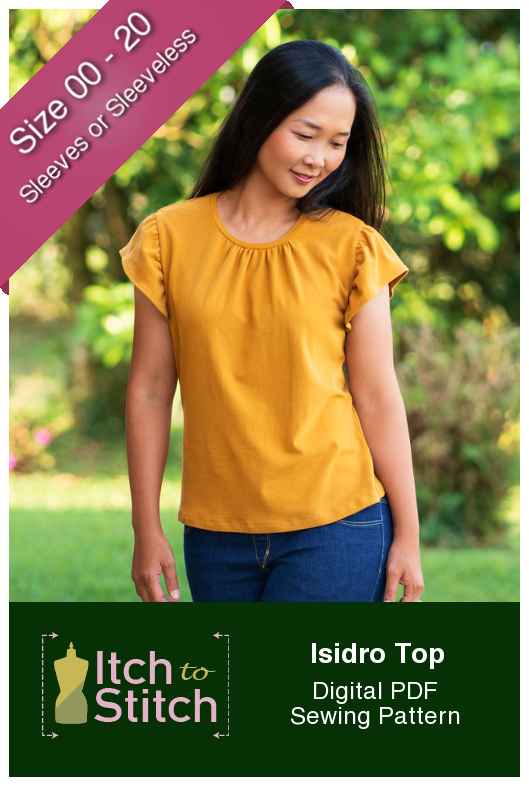 Please welcome this little knit top, the Isidro Top, to the Itch to Stitch catalog!
For one week, the Isidro Top sewing pattern is 20% off. The volume discount still applies—get 15% off your entire cart if your purchase is $20 or more, or 20% off your entire cart if your purchase is $30 or more!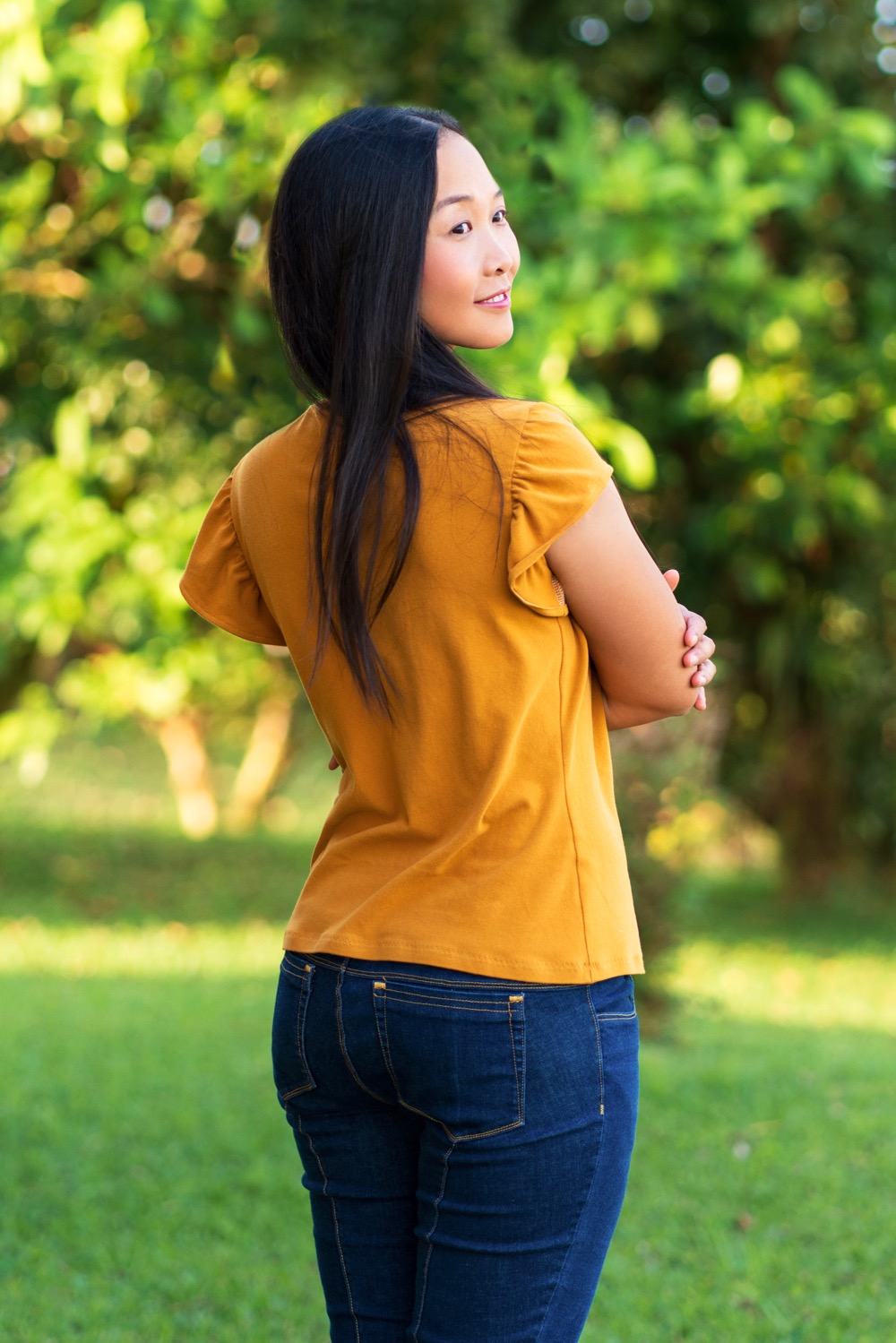 Once you make one Isidro Top, you begin to realize it's a top that you wish you had all along.
Isidro Top Features:
Center front gathering
Scoop neck with neckband
Sleeveless and gathered butterfly sleeve options
Designed for knit fabric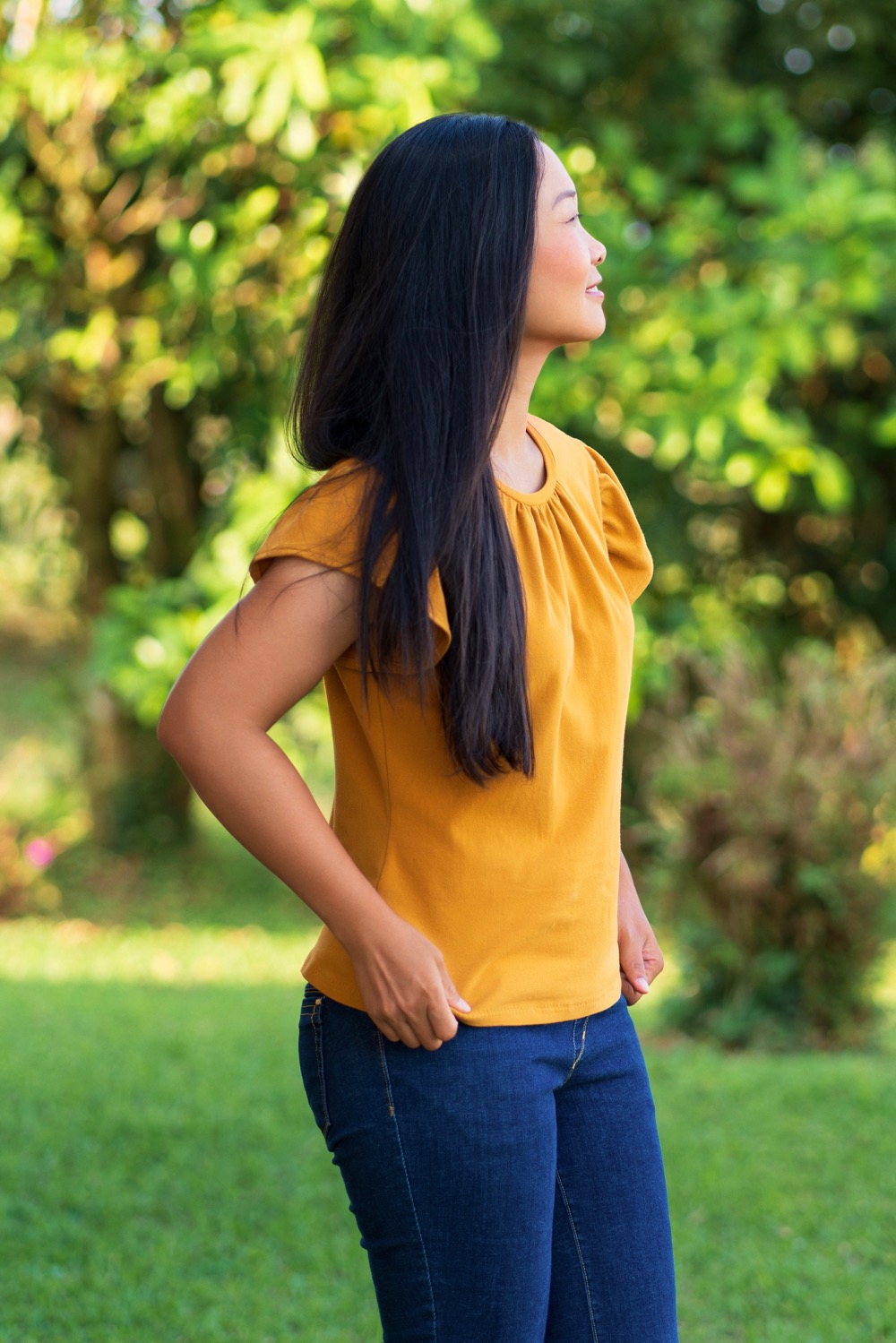 You can wear it under a blazer (such as the La Paz Jacket) for work or for formal events, or you can wear it by itself to the super market. You can wear it with pants or skirt. You can wear it under a pinafore. You can wear it under a cardigan (such as the Aveiro Cardigan). You can even wear it under a dress. I think you get the idea.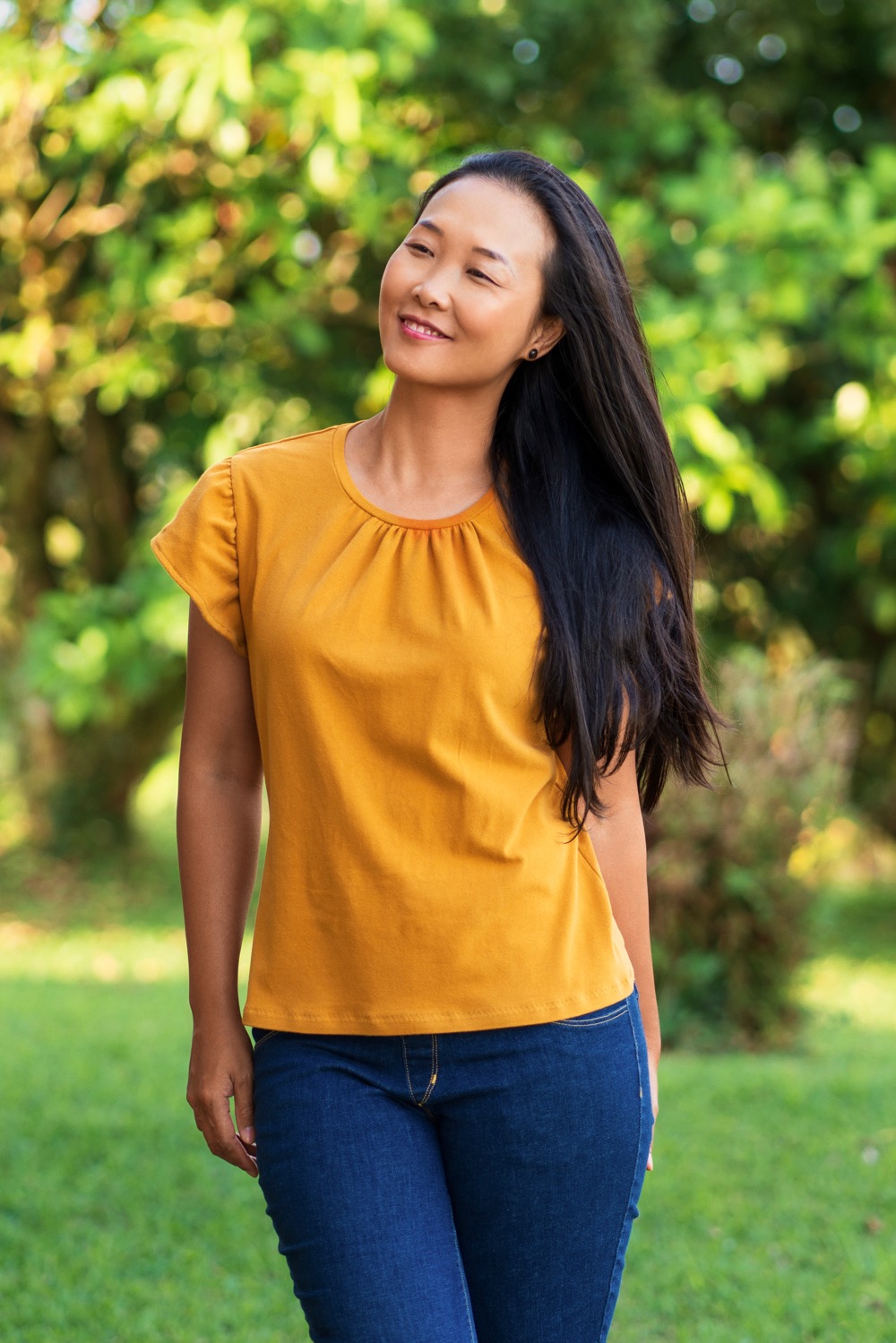 It is really versatile. You will want to make a dozen of them.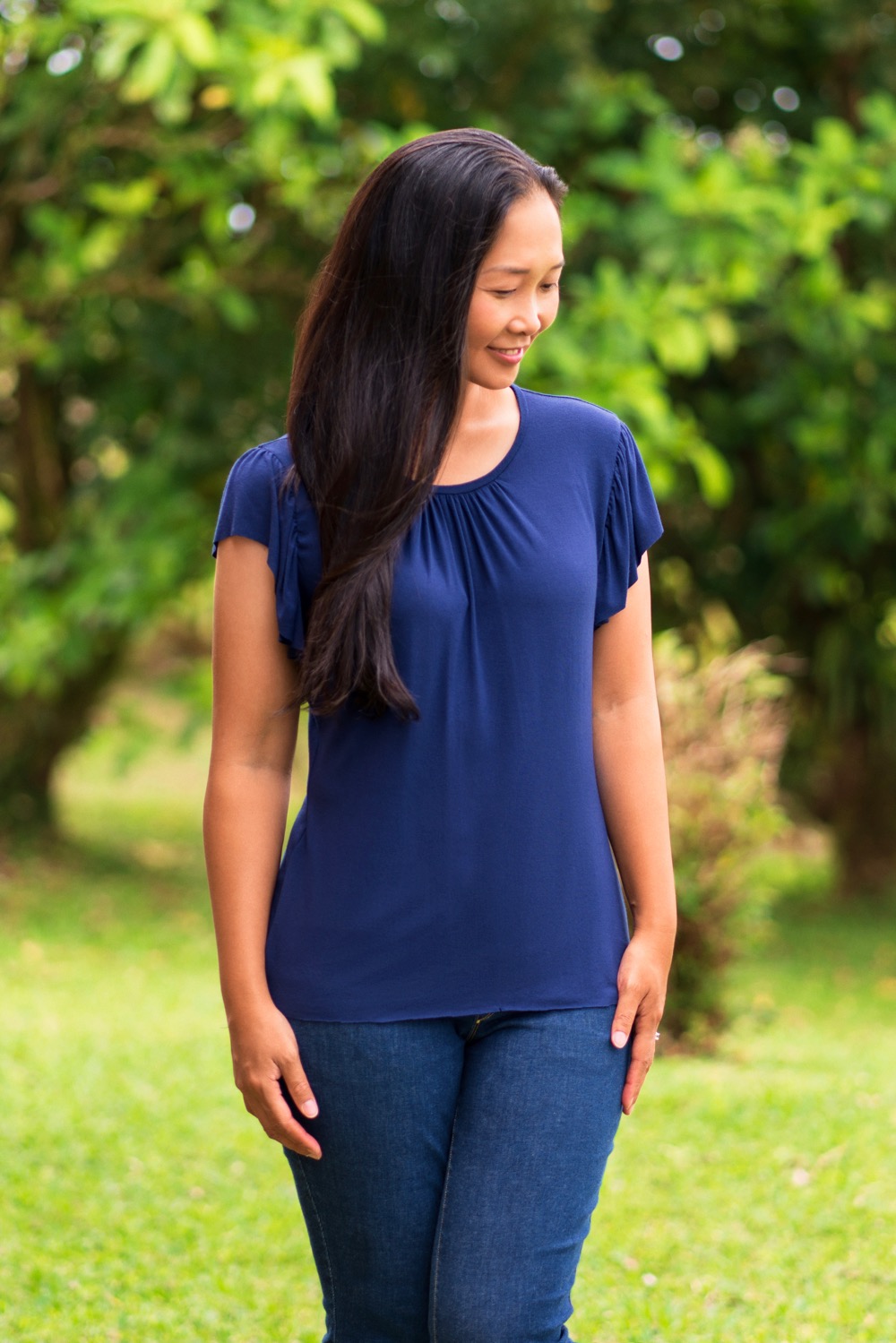 The Isidro Top comes in a sleeveless option, as well as a gathered butterfly sleeve option.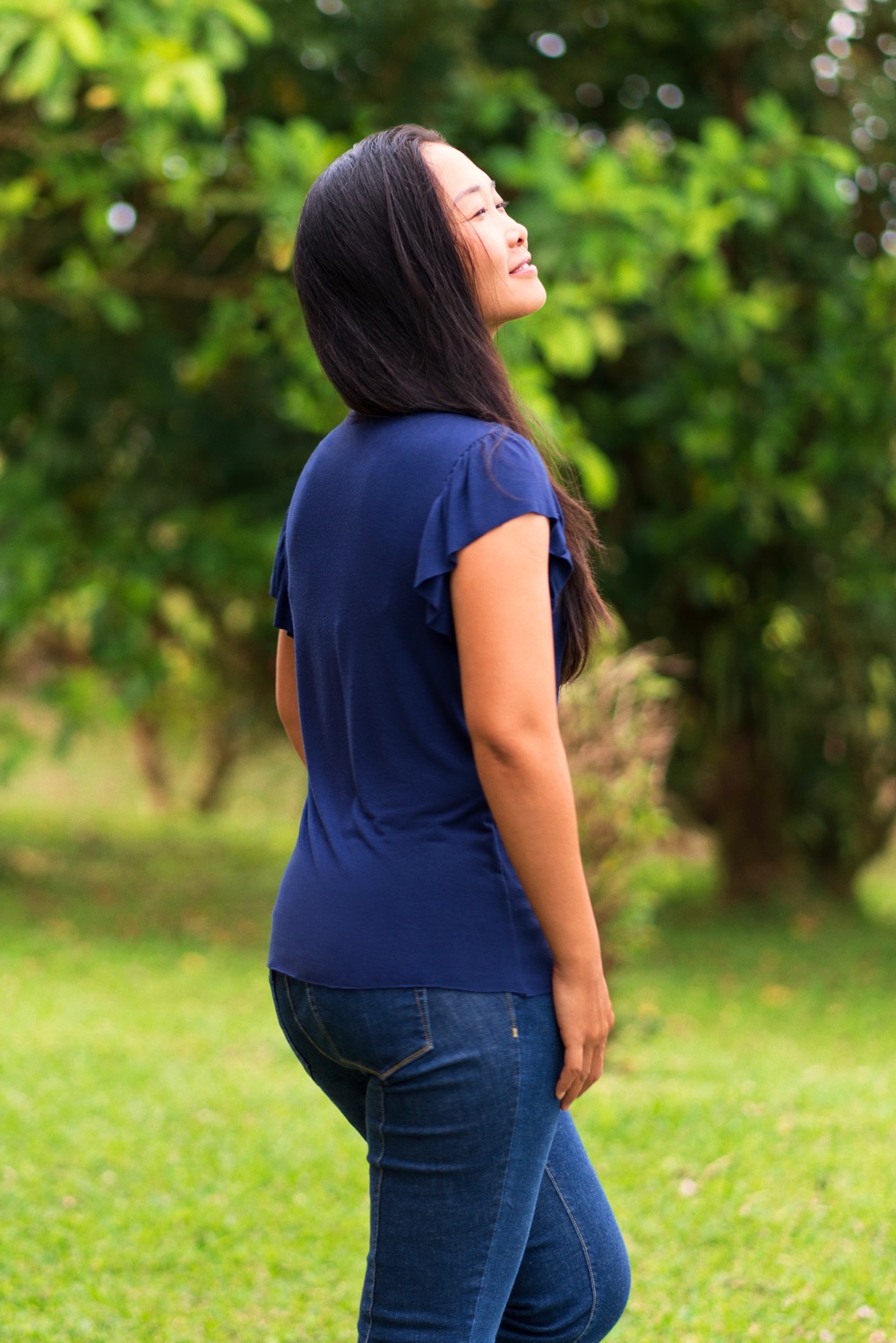 Just like any knit pattern, your fabric choice will change the look and fit of the garment. My mustard one is a jersey on the heavy side, whereas my navy one is a rayon spandex. Both fabrics will work, but you can see that rayon spandex creates a more fluid and a closer fit, and it will be longer as well. The heavier jersey gives a crisper look, and the sleeves have a little more "poof".
But whatever your fabric choice is, the recommended stretch is 50%-75% horizontally. You can choose to have some vertical stretch, but keep in mind vertical stretch makes it longer, whereas a no vertical stretch makes it shorter. Both are good; you just have to plan accordingly.
My testers love the Isidro Top. Many of them made quite a few during the testing period. Some of them even begin to hack the pattern for different looks. What can I say? I already told you it's a versatile pattern!
Let's take a look at them!
Want to get email notification when a new pattern is released? Subscribe to our newsletter!
You can choose to hem the sleeves and bottom like you always do, but for a different look, you could choose to leave them unhemmed if your fabric doesn't fray (gasp!)
Whether in print or in solid, the Isidro Top will be a solid contributor to your wardrobe.
The Isidro Top can accommodate a full figure and not-so-full figure. Whether you are DD cup or a A cup, you are unlikely to need to make any bust adjustment.
I have lots of tester photos, don't I? That's because my testers made multiple Isidros and couldn't stop! They all look gorgeous in their Isidro!
The Isidro Top is simple and is a quick sew, yet it has just a little twist to keep you coming back for more.
My sincere thanks to these testers who did a fantastic job on their Isidro!
Anita
Brooke
Denise
Diana
Heather
Jan
Jolien
Leanne
Be sure to get your copy of the Isidro Top pattern before the sale ends on Monday, April 29, 2019!