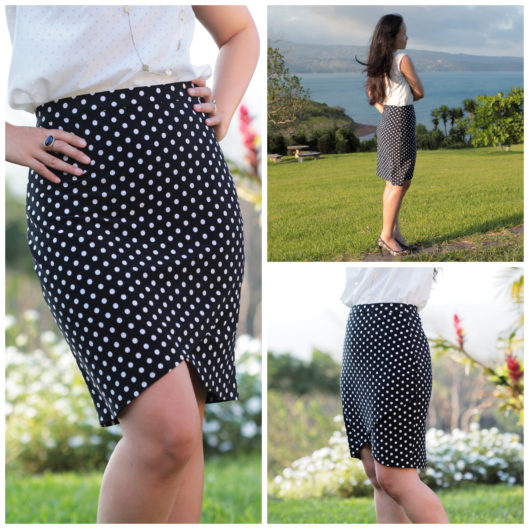 Lindy Petal Skirt Tester Call
Update: Lindy Petal Skirt has been released. It's a free pattern. Go get yours now!
***
After working on a time-consuming project, it's time to sew something with instant gratification. Lindy Petal Skirt comes in the picture. It is ready for testing. Are you interested in testing it?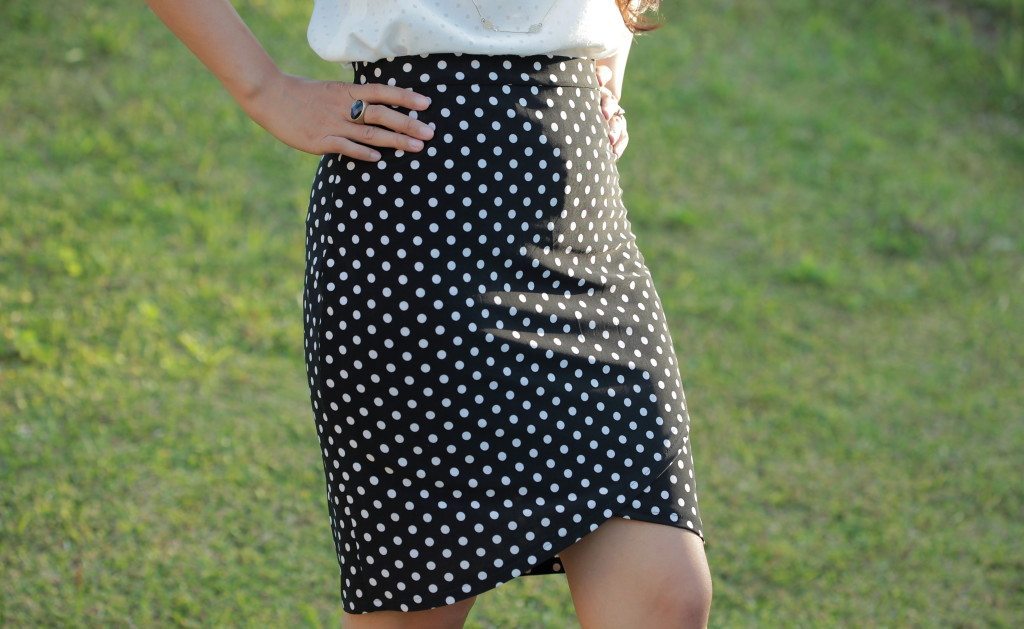 Lindy Petal Skirt is a simple knit pencil skirt with waist band. It features two overlapping curved front panels that resemble two petals. It is figure-hugging and showcases your curves. Lindy Petal Skirt is a quick sew; even starting as a late night project, you will finish in time to wear to the office the next day! Depending on your height, the shortest point in the front is about 3″ – 4″ (7.6 cm – 10.1 cm) about the knees – not awfully revealing, since I keep "office" in mind when I created it (unless you work in an uber conservative place.) The skirt will probably take about an hour to cut and sew.
Highlight
Lindy Petal Skirt features:
Close-fitting knit pencil skirt
High-sitting waistband with elastic
Two overlapping curved front panels
Six sizes (XXS – XL)
Layers feature–print sizes you need

Measurements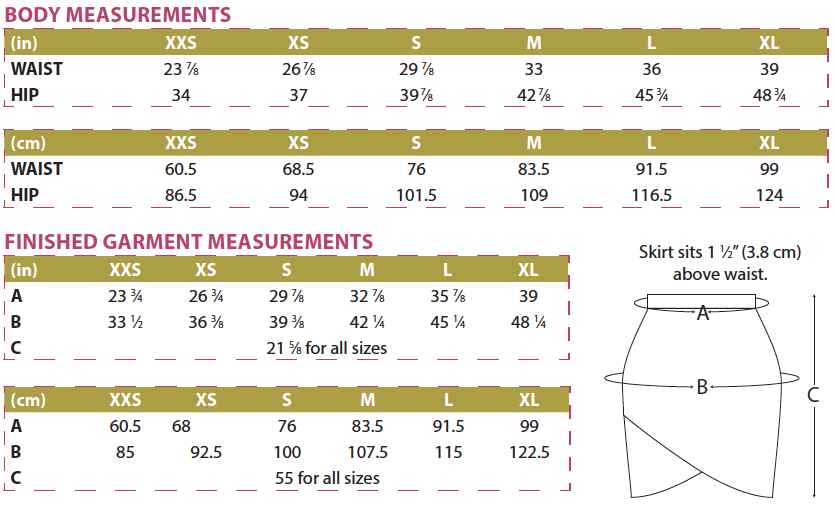 Material Requirements
Primary fabric Use medium-weight 2-way or 4-way drapey knit fabric with at least 50% width-wise stretch. For example, your fabric, when folded in half, should be able to stretch from 4" to at least 6" (10 cm to 15 cm). Matte jersey, jersey, ITY knit and interlock are good choices. Woven fabrics are not recommended.
Other Materials
1 1⁄2"-wide (3.8 cm-wide) knit elastic as long as your waist
Tools
Ball-point or stretch machine needles
Walking foot for your sewing machine (optional)
Serger machine (optional)
Cover stitch machine to finish your hems (optional)
Twin needles to finish your hems (optional)
Wooly nylon threads to finish your hems (optional)

Fabric Requirements
Most natural fibers shrink in the wash, be sure to have enough fabric. The requirements below assume that the fabric is already pre-shrunk.


Timeline
I plan to start testing Wednesday, April 22nd, and would like to receive your modeled photos with the skirt by Monday, April 27th. But as always, if there's any important change to the pattern, we'll extend testing as needed.
Read This (!!)
For the sake of transparency, I want to let you know that Lindy Petal Skirt will be offered as a free pattern. Yes, I am testing a free pattern. I see no reason that a free pattern that carries the "Itch To Stitch" brand should have poorer quality. It is a simple pattern, but from a quality standpoint it should be no difference from any other Itch To Stitch patterns. So please take into consideration when you apply.
Tester Selection
The chosen testers will be invited to a private Facebook group where we can discuss the pattern, share pictures and discuss revisions. I will send the invite/link to the email that you provide. So please make sure you enter the correct email in the form below.
In return for your time, effort, professionalism, input and participation, upon completion of the testing, you will receive:
Feature you in a blog post that directs traffic to your blog/site/store/Etsy store
A coupon for 50% off toward a single purchase of any one or more Itch To Stitch patterns
Please sign up below if you are interested. Testing is one of the most crucial steps for producing a quality pattern. I appreciate your applying!
***Tester Call is Closed***