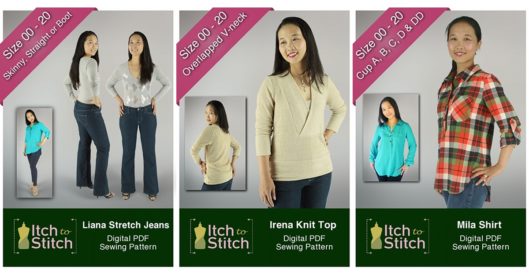 Liana Jeans, Irena Knit Top and Mila Shirt Released + Sale (& Bundle Discount!)
I can't believe it has been more than 3 months since I put a new pattern in my shop. And finally I am putting 3 patterns on this fine Cyber Monday. Currently the three patterns are on sale for 20% off (valid Nov 30 through Dec 6), and if you get two or more of any Itch to Stitch patterns, there's another 15% off (use the code Cyber).
This post has many awesome photos, so for the sake of loading speed, I made the photos smaller, but you can still click on the photos to enlarge them.
The first one is the long-overdue Liana Jeans. I am super excited about this pattern. You have the option to make the skinny, straight or boot legs (or a pair of each)! These jeans are mid-rise but with a bit more coverage in the back to prevent the notorious plumber phenomenon. The jeans have a classic five-pocket design, and you can choose to include the back pocket flaps, which is perfect for those of you who like your back sides to appear more curvy. Also, there's a pocket stay, which helps to trim the tummy.
And if you are in the Itch to Stitch Facebook group, you might have heard that I am running a sew along starting on Wednesday (Dec 2nd). I understand that sewing and fitting jeans can be intimidating, but there's really no reason to fear. That's why I'd like us to do it together. Not only will you get a pair of great-fitting jeans (or several pairs), but you will also get an amazing sense of accomplishment. You don't have to be on Facebook to sew along (though it would be great to see you there); the main actions will be happening on the Itch to Stitch blog, so stay tuned!
Here are some photos from my awesome testers (and several of them made their first pair of pants ever!).
The second pattern is Irena Knit Top. I specifically created this top to go with the jeans. I call it "no time to knit a sweater" sweater (if you use a sweater knit fabric). Irena is designed to be worn with a cami, a shirt (if you choose to up a size) or any top underneath. This is a relatively quick sew, but you do need some precision sewing to make the front V perfect. I know you can do it! And try using different fabric for the sleeve and neck bands to add visual interest.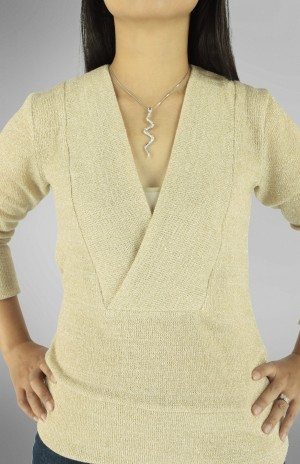 The Mila Shirt pattern is not new per se, since it was released in the Indieswe Winter Collection 2016 two weeks ago. But this shirt is now available in the Itch to Stitch shop. This shirt is quickly becoming my all-time favorite. The most important feature of this pattern is the cup sizes; it comes with A, B, C, D and DD cups. You can get a great fit without bust adjustment! I also love the sleeve tabs (optional) for holding my rolled-up sleeves. You can choose to have a regular collar or just the band without a collar. The Mila Shirt also has a center-front, button-down placket for a casual look; classic high-low shirttail hem; integrated front and back yoke; and slight gathers at front for subtle shaping.
Last but not least, my special thanks to the testers who help me to produce these high-quality patterns.
Adrienne
Cindy
Crystal
Debbie
Donna
Gaëlle
Ilyn
Jessica
Joni
LaNisha
Linda
Pam
Rita
The sale only runs till Dec 6. If you get two or three of these new release patterns, the total discount is 32% off! So get your Liana Jeans, Irena Knit Top and Mila Shirt patterns now. But the additional 15% off is applicable to any other patterns too; check out all the patterns!