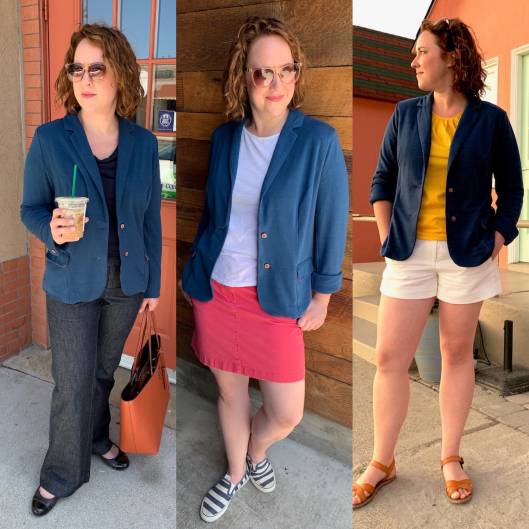 La Paz Jacket by Hannah—Make It Wear It
I always thought of a jacket with notched lapel as something formal. But after seeing Hannah's styling with the La Paz Jacket, my opinion is changed. She looks amazing in her various outfits with the La Paz Jacket. Take a look at her experience making and wearing the jacket that almost feels like a cozy sweater (yet so composed)!
Before we dive in, let me sincerely thank our fabric sponsor, Sly Fox Fabrics! The Ponte Roma fabric is truly lovely!

---
Hi! My name is Hannah and I am the modistra, that's Greek for dressmaker, from Modistrasews.com! I like all things garment sewing. I was thrilled when Kennis selected me to be part of her Make It Wear It series. Currently I reside in San Diego, California and I teach sewing mostly to beginner students. With my students I try to do a lot of easy makes, so I felt it was time for a challenge! That is when I spotted the La Paz blazer. This blazer needed to be added to my wardrobe for sure. It includes two features I have never sewn before, a lapel and a welt pocket. I really love challenging myself with learning new skills and to be honest, welt pockets put a little fear in me. There are a number of steps, but once you get them all down it's really a piece of cake to complete.
As a sewing instructor I look for well written and thought out instructions.  Kennis' instructions did not disappoint!  She has one tutorial for welt pockets on her blog that she refers to in the pattern instructions.  I read those first and then used only the instructions included with the pattern to execute the pockets.  It went slow because I took my time on the first one and it came out perfect!!  The next one was a breeze! It's my new favorite pocket style! I even used a contrasting fabric for the lining to add a pop of color. If you haven't tried a welt pocket seriously consider starting with this blazer using Kennis' tutorial.
Next up was the lapel. Again her instructions were very clear! It does take a little bit of really squaring up the fabric to get everything lined up right but if you do and you sew exactly to the required notches your lapel will come out really well. I'm really proud of the way it come out.
The fabric I used was a Ponte Roma from Sly Fox Fabrics. This fabric has a bit of drape and some vertical stretch and because of that I decided I needed a slight bit more structure to the shoulders. So I added shoulder pads and I think that helps the blazer hang nicely on my body. That was the only hack I did that was outside the scope of this pattern. Since this jacket is knit I would say while you are wearing it you look pulled together because of the style but feel like you are wearing a cozy sweater! This really is the perfect pattern to take you into the fall season.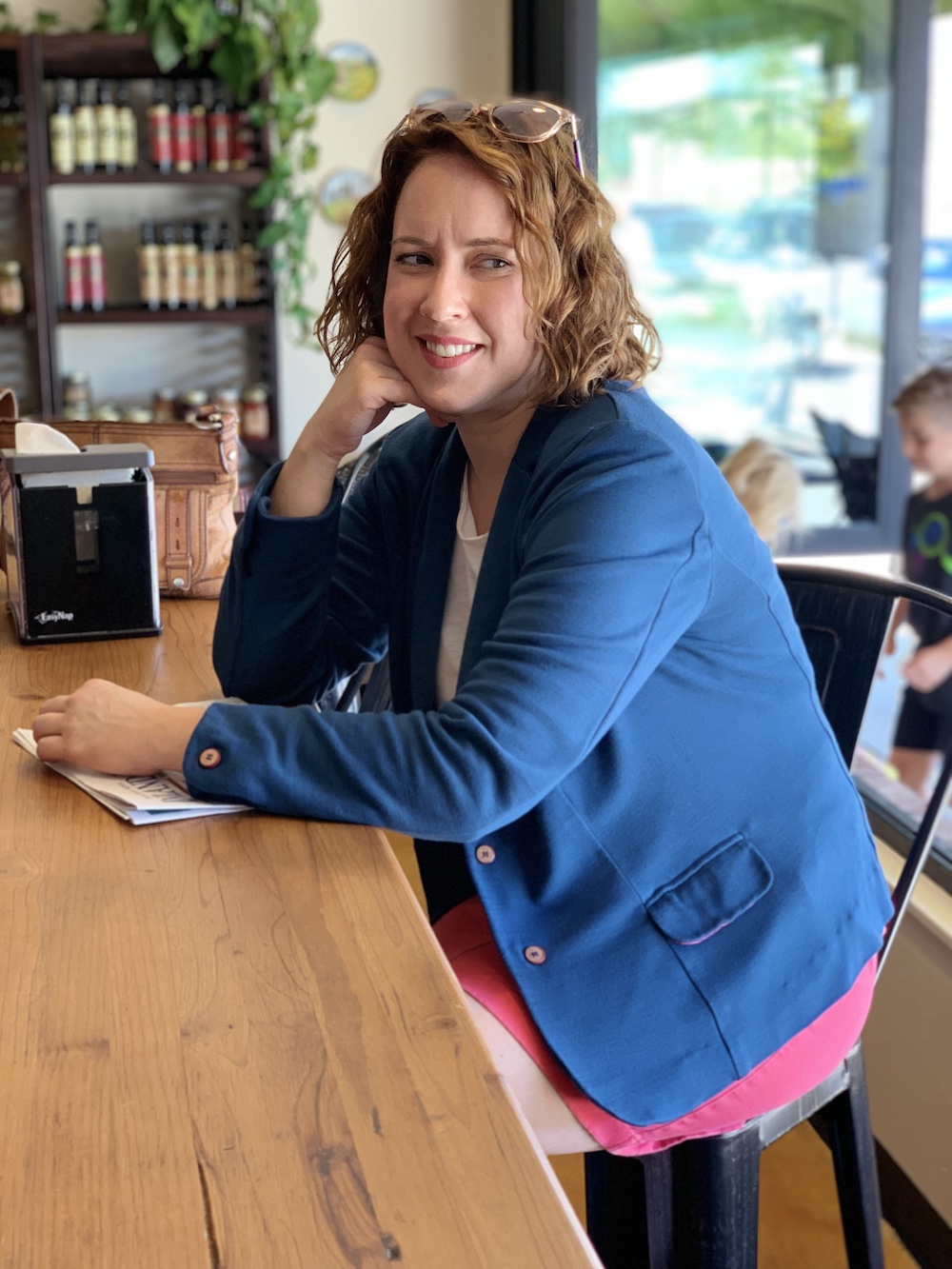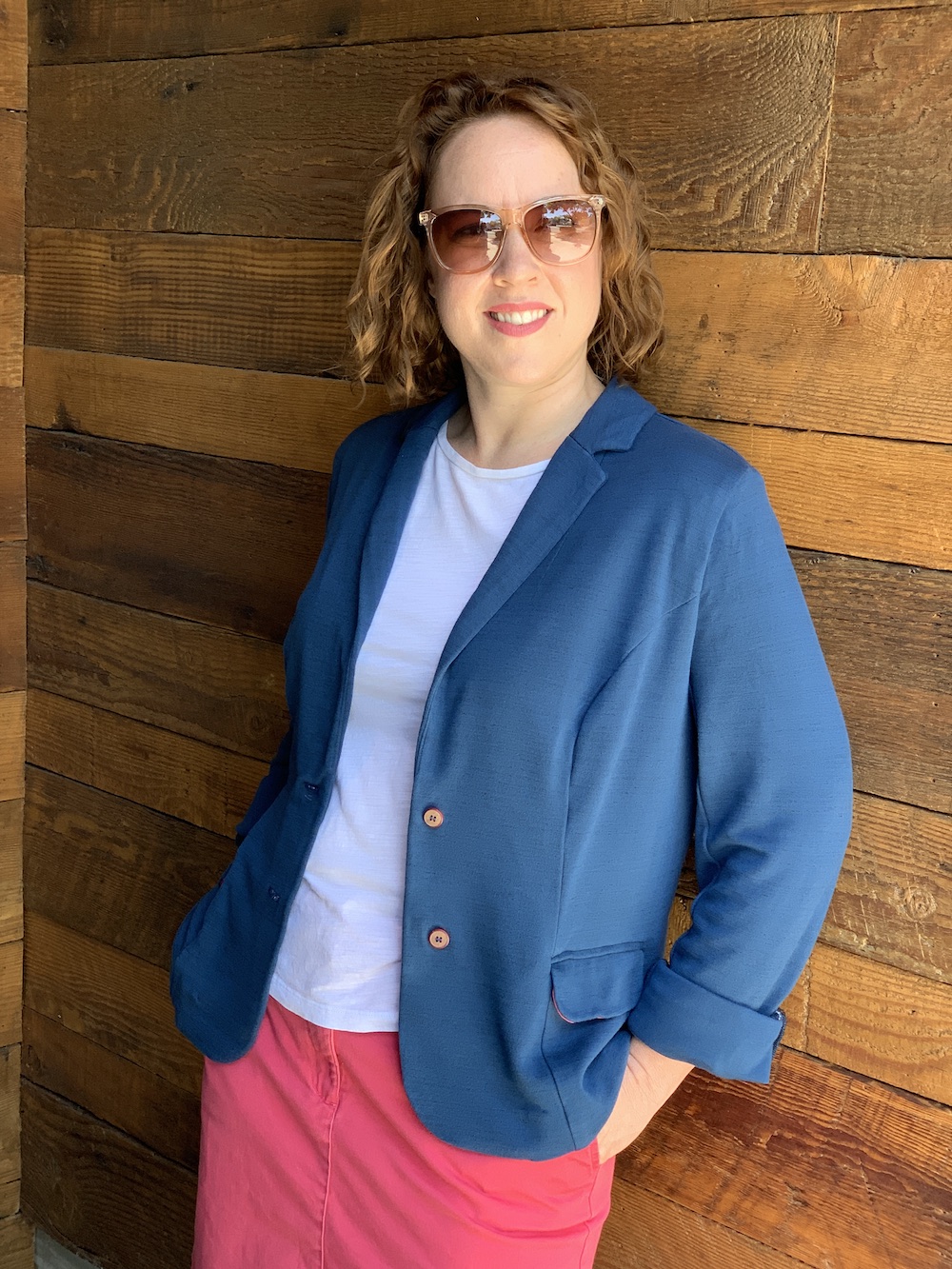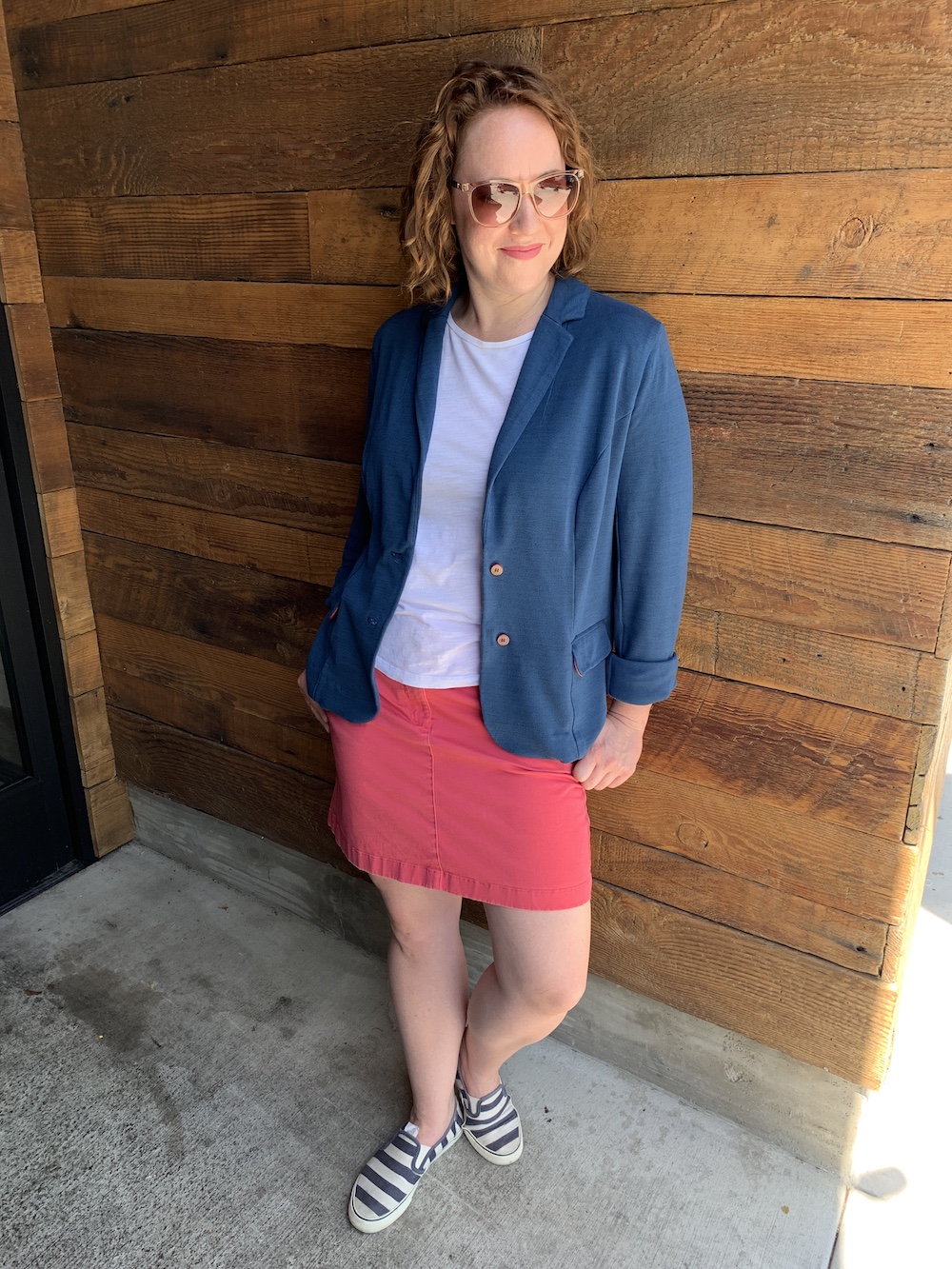 Now for my three looks! I wanted my first look to be casual so paired the La Paz blazer with a basic white tee, a cute little skirt and sneakers. This outfit is something I would wear to run my errands or to meet a friend for lunch. Since the sleeves have a real button holes you have the option to unbutton them and roll your sleeves up, giving you an even more dressed down casual look.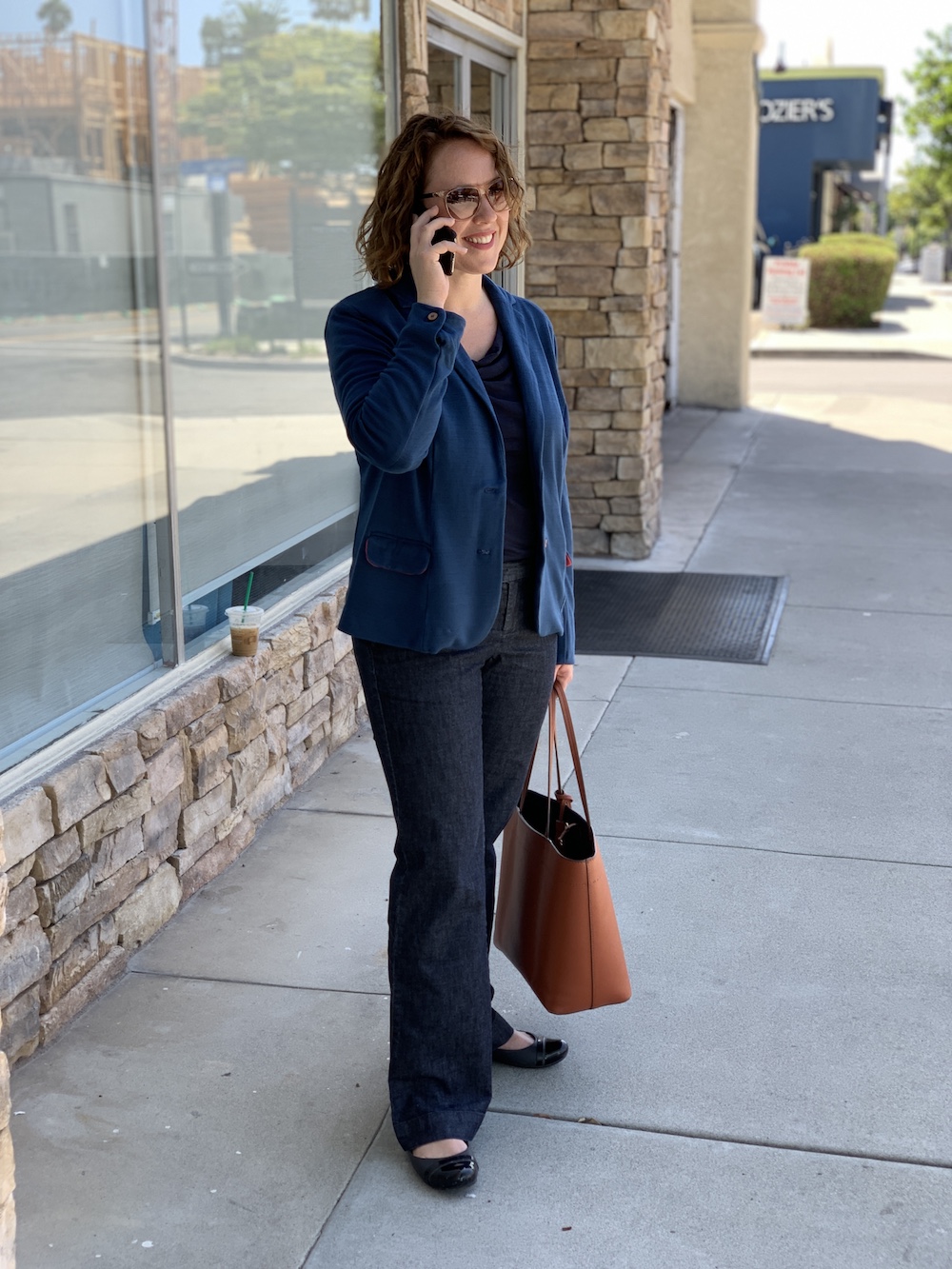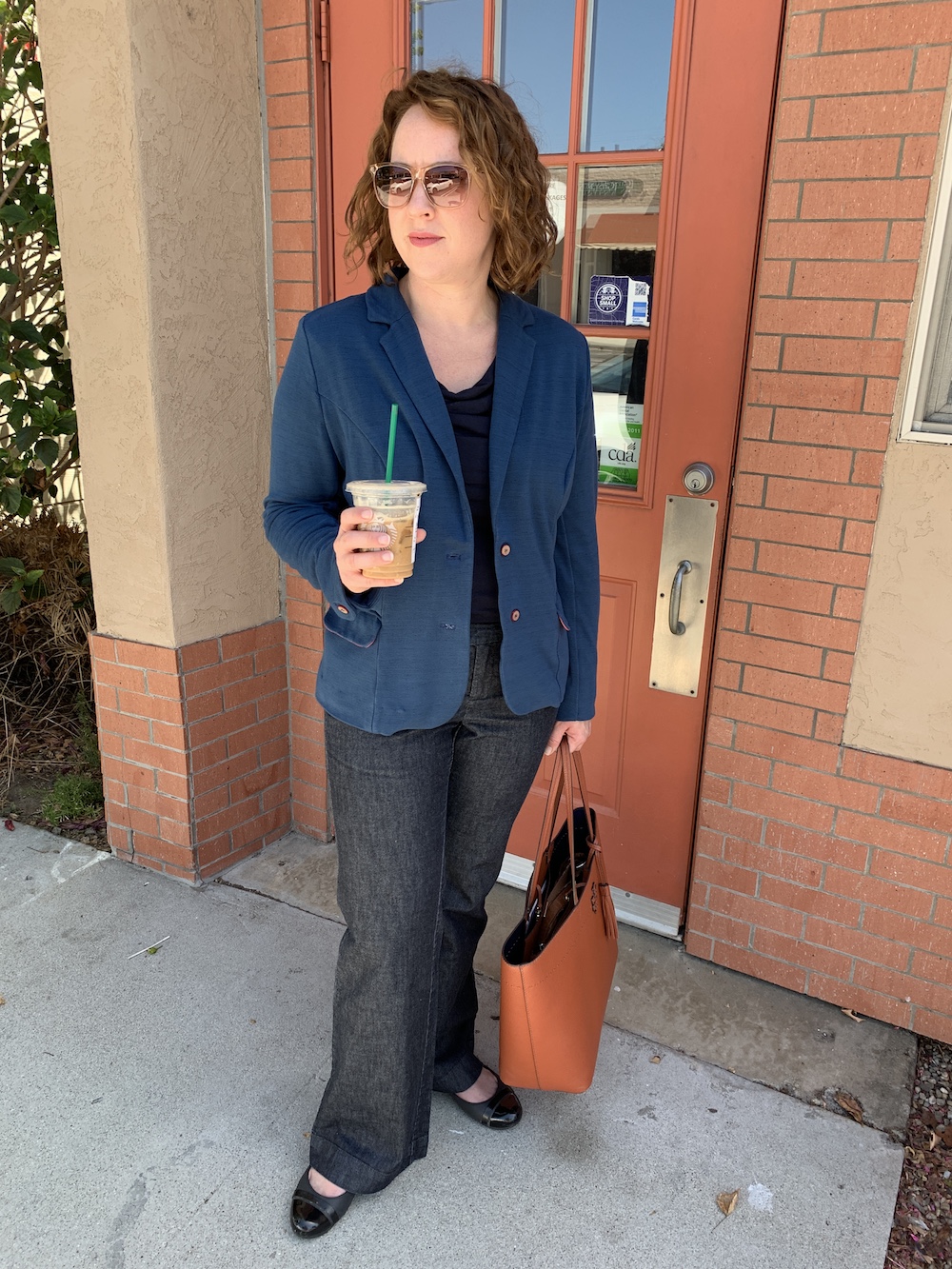 The second look I created was business casual. The blazer went nicely with my jean trousers, a knit blouse and ballet flats. You will look polished in the office or when out meeting with clients. This look is also the one that will take you right into fall! A blazer has a nice way of making you look put together and because The La Paz blazer is made of knit it keeps you comfortable through the day.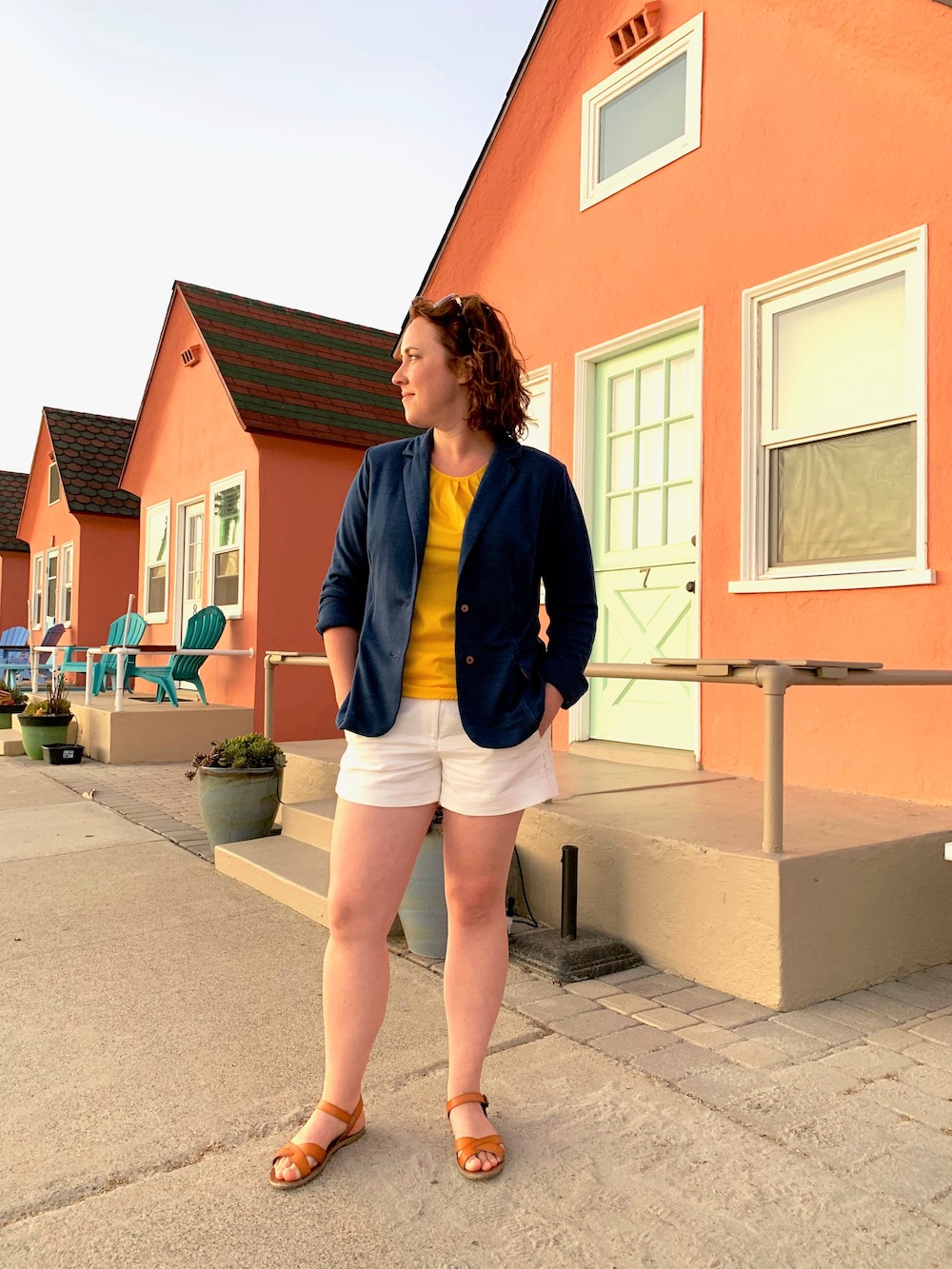 My last look is a casual date night look. Because the weather is still warm here in Oceanside CA I decided to pair the blazer with shorts and a sleeveless blouse for a walk on the beach to dinner. Once the sun went down the blazer was just the right thing to take the chill off as the day cooled off.
The La Paz blazer is really a staple for anyone's wardrobe. It is so versatile and easy to wear. This will definitely be in heavy rotation this fall season and I already have plans to make another one soon! I hope you give this pattern a try, its truly one that will stand the test of time!
---
Interested in following the Make It Wear It blog series? You can follow Itch to Stitch's blog on Bloglovin' or you can also sign up below to get the Itch to Stitch newsletter. Either way, you'll be notified when the first issue of Make It Wear It is up.