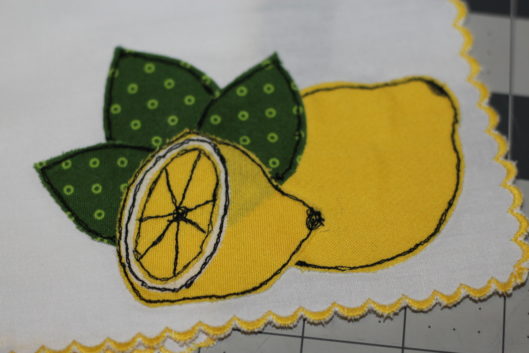 Free Motion Applique with a Free Download
Hello everyone! I'm back today and sharing a little bit about Free Motion Applique. I've done some lately for a recent tour which you can read about over on my blog here, and Kennis asked me to share about FMA as it was a new-to-her skill. Just to make things fun, I'm sharing a free download for you to use on your first project if you would like to give it a go. If you aren't familiar with FMA, I like to think about it as sketching with your sewing machine and thread. It gives you the ability to be creative with your stitching and be the one in control everything, and I just love that.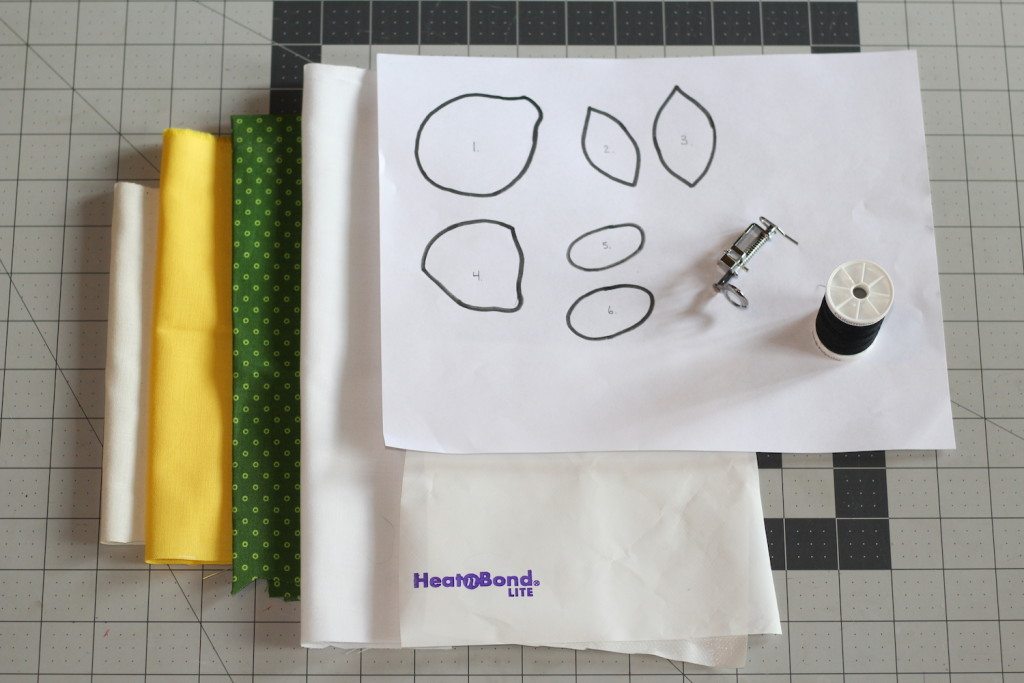 Here are the supplies you need for this project.
Applique pattern download here, or just make your own design/pattern. [wpdm_package id='11876′]
A quilting foot. Mine came with my machine, so check your feet first before ordering one. If you don't have one, you can grab it easily on Amazon here. You can see the photo below if you want to check out what it looks like. 
Fabric. Choose the colors you need for your project, plus a neutral solid or muslin. (More on that later.) FMA is an awesome scrap buster, so check your stash before going out for new stuff. I can't believe I just said that.
Thread. I like to use black for my FMA because it gets a fun sketchy look to it. You can totally use coordinating threads if you are the matchy-matchy type!
Heat N Bond LITE
Stabilizer. I'm using a medium weight tear away because I have a ton lying around. It really depends what you are going to be putting your applique on. I'm going to be putting mine on a woven scarf, so tear away will be just fine.
Other basic sewing notions: Scissors, Iron, Sewing machine, marking pen, etc.
Another note we need to make before we start is that you need to lower your feed dogs. My machine doesn't actually have a button/switch to do this. I have a plate I put over the feed dogs to cover them. You may need to look at your manual to learn how to do this. This is pretty important because it is what allows you move your fabric freely, hence FREE MOTION applique. Let's get started.
Step 1: Apply Heat N Bond Lite to the wrong side of fabric and remove paper backing. Trace pattern pieces to fabric, then cut out. See cutting chart below if doing the free lemon applique. This order is different from some you may see. I like to do it this way so that I can use my Frixion Pens to trace. If I trace first then apply Heat N Bond, my pen markings disappear when I iron, AGH!
Cutting Chart for Lemon Pattern:
| | |
| --- | --- |
| Pattern Piece | Cutting directions |
| 1. | Cut 1 |
| 2. | Cut 2 |
| 3. | Cut 1 |
| 4. | Cut 1 |
| 5. | Cut 1 |
| 6. | Cut 1 |
Step 2: Layer pieces onto neutral/muslin fabric. Basically, we will stitch everything to the muslin then attach it to our final piece and outline only the border when attaching it. To layer the lemon applique use the information below. Press to attach to the muslin.
Pattern Piece Layering:
Piece 1
Piece 3
Both of Piece 2
Piece 4
Piece 6
Piece 5
I like to sketch my lemon detail by hand here so that I can stitch over it easily. You can also free hand this with your machine, but honestly I'm not cool enough for that to actually turn out. You can see my details sketched below.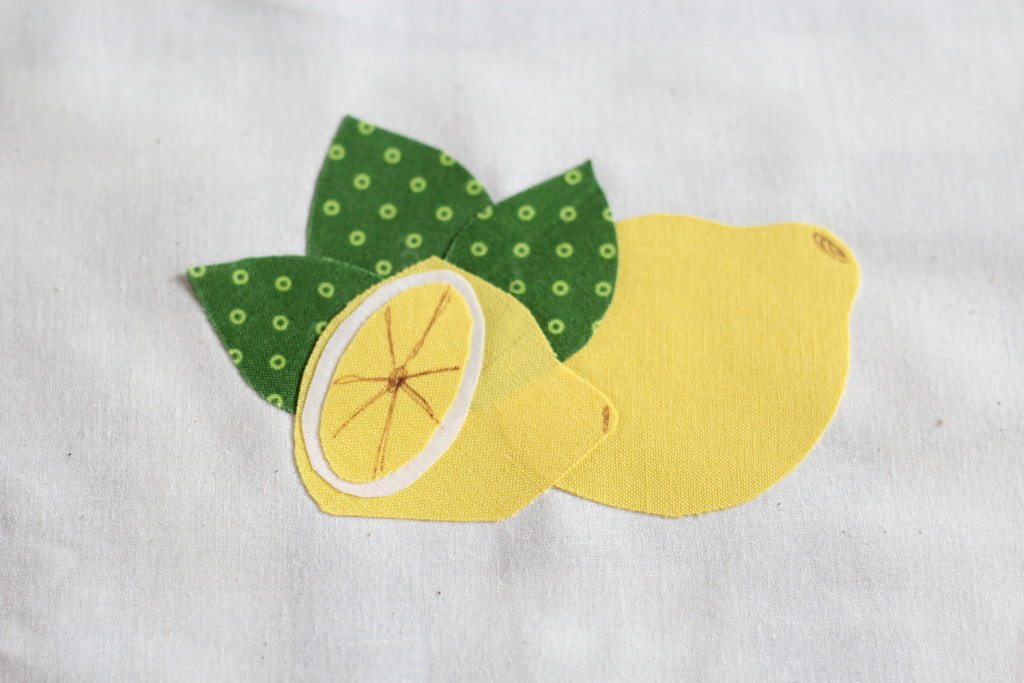 Step 3: Now we get to hit the machine. Double check that you have switched your presser foot to the quilting foot and that your feed dogs are lowered. If you have the ability to set your machine to stop with the needle down automatically, I would turn that on as well. We will use a straight stitch here keeping the length and tension at the auto setting. For me, this length is 2.5. Your stitch lengths will actually depend on how you move your fabric since the feed dogs are dropped and not feeding the fabric for you.
Stitch around the outside of each piece edge one time and the the inside details twice. The second line of stitching on the outer edges will occur when we apply the appliqué. You could also save all outside lines until attaching, but I like to do one here because I feel like I have more control, especially if I'm adding to an already made garment.
The beauty in FMA is in the imperfections. Don't freak out if you get going a little crooked. This is part of what makes it like sketching with thread. Look at mine. There are definitely places where I am not perfect, but I still love it!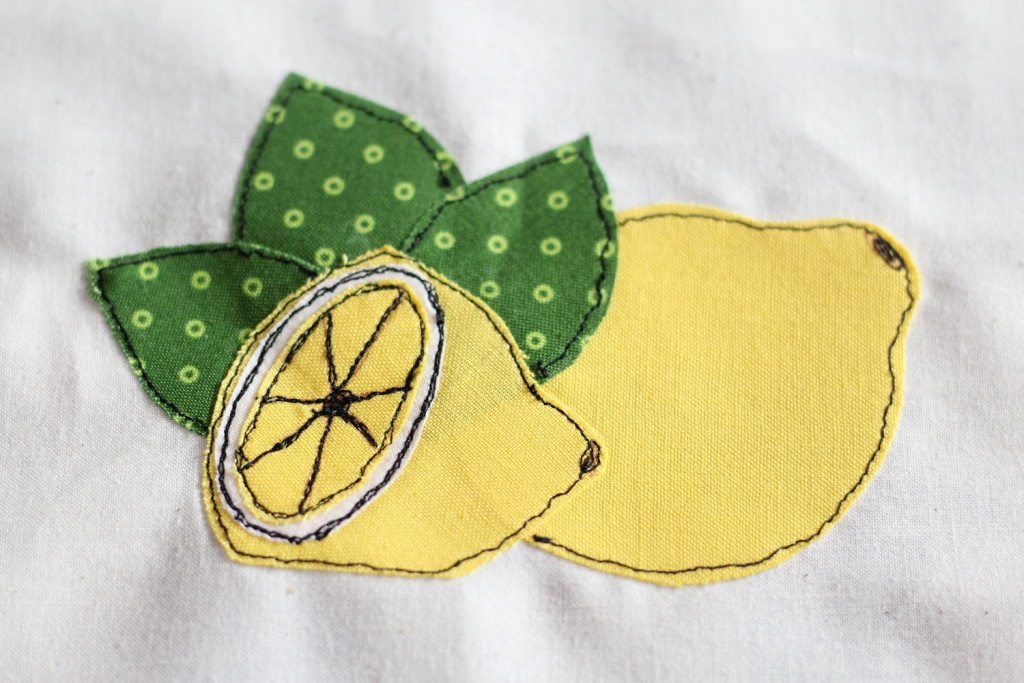 Step 4: Apply Heat N Bond to the back of the muslin, then cut out applique. Be sure to cut closely so the muslin isn't visible.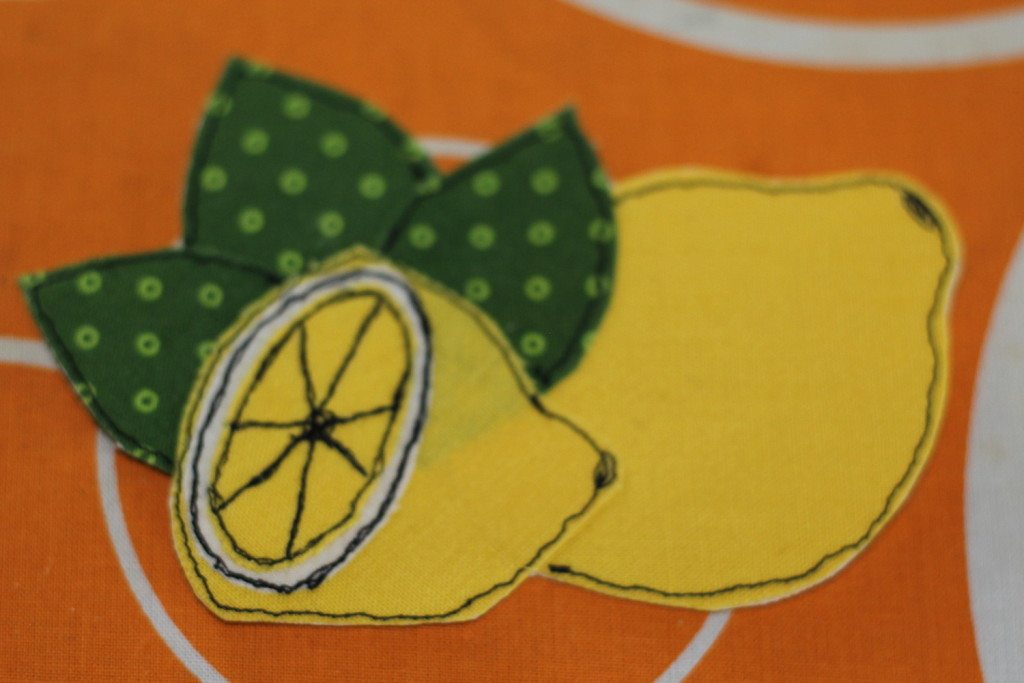 Step 5: It's time to attach our applique. For this tutorial I'm using a scarf that I plan to tie to my purse for a little something extra. FMA is great anywhere. You can put it on apparel, blankets, bibs, kitchen towels, etc.
Press the applique to your item to attach with the Heat N Bond. (For me it's the scarf.) Place stabilizer under the item you are attaching the applique to. Stitch around the outside of the applique to attach securely.
Step 6: Tear or cut away stabilizer. If you are putting this on apparel you may want to cover the back with Tender Touch or something similar to keep the scratchy feeling away.
Check out my finished applique below. What do you think? If you give FMA a try and use this pattern, we would love for you to share it with us. You can post a photo of your creation in the Itch To Stitch Facebook group, or on Instagram. Be sure to tag your pictures #itchtostitch and tag Kennis @itchtostitch and myself @cgobin so we can see all your creations!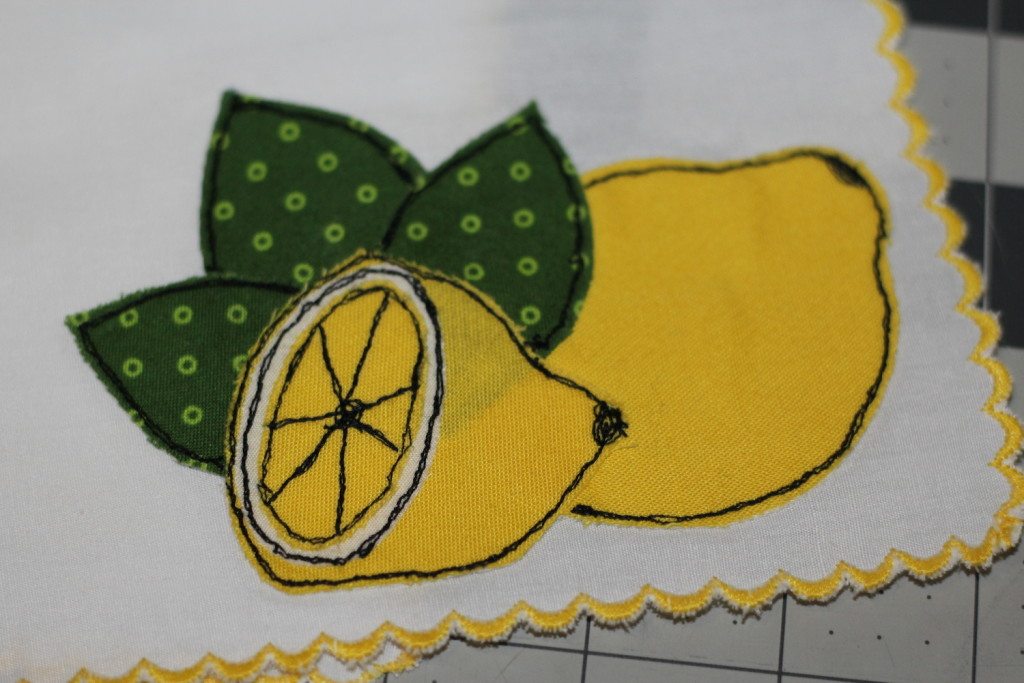 This post was written for you by Cassy Gobin of Pear Berry Lane Blog. Be sure to check out her other posts here at Itch to Stitch and stop by Pear Berry Lane for a visit too.