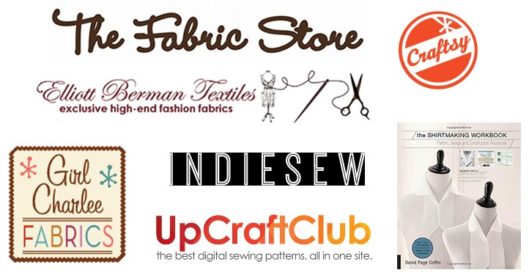 Winner of Itch to Stitch Birthday Grand Prize + Winner of Filles à Maman Patterns
"I think my fondest sewing memory is when a lady I know found out that I sew and offered me her serger since she wasn't sewing anymore. It was such a kind thing for her to do."
That was Kristen's fondest sewing memory. Congratulations, Kristen. You were randomly chosen by Rafflecopter as the winner of the Itch to Stitch Birthday Grand Prize. I will contact you via email.
Your prizes include (Thank you so much sponsors!):
The Fabric Store – $100 Gift certificate
Elliott Berman Textiles – Fabric bundle from France & Italy
Craftsy – three online classes of your choice
Girl Charlee Fabrics – $25 Gift certificate
Indie Sew – $25 Gift certificate
UpCraft Club – $25 Gift certificate
Quarto Publishing Group USA – the SHIRTMAKING WORKBOOK by David Page Coffin
Also, the last winner from the featured designer giveaway is Anissa. You will take home two patterns from Filles à Maman. Congratulations! And thank you Mel for the giveaway!
It has been a lovely experience. I really appreciate you celebrating Itch to Stitch's birthday with me. Please look forward to many great patterns from Itch to Stitch!