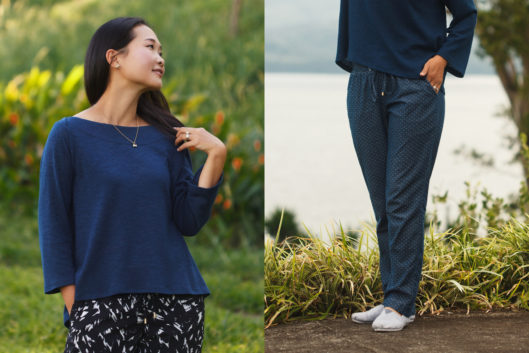 Testing Call: Newport Top & Tierras Woven Joggers
TESTING CALL CLOSED
The testing call is now closed. Thank you so much for your support! The patterns are now available: Newport Top & Tierras Woven Joggers.
+++++++++++++
Itch to Stitch has been a bit quiet lately, but that's because I am hard at work making more patterns! Two of which are now available for testing – they are the Newport Top and the Tierras Woven Joggers! Are you interested in testing one or both of them?
Personally, I have been wearing a lot of comfy clothing (It's not surprising since I work from home), and I thought: I bet a lot of people also like comfy clothes that they can wear at home, but still can go out and run around town in. There is a reason the "athleisure" clothing are in! It's not just a trend for the sake of a trend, but it's clothing style that is designed to fit our lifestyle.
Newport Top
Here are some highlights for the Newport Top:
Boxy silhouette with a relaxed fit
Wide boat neckline
"Envelope fold" shoulders
High-low hem
Two sleeve options: 3/4 flute

 

and regular long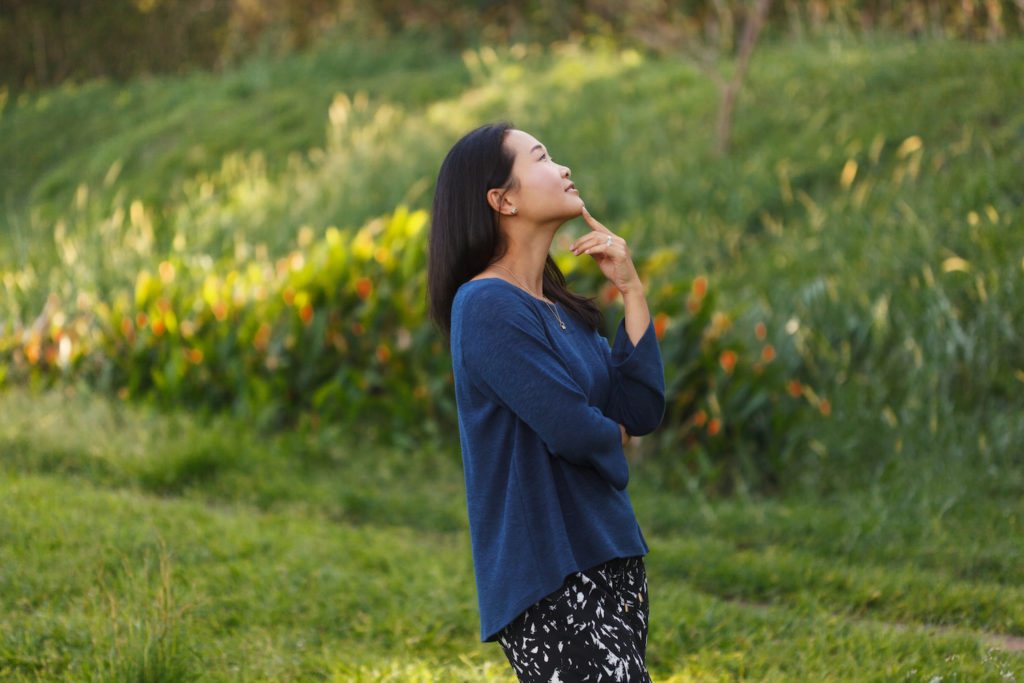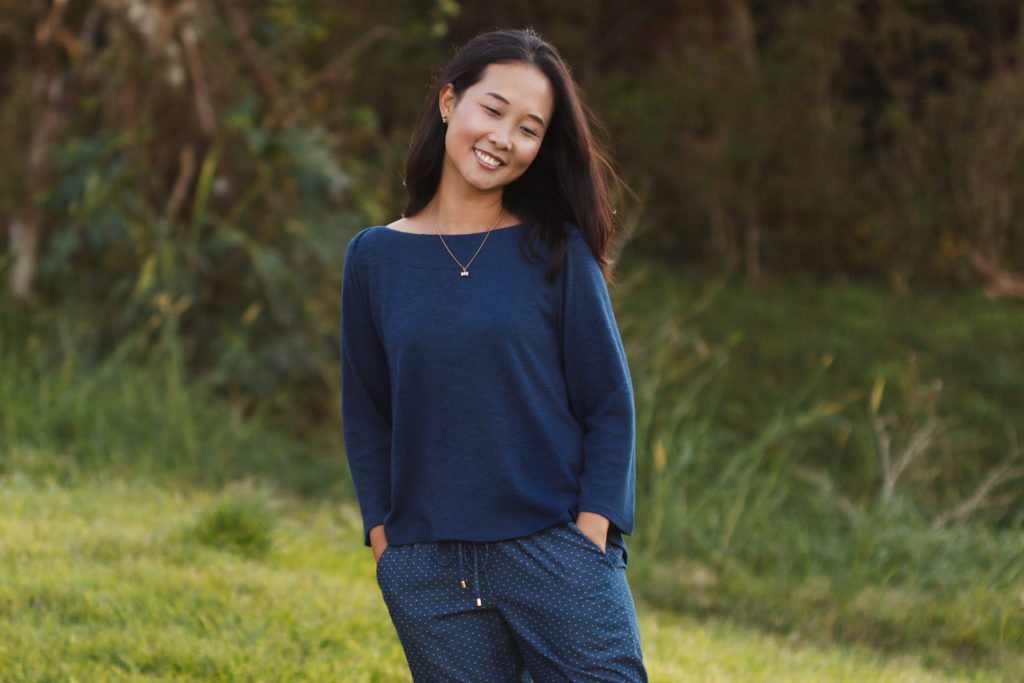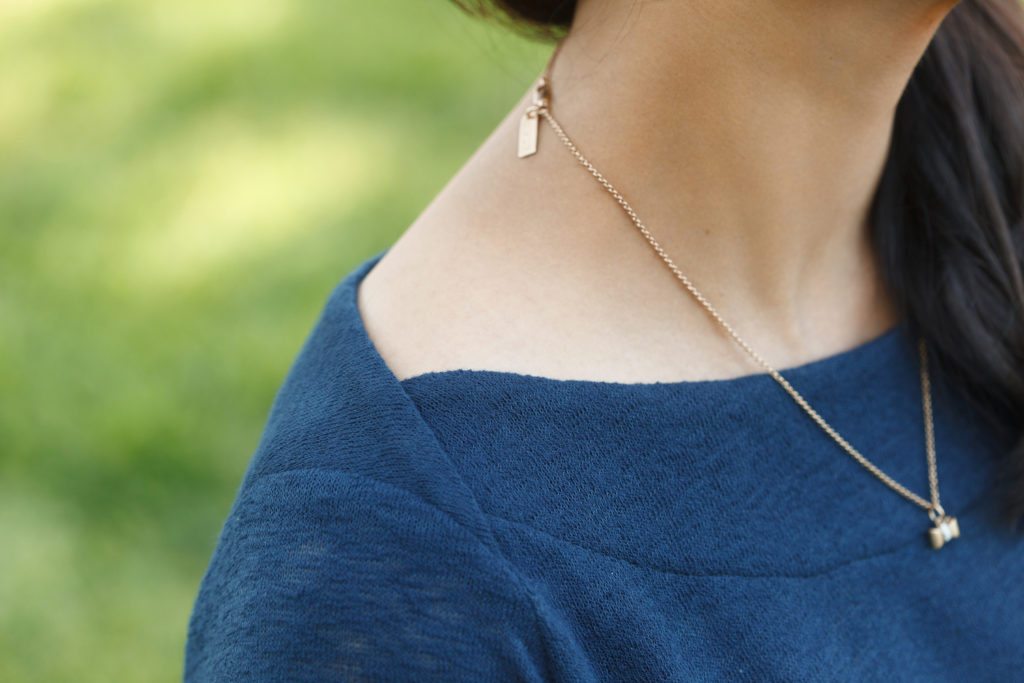 Newport Top Body and Finished Garment Measurements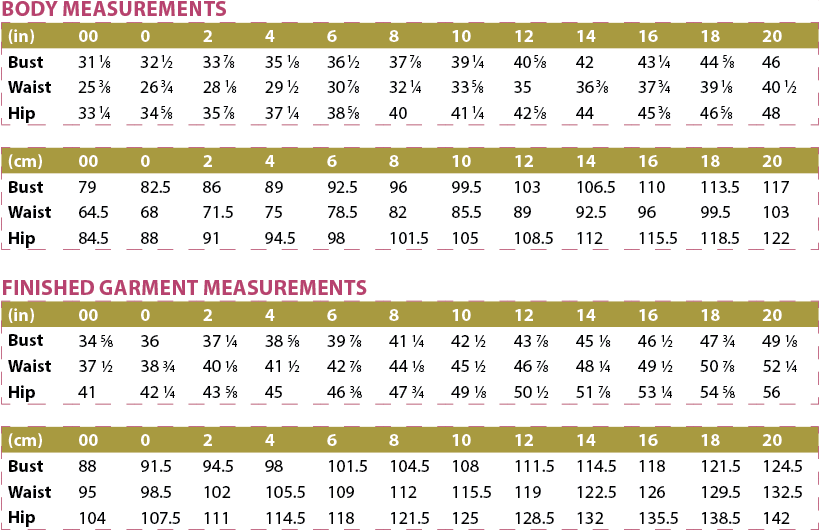 Newport Top Material Requirements
Primary fabric Use light to medium-weight knit fabric with 20% to 50% stretch as well as great drape and recovery. Sweater knit and jersey are great choices.
Interfacing Use lightweight knit or tricot fusible interfacing.
Newport Top Fabric Requirements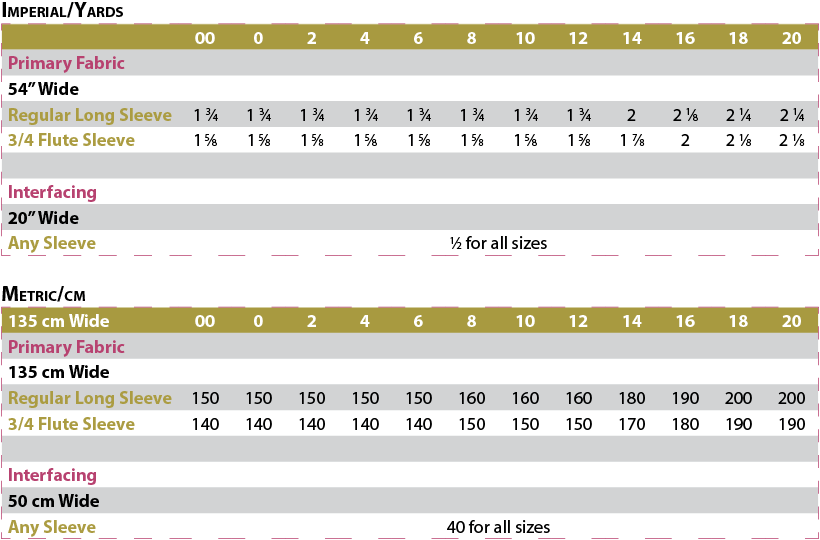 Tierras Woven Joggers
Here are some highlights for the Tierras Woven Joggers:
Elastic and drawstring waist
Medium-low rise in front and medium rise in back
Deep and functional side pockets
Tapered leg for a slim look
Optional elastic hem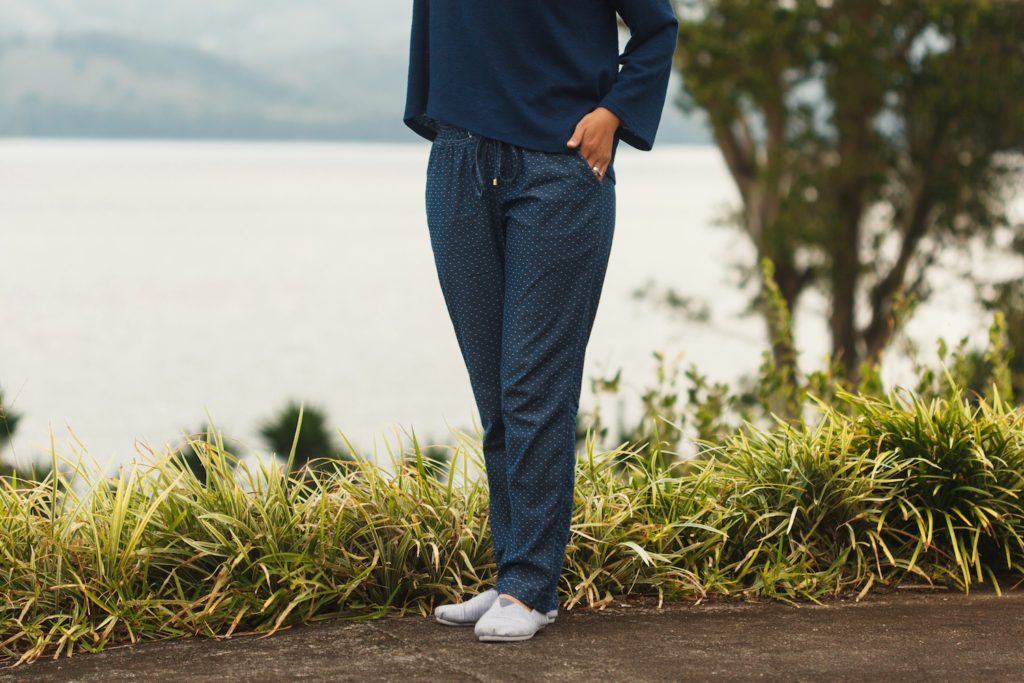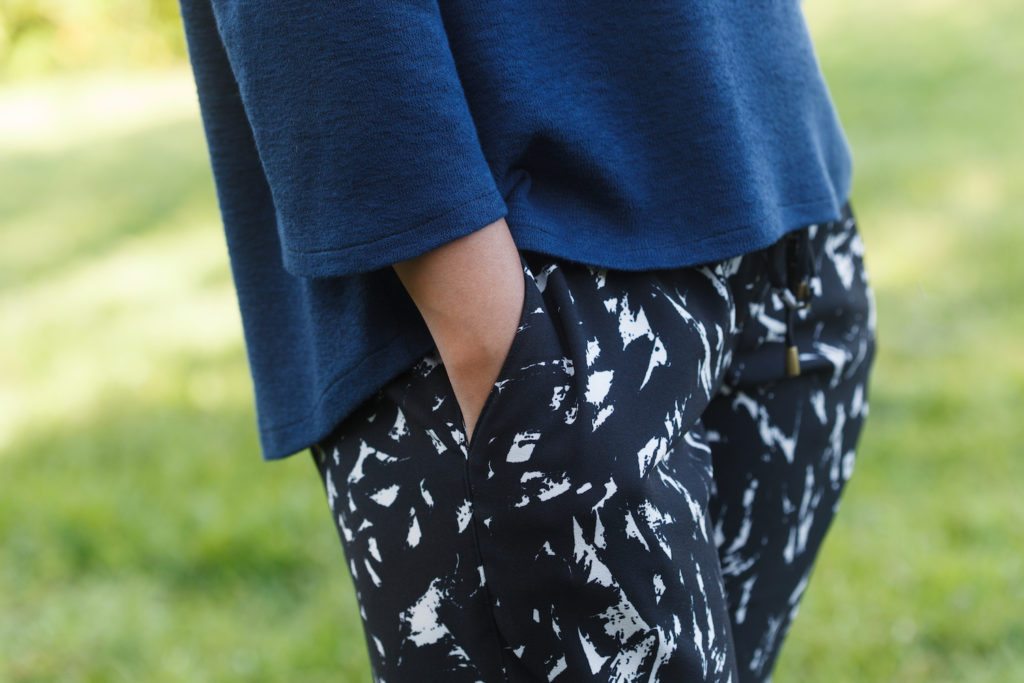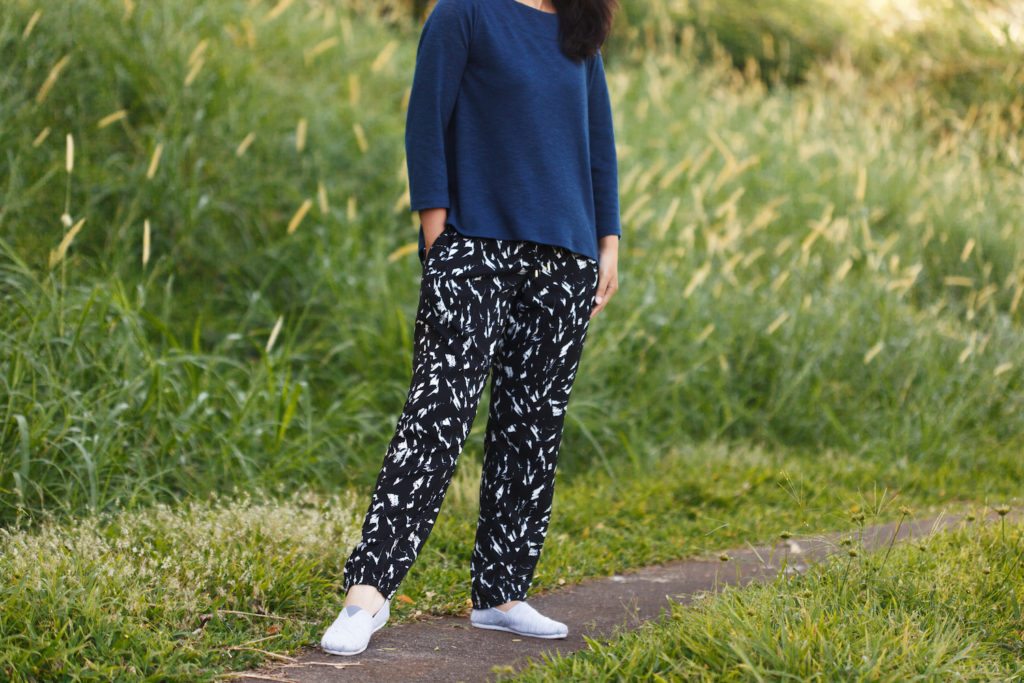 (The black and white fabric is Abstract Brushstroke Poly Crepe from Style Maker Fabrics.)
Tierras Woven Joggers Body and Finished Garment Measurements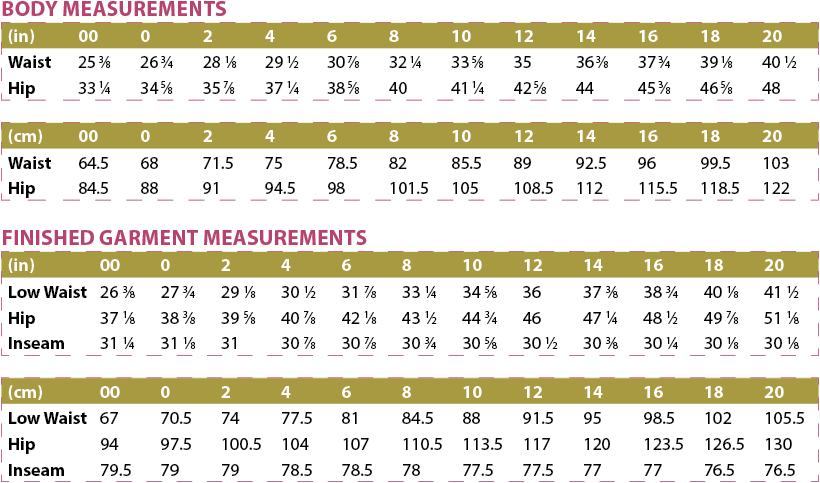 Tierras Woven Joggers Material Requirements
Primary fabric Use light to medium-lightweight but strong woven fabric with or without stretch, such as nylon, linen or twill. Fabric with a hint of rayon or bamboo is desirable as it gives you softness and drape.
Lining Use lightweight woven fabric, such as voile, batiste or lightweight quilting cotton
Interfacing Four (4) pieces of 2" x 2" (5 cm x 5 cm) lightweight woven or weft insertion fusible interfacing
Other Materials
2" (5 cm) wide elastic as long as your waist, plus 10" (25 cm)
28" (70 cm) of 1" (2.5 cm) wide elastic (optional – for elastic hem)
1/4" (6 mm) wide drawstring cord or ribbon as long as your waist, plus 20" (50 cm)
16" (41 cm) of 3/8" (1 cm)-wide straight fusible stay tape (or cut your own using lightweight interfacing)
Tierras Woven Joggers Fabric Requirements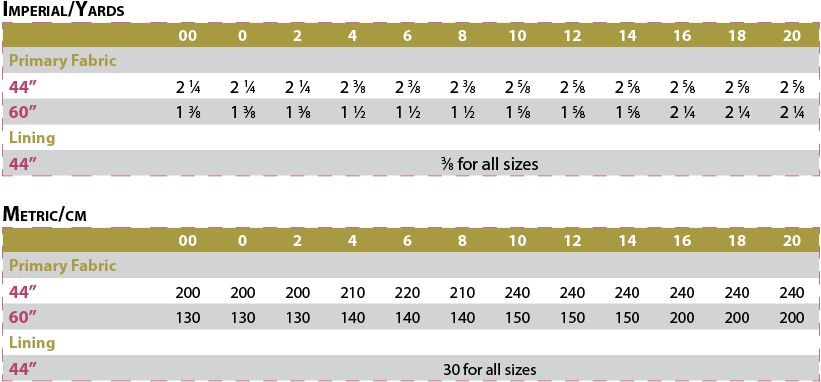 Timeline
I plan to start testing Thursday, February 23, and would like to receive your modeled photos with your garments by Wednesday, March 1. But as always, if there's any important change to the pattern, we'll extend testing as needed.
Tester Selection
The two patterns will be tested separately, although you are more than welcome to apply to test both. You can select which pattern(s) you'd like to test in the application form.
Please only apply if you are interested in the style of the pattern. You will not have the opportunity to modify the style of the pattern (though you may choose to do so at your own time after the testing period). If you like your garment any other way, please forgo this testing call and wait for the next style that interests you. You are expected to choose a size based on your body measurements and sew the pattern as written for the purpose of testing. Blending sizes (from bust to waist to hip) and lengthening/shortening are OK.
The chosen testers will be invited to a private Facebook group where we can discuss the pattern, share pictures and discuss revisions. I will send the invite/link to the email that you provide. So please make sure you enter the correct email in the application form. Also please make sure that I am able to view the sample photos you submit; if I am not able to view your photos (i.e., viewing requires special permission that I do not have), then I will move onto the next application.
Please sign up using this application form if you are interested. Testing is one of the most crucial steps for producing a quality pattern. I appreciate your applying!