Emily Culottes Digital Sewing Pattern (PDF)
US$12.00
Celebrities and trend setters are sporting their stylish culottes. Now you can sew your very own with the Emily Culottes pattern. Emily Culottes hang like an A-line skirt, but they are actually roomy, comfy pants. Feel free to take big steps, ride a bike or play tennis in them. Wear your Emily Culottes with a fitted top and a pair of skin-colored pumps, and you too will look like a celebrity. And don't forget your sunglasses!
EMILY CULOTTES design features:
Stylish and comfy pants with an A-line skirt silhouette
Contoured waistband for a better fit
Invisible side zipper for a smooth look
Option for slanted single-welt pockets
Option for slanted patch pockets with button closure
Option for waist tabs with decorative buttons
Option for waist tie option
EMILY CULOTTES pattern features:
Instructions for lined and unlined culottes
Instructions for lengthening/shortening using guidelines
Instructions for pleated or non-pleated front
Instructions for high-quality finish
Twelve sizes (00 – 20) (See "Size Chart" tab below for detailed measurements)
Print only the size(s) you need with "layers" feature (no more mingled lines!)
Skill Level: Intermediate+
Don't want to print and tape paper together? Emily Culottes pattern now includes an additional large format file that you can send to your print shop to print!
Buy More Save More
Spend US$20 or more, get 15% off your entire cart
Spend US$30 or more, get 20% off your entire cart
Discount applies in cart automatically
Size Chart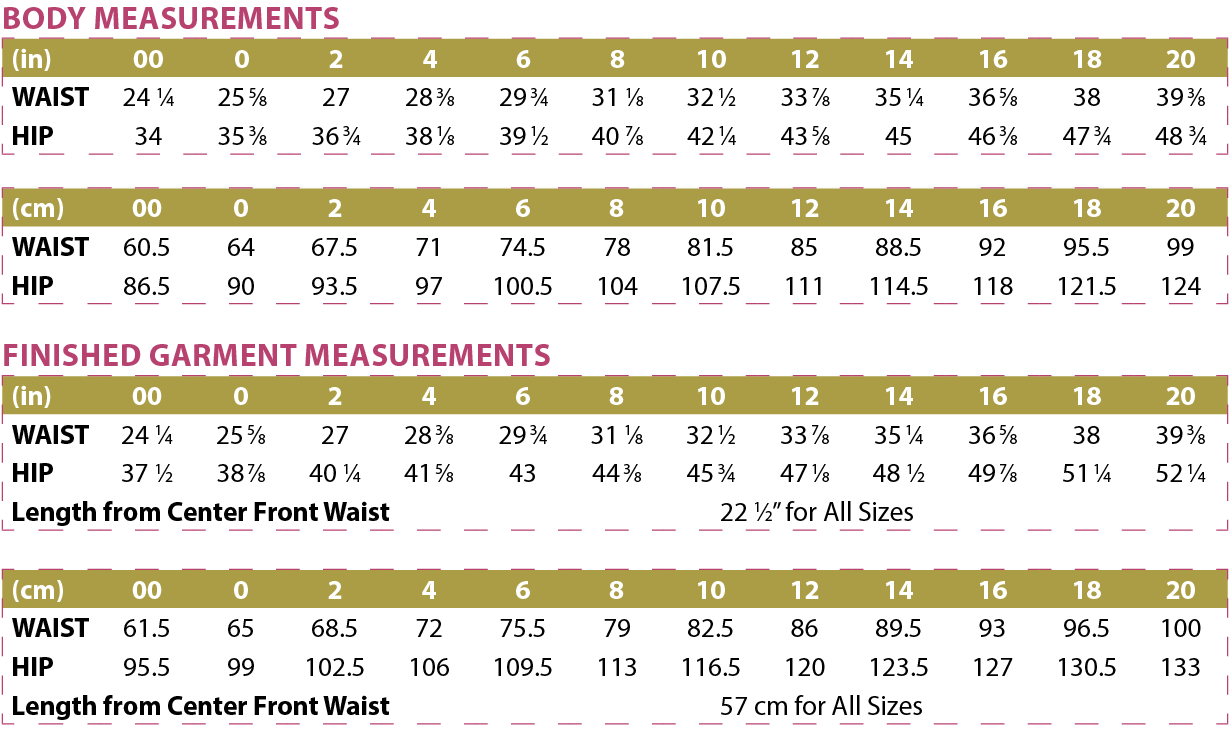 Choosing Your Size
Compare your waist circumference (narrowest part of waist) to the "Body Measurements" table. Choose the size that fits your waist best. If you are in between sizes, pick the closest size (e.g. if your waist is 38" (96.5 cm), choose size 18; if your waist is 38 5⁄8", choose size 20).
Compare your fullest hip measurements to the "Body Measurements" table. Choose the size that fits your hip best. If you are in between sizes, pick the smaller size.
It's OK to use different sizes for the waist and hip. All you have to do is print the sizes that you need (see "Printing Instructions" on page 7), and blend the lines from one size to the next from the waist to the hip.
I highly recommend that you check your fit by making a test garment with inexpensive fabrics that have similar thickness and stretchiness (if your fabric has lycra) as your final garment fabrics.
Material
Primary fabric Any medium or bottom weight woven fabric with or without stretch would work with this pattern. Cotton, broadcloth, poplin, twill, denim, linen, linen blend, wool, wool blend, suiting and crepe are all good choices. User lighter-weight fabric for the waist tie option. Fabric with different level of drape will create different looks. Stable fabric is preferable. Unstable knit fabrics, like jersey, are not recommended. However, you could use very stable knit such as medium weight double knit. You should go down a size when you use a stable knit fabric or fabric with stretch.
Lining The lining fabric should have similar quality as the primary fabric, i.e. if the primary fabric has stretch, a lining with stretch should be used. Acetate, Ambiance by Bemberg, batiste, lawn, pima cotton, china silk, silk crepe de chine or silk georgette are all good choices as non-stretch lining fabric. Even if you choose not to line the culottes, you will still need some lining fabric for the pocket options.
Interfacing Light to medium weight fusible interfacing is recommended unless the fabric is very delicate, in which case sew-in interfacing, such as silk organza, should be used. Choose very light-weight interfacing for the waist tie option.
Other Materials
7" (18 cm) invisible zipper
One set of size 1 hook and eye
1/8" (0.3 cm)-wide twill tape or fabric selvage as long as your waist (or your desired waist length) for stabilization
Four 1" (2.5 cm) buttons for waist tab option
Two 3/4" (1.9 cm) buttons for patch pocket option
Tools
Invisible zipper foot
Regular zipper foot
Buttonhole foot
Serger machine (optional to finish your seam allowances)
Fabric Requirements
Most natural fibers shrink in the wash, be sure to have enough fabric. The requirements below assume that the fabric is already pre-shrunk. If you are lengthening your Emily Culottes, your additional primary fabric requirement will be twice as much as your added length. For example, if you add 5" (13 cm) to your length, you will need an additional 10" (26 cm) of fabric. However, if you are using 44" (115 cm) wide fabric and are size 8 or above, you will need four times as much as your added length. For example, if you add 5" (13 cm) to your length, you will need an additional 20" (52 cm) of fabric.
Imperial/Yards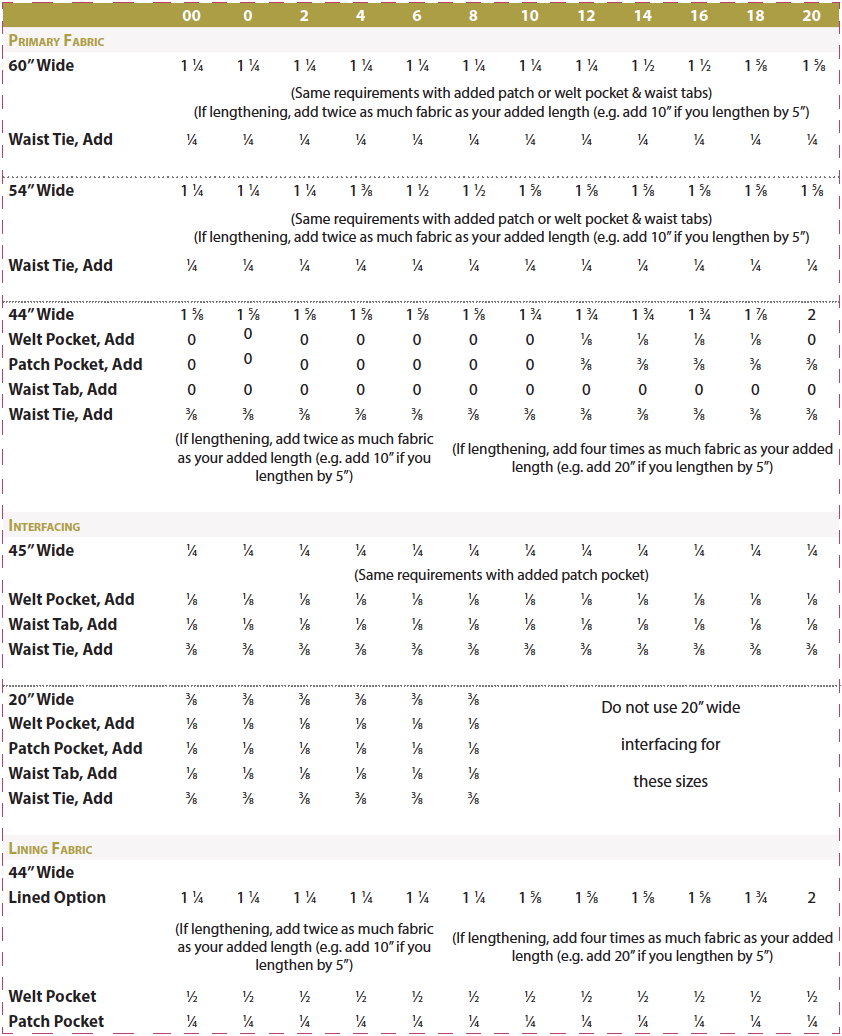 Metric/cm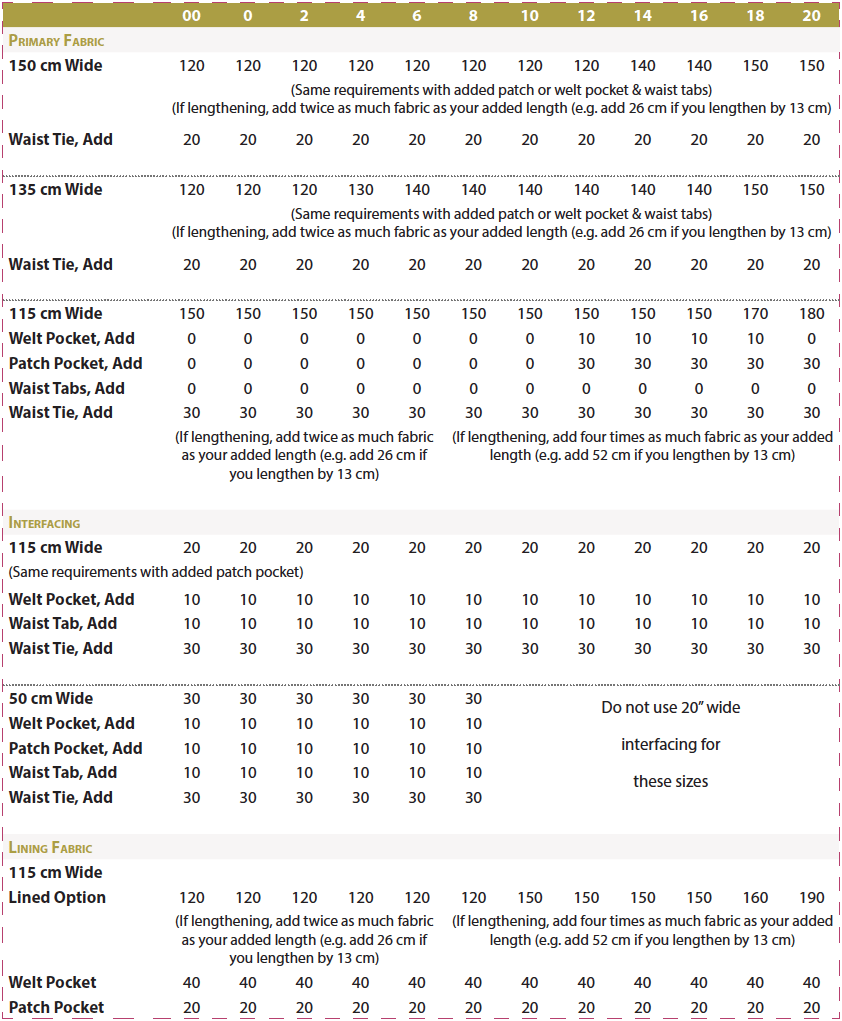 Only logged in customers who have purchased this product may leave a review.