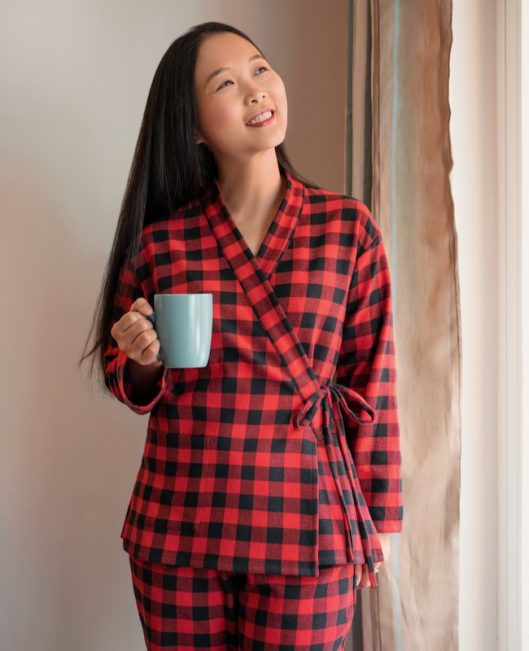 New Pattern: Pine Cove Pajamas
Please welcome the first sleepwear sewing pattern by Itch to Stitch: the Pine Cove Pajamas!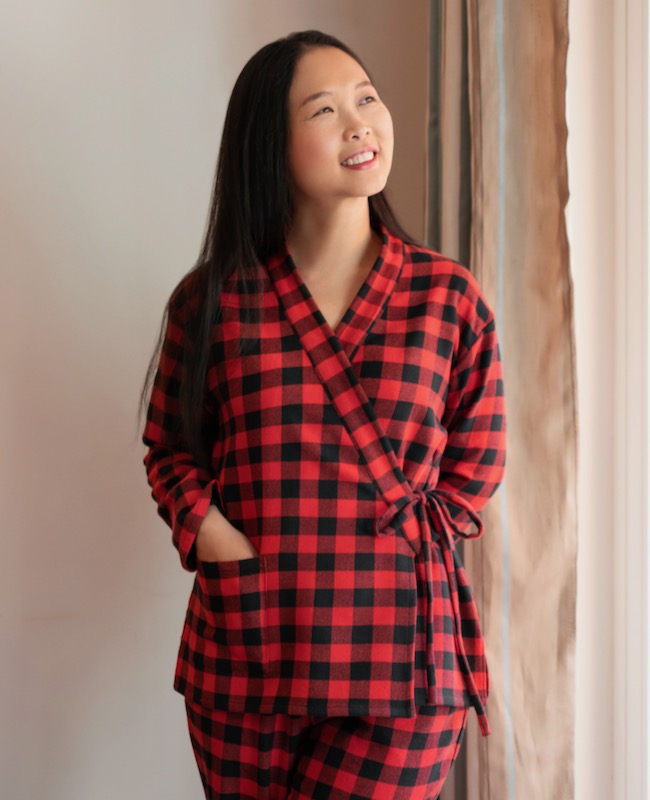 For one week (through December 7, 2020), the Pine Cove Pajamas sewing pattern is 20% off. The volume discount still applies—get 15% off your entire cart if your purchase is $20 or more, or 20% off your entire cart if your purchase is $30 or more!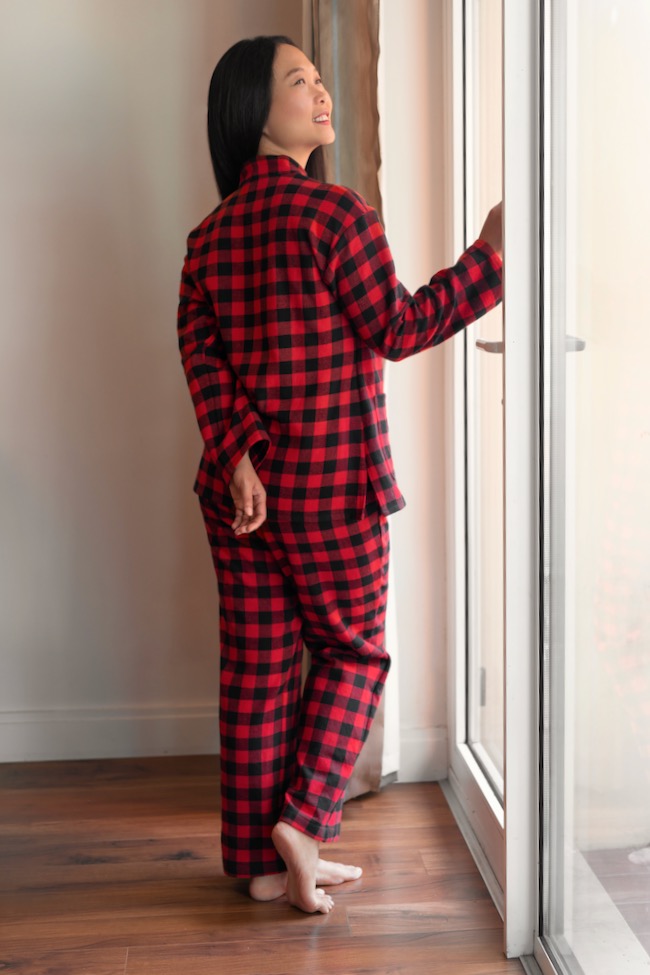 This year I really want to release a pajama pattern; actually, if I was better at time management, I would have released one in October or early November. But I had a bit of a false start (I decided on something and then changed my mind). I hope it's not too late. You can still use some coziness, no?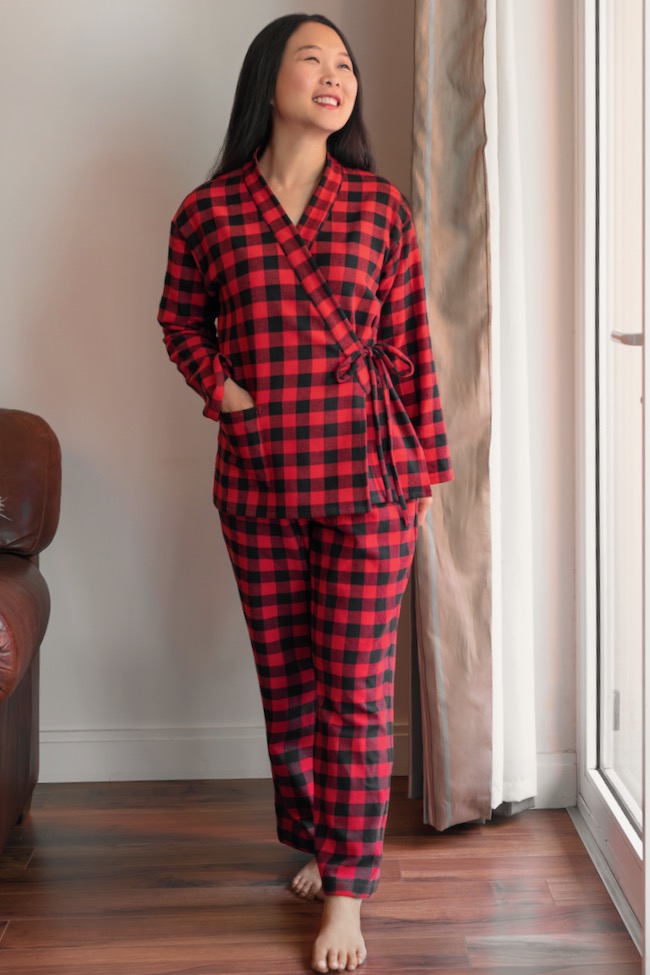 The Pine Cove is designed for non-stretched woven fabric. A wide range of fabrics can be used—flannel, silk, satin, double gauze, broadcloth, chambray, and cotton lawn are just some examples. My set is made from a cozy buffalo plaid flannel. I am not gonna lie; I have been known to wear my Pine Cove in the house all day long. Maybe I should call Pine Cove loungewear?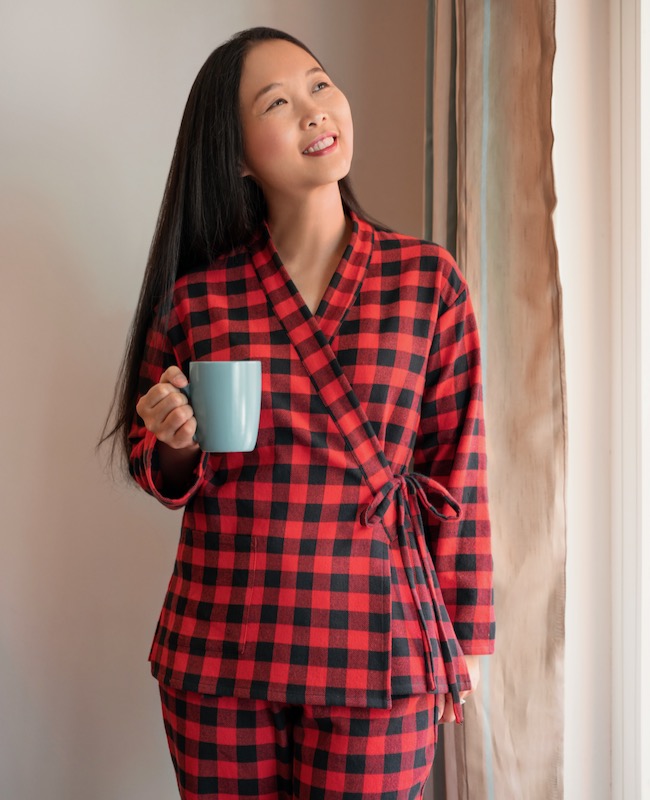 Here are some highlights of Pine Cove:
Designed for non-stretched woven fabric
Relaxed fit with dropped shoulders and long sleeves
Hip-length pajama top with side splits
One patch pocket on pajama top
Banded overlapped front with tie closures
Long pants with elastic waist sitting at natural waist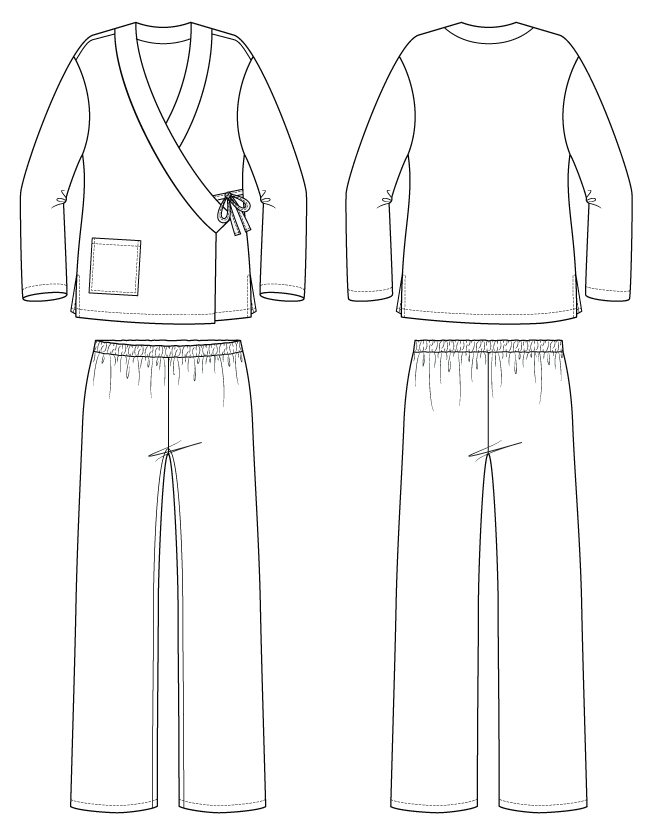 The size range of Pine Cove ranges from sizes 00 to 40 (bust ranges from 31 1/8″ (79 cm) to 60″ (152.5 cm)).
The Pine Cove has no zippers or buttons; it uses four ties (two on the left-hand side and two on the right-hand side) as closures. So if you are timid about zippers or buttons, you have no need to fear here. In fact, I rated this pattern "beginner+". The means if you have sewn a few simple garments, you would be able to manage the Pine Cove.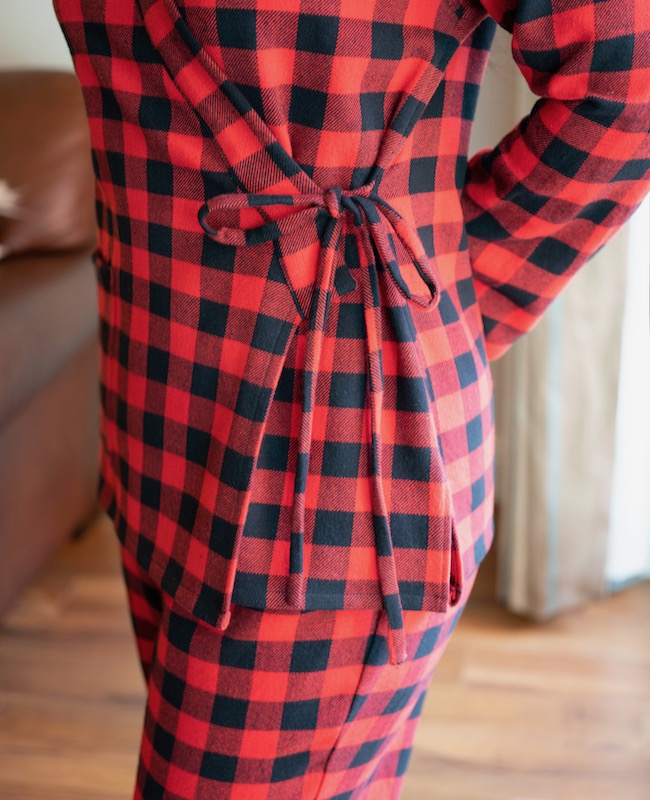 A few people told me that they enjoyed hearing how I decided on the name of the patterns. As you may know, they are almost all names of places. In this case, Pine Cove is a quiet mountain town next to Idyllwild in California. In fact, usually, you will see road signs that put the two towns together (as in "Idyllwild-Pine Cove"). In the winter, the mountain log cabins in Pine Cove are covered by snow, and you can see the smoke coming out of the chimneys of these homes and lodges. I imagine that I wear my Pine Cove Pajamas, sipping tea, breathing the crisp fresh air, and overlooking the majestic snow-covered rocks. It is so quiet that I can almost hear the snow falling, and I can see the footprints of some small wildlife, maybe rabbits or maybe deers…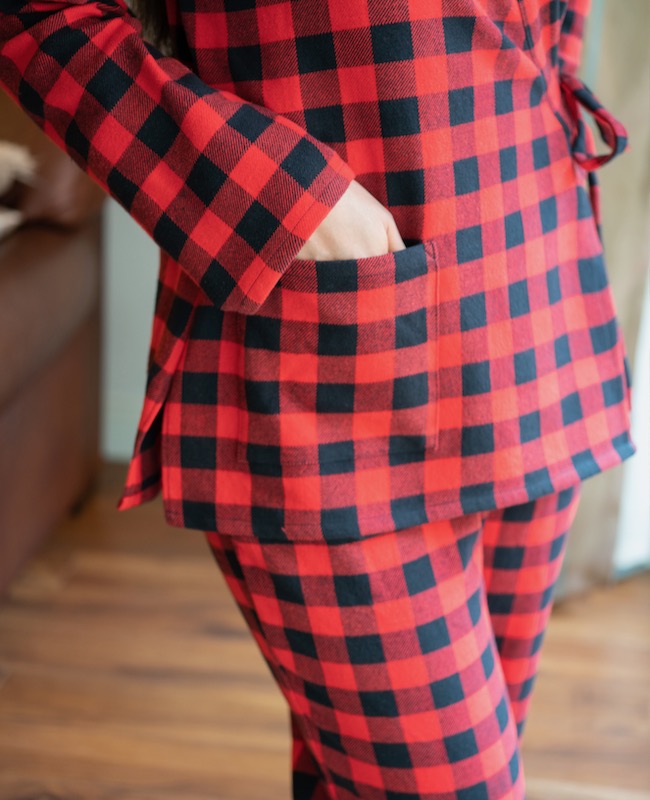 Some day I will go back up there, but for now, let's take a look at all the gorgeous Pine Cove Pajamas my talented testers made, shall we? Oh! I told my testers that they could chop off the sleeves and/or pant legs as much as they want. Yes, it's that easy to convert them to short-sleeve, 3/4-sleeve, elbow-length pajamas!
Thank you so much, my wonderful testers!
Christine
Delphine
Denise
Diana
Glenda
Jan
Jolien
Jordan
Linda
Lorraine
Lorraine S.
Suzi
Be sure to get your Pine Cove Pajamas pattern while it's 20% off (only through December 7, 2020)!