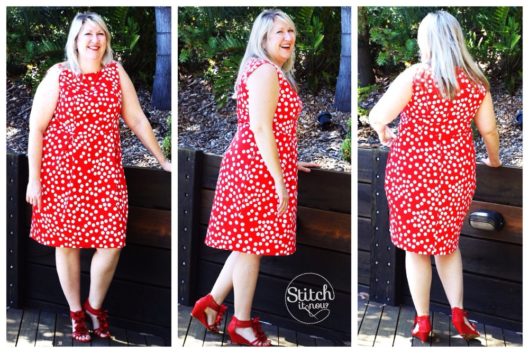 Marbella Dress Tour Stop–Stitch It Now
I love Deb's version of Marbella Dress since I first laid my eyes on it. It combines the two things I love–red and polka dots. You really cannot go wrong with lipstick red. All heads will automatically turn to you when you walk into a room in red; that's a color of confidence to me. Polka dots always remind me of Julia Roberts in Pretty Woman (in her brown and white version in the horse race track). I'll admit it; I watched Pretty Woman like eight times. And that dress is the ultimate elegance, especially in that straw hat!
Deb is a fellow designer who sell her patterns in her shop, Stitch it Now. Though her two handsome boys model her creations, I definitely can see girls' clothes made from these versatile patterns as well.
Without further ado, go check out Deb's making of Marbella Dress on her blog.
Don't forget that I am running a giveaway during the blog tour. Enter now for your chance to win the Marbella Dress pattern!
Here is our blog tour schedule
Wed, October 15:
Ann from The Pattern Studio by 1 Puddle Lane
Lindsay from Design by Lindsay
Thursday, October 16:
Debbie from Stitch It Now
Jaime from Jaime Johnson
Monday, October 20:
Darcy from Ginger House Designs
Stacey from All Sewn Up by Stacey
Tuesday, October 21:
Diane Guess Post on Itch to Stitch
Ajaire from Call Ajaire
Wednesday, October 22:
Hannah from Hello Sunshine