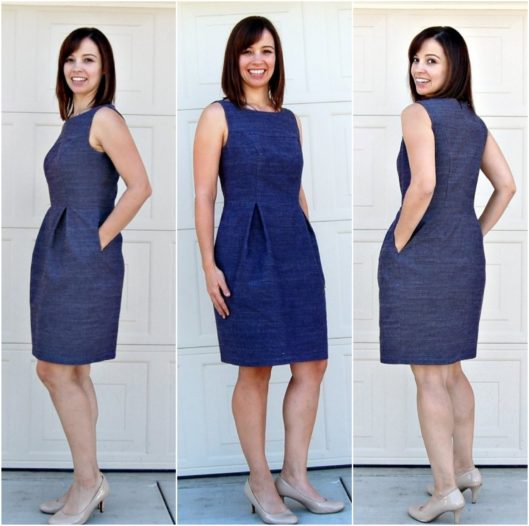 Marbella Dress Tour Stop–Jaime Johnson
I love Jaime's Marbella Dress. I knew the dress would fit her very nicely even when Jaime was making the test garment in muslin fabric. "WOW" was my first response when I first saw her finished dress. It fits so well on her (see? making a muslin is really worth your while!), and she looks absolutely gorgeous and elegant in her steel blue color fabric (I would run to go get some of that fabric, except Jaime said it's a mystery one just from her stash). I think Jaime's version completely encapsulates the style and grace that I intend for Marbella Dress.
By the way, Jaime makes quite a lot of clothing for her little ones; you can see them in her blog. She also has two shops, Jaime Johnson Fabric & Notions and Jaime Johnson Handmade Clothing and Quilts (yes, she can make your little princess a princess dress!).
Go check out Jaime's review of Marbella Dress now.
Don't forget that I am running a giveaway during the blog tour. Enter now for your chance to win the Marbella Dress pattern!
Here is our blog tour schedule
Wed, October 15:
Ann from The Pattern Studio by 1 Puddle Lane
Lindsay from Design by Lindsay
Thursday, October 16:
Debbie from Stitch It Now
Jaime from Jaime Johnson
Monday, October 20:
Darcy from Ginger House Designs
Stacey from All Sewn Up by Stacey
Tuesday, October 21:
Diane Guess Post on Itch to Stitch
Ajaire from Call Ajaire
Wednesday, October 22:
Hannah from Hello Sunshine