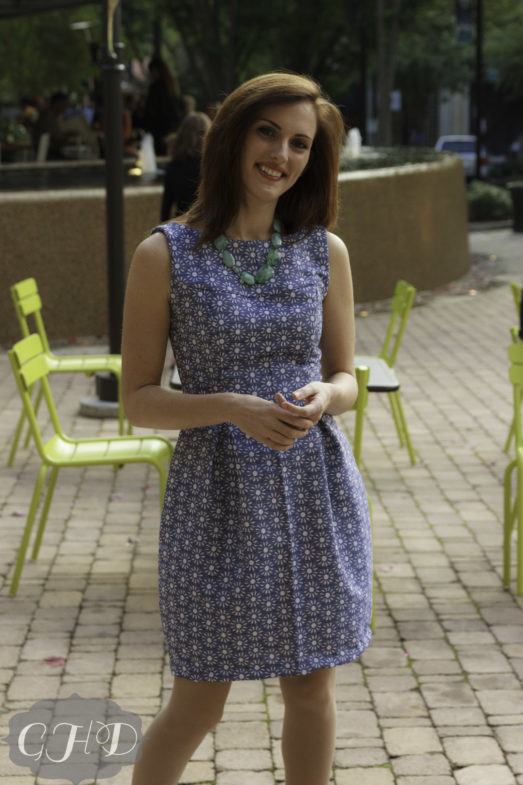 Marbella Dress Tour Stop–Ginger House Designs
I am so thankful that fellow designer Darcy took the time to test Marbella Dress for me. I'll let Darcy introduce herself:
"Hello! I'm Darcy Struble from Ginger House Designs.  I'm a stay at home mom of one who loves to sew, craft, crochet and create, although sewing is my favorite outlet.  Along with blogging, I recently started a line of children's patterns, Ginger House Designs Patterns!  I love creating clothing that you can't buy from a store.  For the Marbella Dress pattern, I made a soft blue version that is perfect for date nights and weddings!  Head on over to Ginger House Designs to hear more."
Don't forget that I am running a giveaway during the blog tour. Enter now for your chance to win the Marbella Dress pattern!
Here is our blog tour schedule
Wed, October 15:
Ann from The Pattern Studio by 1 Puddle Lane
Lindsay from Design by Lindsay
Thursday, October 16:
Debbie from Stitch It Now
Jaime from Jaime Johnson
Monday, October 20:
Darcy from Ginger House Designs
Stacey from All Sewn Up by Stacey
Tuesday, October 21:
Diane Guess Post on Itch to Stitch
Ajaire from Call Ajaire
Wednesday, October 22:
Hannah from Hello Sunshine