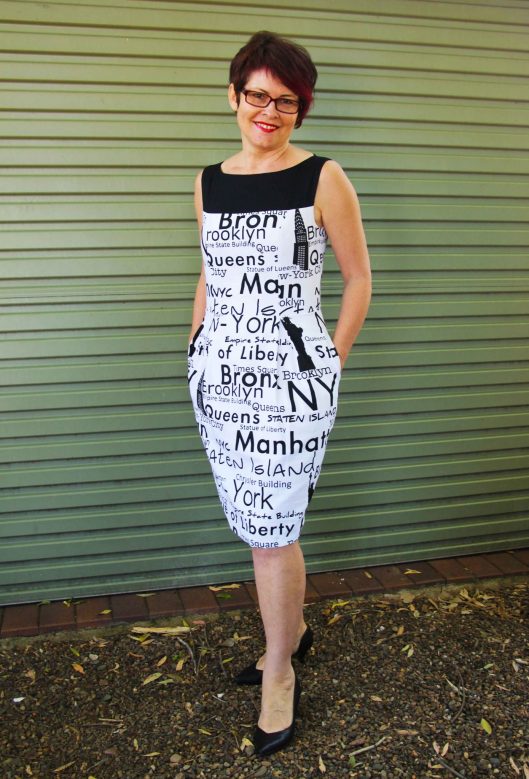 Marbella Dress Tour Stop–1 Puddle Lane
I was so fortunate to have Ann from 1 Puddle Lane to be one of my testers for Marbella Dress. You take one look at Ann's bio, you would understand why I feel so blessed.
Ann is the owner/designer of the Pattern Studio – by 1 Puddle Lane and Audrey Lane –  where she makes elegant Ladies 50's inspired Tea Dresses. Ann has worked in the fashion industry for the past 30 years doing various jobs as pattern maker/fabric cutter to production manager for a small t-shirt company.  She also ran a small business from home making custom made dresses for a large clientele of gorgeous ladies and also designed a resort wear range for women and children.
Ann's Marbella dress is nothing short of gorgeous. She was one of the first testers to finish the dress. And she made not one, but TWO Marbella dresses back to back. I love Ann's choice of fabric, one flowery version and one edgier version. I can image Ann having afternoon tea with her girlfriends in her flowery dress and going to an independent film festival in her black and white dress.
Go check out her Marbella dresses!
Don't forget that I am running a giveaway during the blog tour. Enter now for your chance to win the Marbella Dress pattern!
Here is our blog tour schedule
Wed, October 15:
Ann from The Pattern Studio by 1 Puddle Lane
Lindsay from Design by Lindsay
Thursday, October 16:
Debbie from Stitch It Now
Jaime from Jaime Johnson
Monday, October 20:
Darcy from Ginger House Designs
Stacey from All Sewn Up by Stacey
Tuesday, October 21:
Diane Guess Post on Itch to Stitch
Ajaire from Call Ajaire
Wednesday, October 22:
Hannah from Hello Sunshine