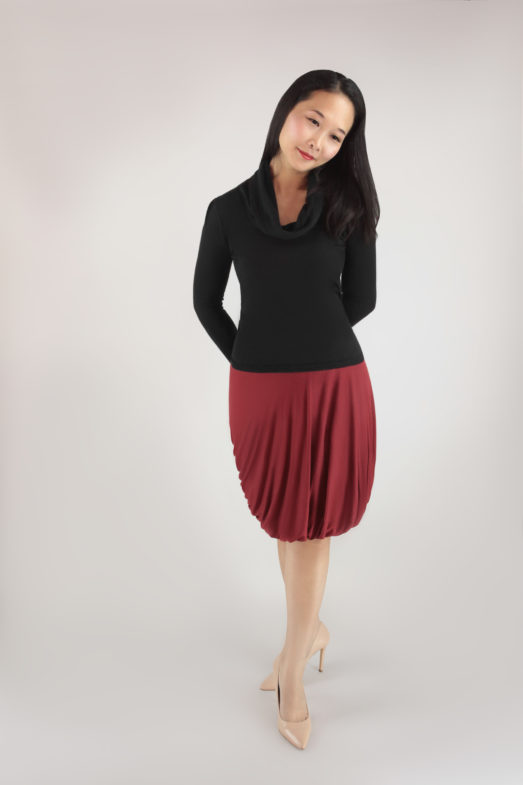 Kelly's (Twisted Bubble) Twirly Skirt by Bella Sunshine Designs + Giveaway
Many already know that the PDF sewing pattern community is a supportive one. We extend help and encouragement to others who seek feedback and showcase their work. But perhaps fewer of you know that the PDF sewing pattern designer community is also a tight one. We partner, share tips and look out for each other.
Fellow designer Melissa from Bella Sunshine Designs (BSD) is a friend that I am very grateful to have. When BSD is celebrating its first birthday, of course I have to chime in and join the festivity.
(And be sure to read till the end to enter for your chance to win some great prizes!)
I have read a few BSD's patterns, and I know that they are meticulous and helpful, not to mention that the styles are super cute. I wholeheartedly recommend them. In one short year, BSD released many darling girls and women's patterns (some of them are matching mommy-and-me styles, too). Since I sew mostly for myself, so my focus was on the women's patterns.
The theme of the birthday tour is pattern hack. When I see the Kelly's Twirly Skirt, a light bulb in my head went off. And this is my version of the Kelly's Twirly Skirt (girl's version / girls+women bundle).
If you haven't seen the original version of Kelly's Twirly Skirt (you should go check it out!), it is a full circle skirt with two layers of knit fabric. Needless to say, it has maximum twirl-ablity and provides some color blocking opportunity.
I know my skirt looks nothing like it, but before you call me a liar, let me tell you what I did. No, I didn't redraft anything. I didn't even do any adjustment.
I swapped the shorter/outter layer with the longer/inner layer. I also gathered up the longer layer and attach it to the shorter layer at the hem. The one layer is "twisted" before I anchored them both to the waistband. I only twisted it 45 degree – that is if you cut your pizza into 8 slices, each slice is 45 degree.
I like the fact that one pattern can be used differently and produce completely different looks. And the skirt is a quick sew already, but with my modification, it was even a quicker sew, especially because I decide to use my serger with its barely-touched specialty feet. But you can certainly use the regular methods to do the gathering and serging/stitching.
Here's a close up shot of what I did. I used the Shirring/Ruffling Foot to do the gathering of the longer layer, and at the same time, it also serged the two layers together. I did have to do some test on scrap fabric to be sure of the gathering ratio, as it varies for different fabrics. I set my differential feed to 1.3 in this case.
And when attaching the two layers to the waistband, I opted for using the Elastic Insertion Foot. This little foot is magical; it can embed a stretched elastic (adjustable) while you serge the seam.
Use the right tool for the job and you'll finish in no time with the best quality.
I love my twisted bubble Kelly's Twirly Skirt. Be sure to go check the pattern out.
Happy birthday, Bella Sunshine Designs!
Bella Sunshine Designs Birthday Blog Tour
Featured Bloggers:
House of Estrela | Pattern Revolution | Pleats & Ruffles
Itch to Stitch | Fabulous Home Sewn | Sew Sophie Lynn
Sewing by Ti | Made By Sara | Candice Ayala
Seaside Notions | Pear Berry Lane | Made By Melli
Adventures With Bubbe and Bug | Crazy Crafty Haute Mama | Rebel & Malice
Sponsors:
Prize Number 1:
Bella Sunshine Designs – 2 Patterns of Choice
Once Upon A Yard / Sew It Seams Facebook Group – Grab Bag of 7 yards of fabric
Prize Number 2 (Just for the USA):
Bella Sunshine Designs – 2 Pattern of Choice
Bethany Lane – 3 Sets of "Cute as a Button" wooden buttons (30 buttons total)
Prize Number 3:
Bella Sunshine Designs – 2 Patterns of Choice
Sofilantjes Patterns – 2 Patterns of Choice
Knot Sew Normal – 1 Pattern of Choice
Muffin Head Patterns – Any 1 pattern up to $12.00
Itch To Stitch – 1 Pattern of Choice
Rachel Rossi – Squared Fashion Wrap Sewing Pattern
FABulous Home Sewn – 1 Pattern of choice
Seaside Notions – 1 pattern of choice
Laela Jeyne Patterns – Pattern of choice (excludes bundles)
Pickle Toes Patterns – 1 Pattern of choice.
Enter the giveaway:
Hurry, the giveaway ends on Sunday, February 28th at midnight!
Celebration Sales:
Mabel Madison – 10% off their website with coupon code BELLABIRTHDAY until February 29th.
Sew It Seams – 15% off their website with coupon code BELLASUN until February 29th.
And of course, you can get 40% off all Bella Sunshine Designs patterns on our website until February 29th. No coupon code needed!
Ready for one more surprise? Check the Bella Sunshine Designs's website on Friday for a new release or two!