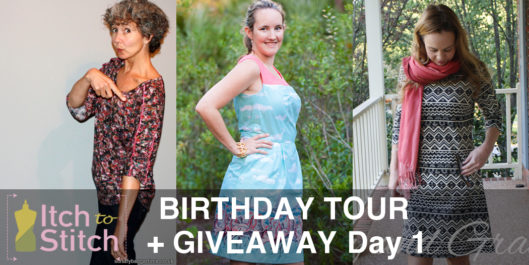 Itch to Stitch Birthday Tour – Day 1
Ta da! Itch to Stitch is full-fledged one year old this very day! Thank you for visiting and share this very joyful day with me! I am not going to let the birthday go quietly. Festivity is in order. I have 25 bloggers lined up and each of them will add their personal style and magic to one or more Itch to Stitch patterns. But wait, there's more. We also have today's featured designer pattern giveaway. And if you haven't already, you should enter the Rafflecopter at the end of this page to win the grand prize! And did you notice the banner up top? Yes, there's also a sale going on! You will get 20% off one pattern, 30% off two patterns, or 40% off three or more patterns. So much going on!
(Check out other days of the Itch to Stitch Birthday Tour.)
Blog Tour
Without further ado, let me introduce today's participants of the blog tour.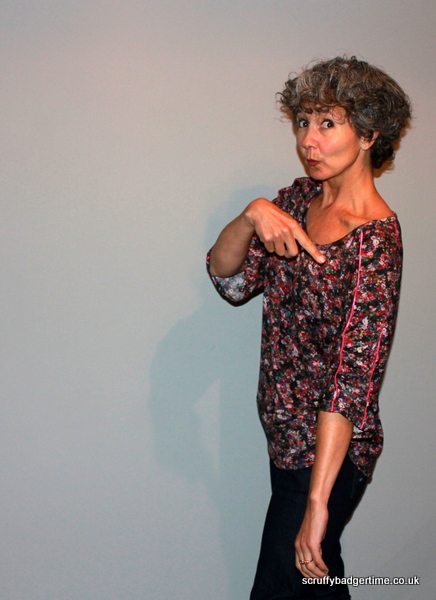 "I'm Winnie, from Bath in the UK and I blog at http://scruffybadgertime.co.uk. About my sewing exploits as I sew my way obsessively through my wardrobe. I've been sewing since I was a little girl, being taught by my mum and love that I am also following in the footsteps of my female great-aunts whipping up a dress for a night out, the day before! I'm also a slow half marathon runner, currently training for a marathon and I love any opportunity to combine my two hobbies and make unique kit to run in!"
Winnie added her personal touch on Carey Top.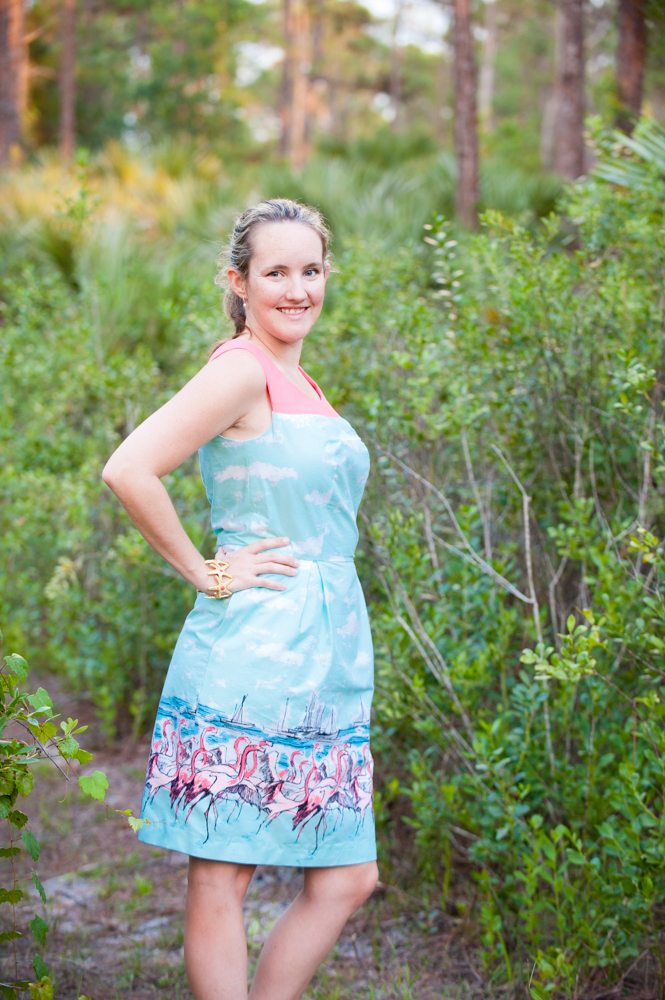 Melissa Prendergast of Bella Sunshine Designs loves long walks on the beach as long as it involves pretty dresses with lace details.  Lucky for her, the dress she made from the Marbella dress pattern is perfect for any beach side date nights.  Check out her post to see how she hacked the pattern to include both an altered neckline and lace blind hem.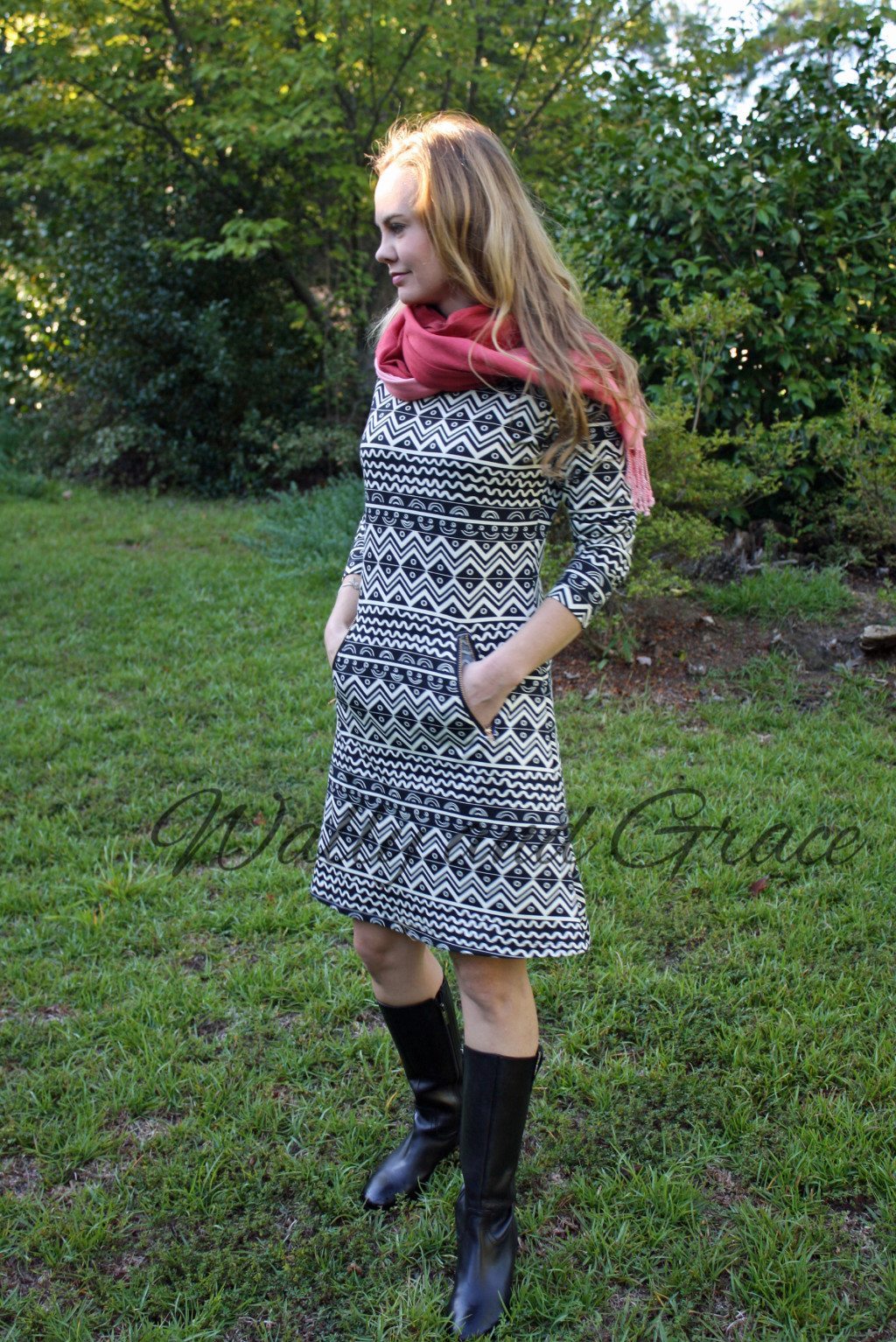 "I'm Amy from Wally and Grace Designs. I learned to sew about 10 years ago because I had to hem nearly every single dress, skirt, and pair of pants I bought. But I soon discovered that I loved the creativity and freedom that sewing provides. Today, I sew in my spare time- about 10 minutes at a time while the kids are busy – for myself, my two kids, and even my husband. I have a crazy dream that someday all of us will have entirely handmade wardrobes."
Amy added the useful and stylish zipped pocket to her Idyllwild Dress.

Today's Featured Designer
PDF pattern designers have a friendly and supportive community. There are many designers who have helped me along the way to get Itch to Stitch started. I'd love to take the opportunity to feature some of them.
I dare say that Lauren from BASTE + GATHER made Itch to Stitch possible. I took Lauren's Pattern Workshop class and that's where I learned to turn my hand-draft patterns into PDF patterns. And the class is much more than that. She talked about marketing, testing, setting up shop, creating an affiliate program and more. If you are an aspiring sewing pattern designer or a veteran one who wants to ditch your paper and pencil, the class is for you.
Lauren is generously donating two patterns (Syrah Skirt and Foxglove Tank) to one lucky winner today. If you are interested to win them, please leave a comment and tell us who is your sewing mentor, whether it's in person, in print or online.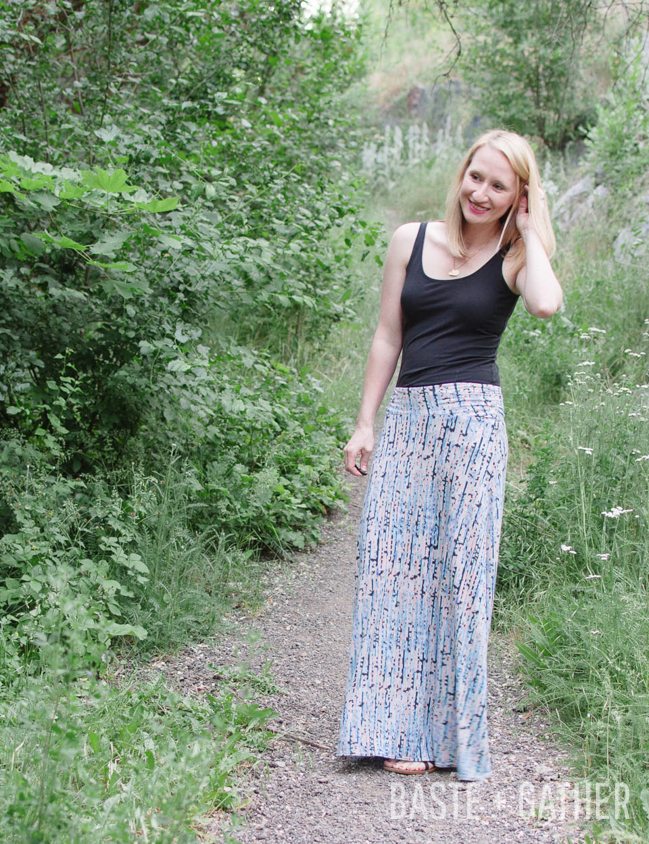 Grand Prize Rafflecopter
One lucky winner will be chosen to take home fabulous prizes. Be sure to enter for your chance to win.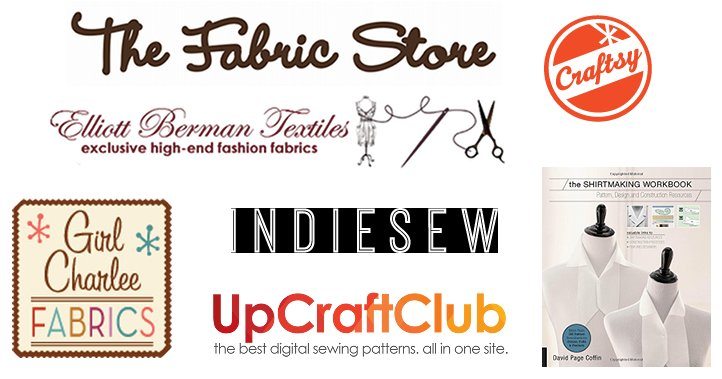 The Fabric Store – $100 Gift certificate
Elliott Berman Textiles – Fabric bundle from France & Italy
Craftsy – three online classes of your choice
Girl Charlee Fabrics – $25 Gift certificate
Indie Sew – $25 Gift certificate
UpCraft Club – $25 Gift certificate
Quarto Publishing Group USA – the SHIRTMAKING WORKBOOK by David Page Coffin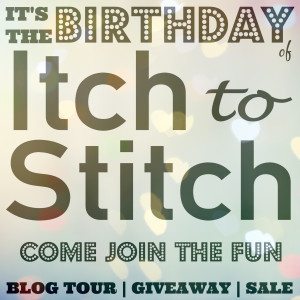 Follow these blogs to see their awesome creations from Itch to Stitch patterns:
Scruffy Badger Time | Call Ajaire | Wally and Grace
Sew Wrong | Bella Sunshine Designs | Seaside Notions | Made by Jaime
Sweet Little Chickadee | Inspinration | Friends Stitched Together
Stoney Sews | Just Keep Sewing | My Little Sewing Dreams
Allie J. | Creative Counselor | Love, Lucie | Girls in the Garden
FABulous Home Sewn | Goddess of Sewing | Rebel & Malice | The Telltale Tasha
House of Estrela | Made by Sara | Sew Shelly Sew | Red Knits