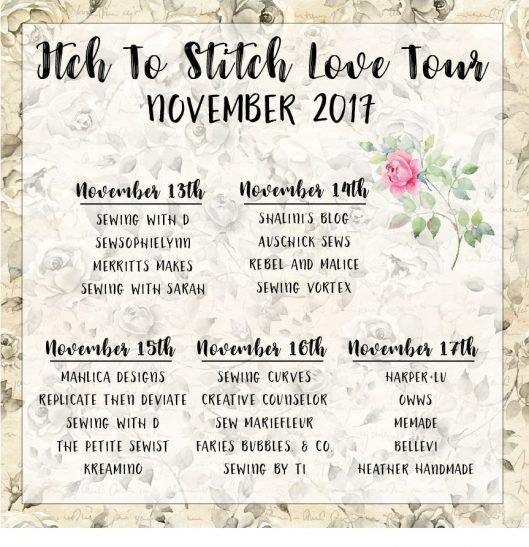 My heart is filled will gratitude and love. Since I told friends of Itch to Stitch and the sewing community about my recent house burglary, I have been the receiving outpouring support and love. It gives me hope that wonderful and compassionate people in the world way outnumbers the few bad apples that cause harm. I feel so fortunately to be a member of this incredible sewing community. My sewing friends, you never hesitate to lend a helping hand to others who need it. For that, I am extremely grateful.
As a result of my incident, a group of talented sewing friends also put together the Itch to Stitch Love Tour. They are celebrating Itch to Stitch, but I'd like to think that they are celebrating love. It's not just about patterns; it's about love. I totally feel that love.
Please go check out their amazing interpretations of Itch to Stitch patterns. I am on the edge of my seat waiting for the new posts to come online.
And of course there are prizes. I sincerely thank all the sponsors for their contribution. Please participate and spread the words!
Your ITS Love bloggers are
Monday: Sew Sophie Lynn, Merritts Makes, Sewing with Sarah, Sewing with D
Tuesday: Shalini's Blog, Auschicksews, Rebel and Malice, Sewing Vortex
Wednesday: Replicate Then Deviate, mahlicadesigns, Sewing with D, The Petite Sewist, kreamino
Thursday: Sewing Curves, Creative Counselor, Sew Mariefleur, Fairies, Bubbles & Co, Sewing by Ti
Friday: Harper+Lu, MeMade, On Wednesdays We Sew, Heather Handmade, Bellevi, and visit by mooglii on IG
The ITS Love Tour sponsors have been so generous in support of Kennis of Itch to Stitch that we've been able to put together several prize packages to share with you.
First, you may enter our giveaway to win one of three prize packs:
Prize Pack #1 includes:
5 Itch to Stitch patterns
$25GC to Simply By Ti
$50 Raspberry Creek Gift Card
$50 Bella Sunshine gift card
Prize Pack #2 includes:
$50 Knit Pop GC
$25 Designer Stitch GC
$25 Chalk and Notch GC
3 patterns of choice from Coffee And Thread
2 patterns of choice from Hey June Handmade
Prize Pack #3 Includes:
$15 Thread & Grain store credit
$25 Maker Mountain Fabrics GC
$40 So Sew English GC
3 patterns from Halla Patterns
Your second way to win is to share with us your recent Itch to Stitch creations (made between October and November 2017). Add your creations to our Link Up Party before Nov. 20th for a chance to win one of two prize packs.
LinkUp Prize Pack #1 includes:
5 Itch to Stitch patterns
A $40 value PFRE Sly Fox Fabrics.
$25 Maker Mountain Fabrics GC
$50 Love Notions GC
LinkUp Prize Pack #2 includes:
$25 Stylish Fabric GC & sewing box kit
$25 Chalk and Notch GC
5 patterns from Rad Patterns
Pattern of choice from DG Patterns
Giveaway and Linkup prize winners will be announced on or about November 21st.