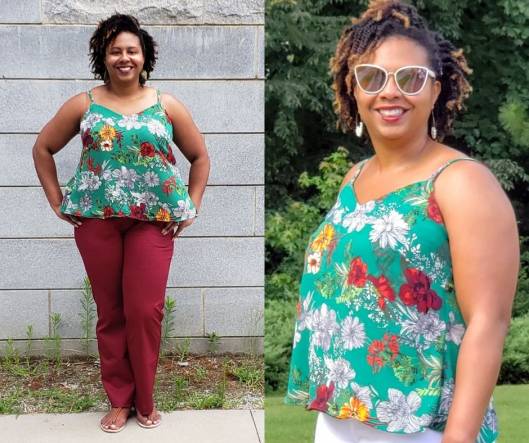 Crystal Cove Cami + Mountain View Pull-on Jeans by Tiffany—Make It Wear It
In this issue of Make It Wear It, I am excited that Tiffany is showing us her fabulous makes—the Crystal Cove Cami and the Mountain View Pull-on Jeans.
First of all, let me give my sincere thanks to the fabric sponsors, LA Finch Fabrics and Simply By Ti.
LA Finch Fabrics is offering Itch to Stitch readers 20% off all fabrics through July 31, 2019 using the code stitch20.

Simply By Ti is offering our readers 30% off the entire Stretch Wovens section using the code ITSPANTS.
Without further ado, let's see Tiffany's lovely outfits!
---
Hi! I'm Tiffany of TipStitched and I'm excited to participate in this blog tour! Let me first say how difficult it was for me to choose which pattern to sew as Itch to Stitch offers so many great patterns. My first thought was a jumpsuit or a dress because I love one-pieces, but ultimately I decided to go with I need most in my wardrobe…separates.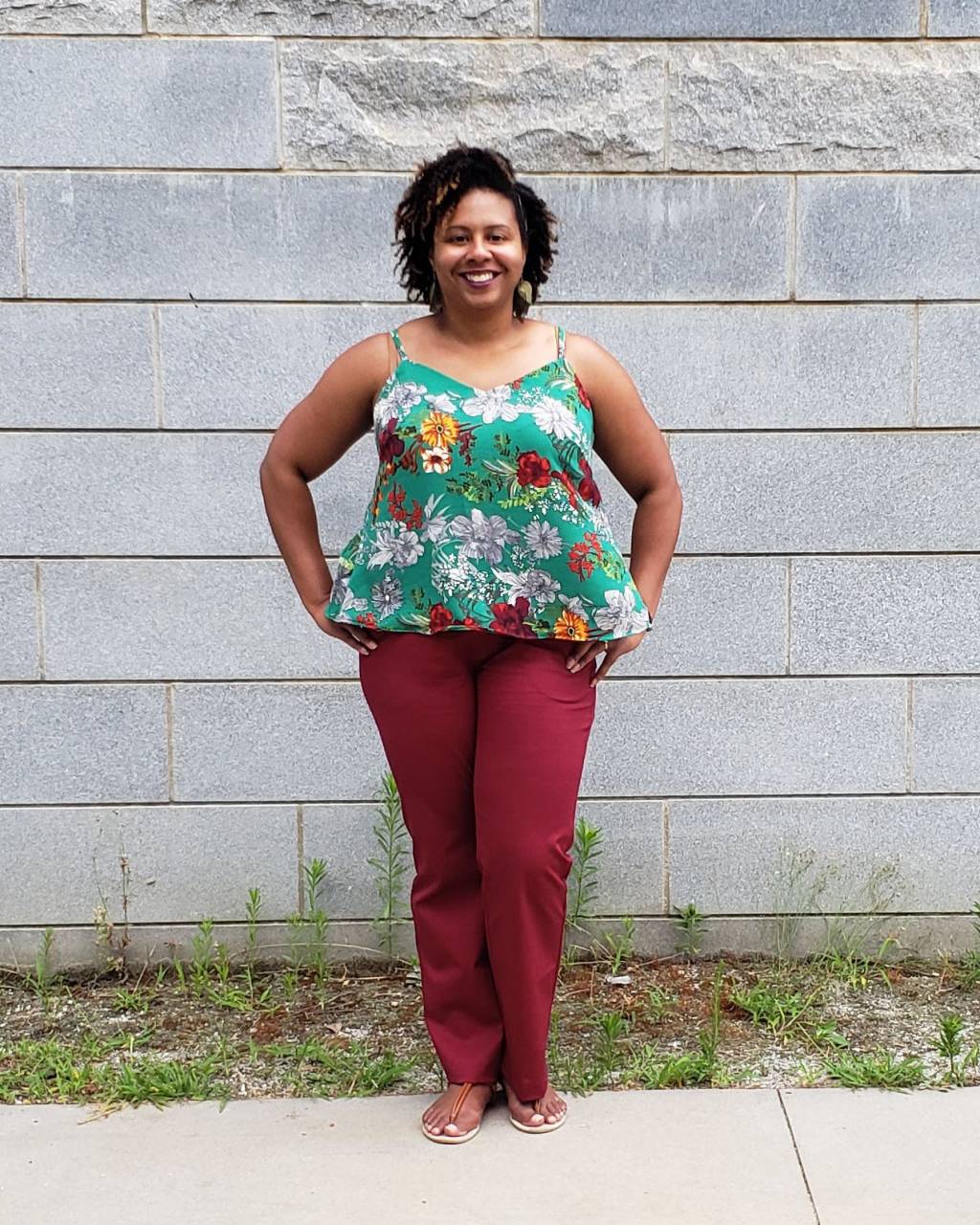 That still left me with several choices but I narrowed it down to the Crystal Cove Cami and the Mountain View Pull-on Jeans. The Crystal Cove seemed perfect for this hot summer weather we are having here in the southern US. I simply love the split overlay back which provides some much need ventilation on humid days. The floral, crepe provided by LA Finch Fabrics has just the right weight and drape for this flowy cami. I also love the vivid colors and hint of stretch.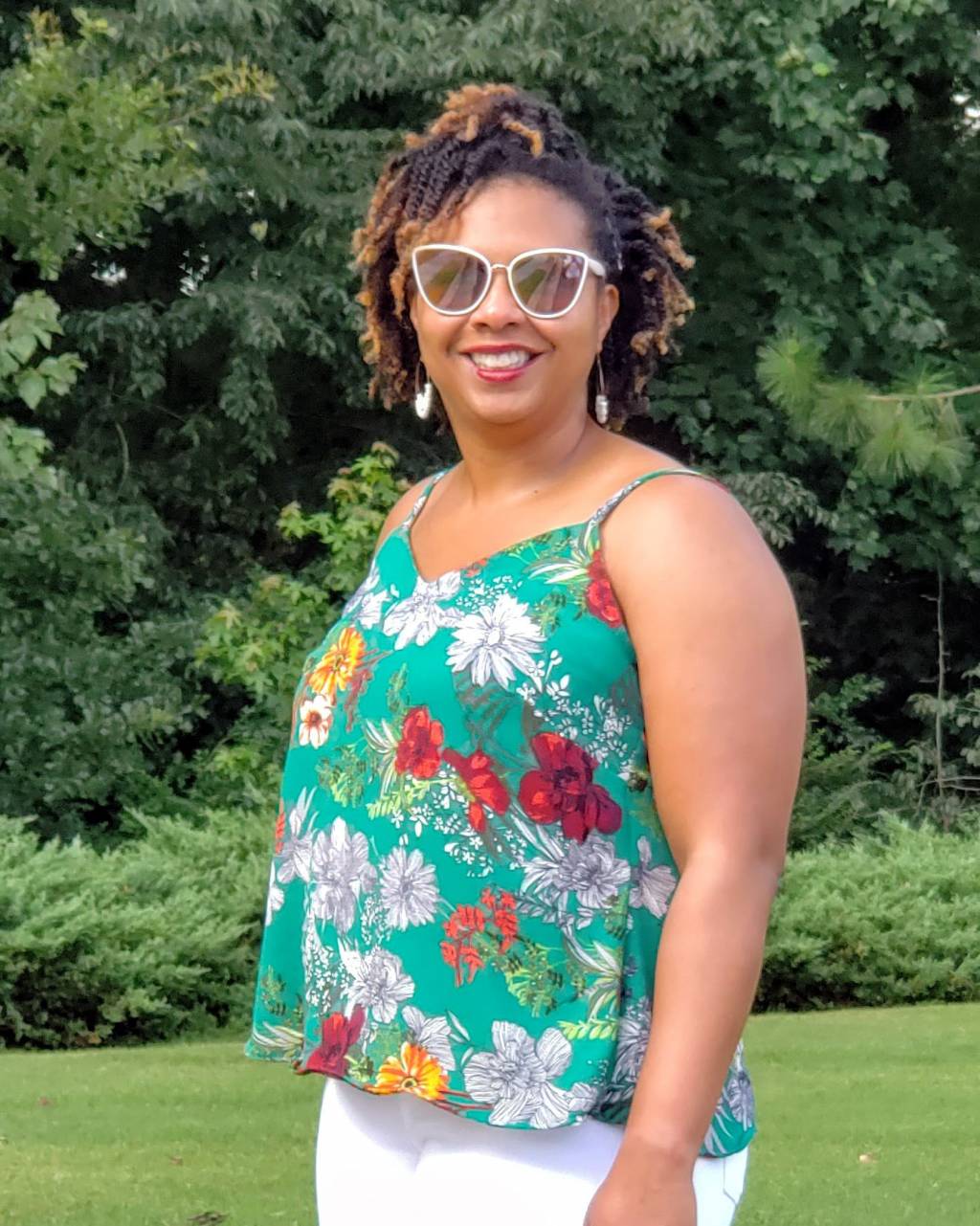 Jeans have been on my "To-Sew" list for quite a while but I am consistently intimidated by the amount of time I feel it will take to sew and properly fit them. The Mountain View Pull-on Jeans seemed like a nice way to ease into the idea of jeans making. While the pattern keeps some of the classic elements of jeans, like top stitching and back pockets, it eliminates the more time consuming details like a fly zipper and belt loops, making for a quicker sew. Also since I almost exclusively wear stretch jeans or jeggings, these seemed almost more fitting for my needs. The wide waistband and stretch twill make these "jeans" feel more like yoga pants while still maintaining the look of jeans. This burgundy stretch twill (this color is no longer in stock, but other colorways are available) from Simply by Ti has a nice smooth hand with the recommended amount of stretch and awesome recovery. I was relieved that the burgundy matched the flowers in the cami.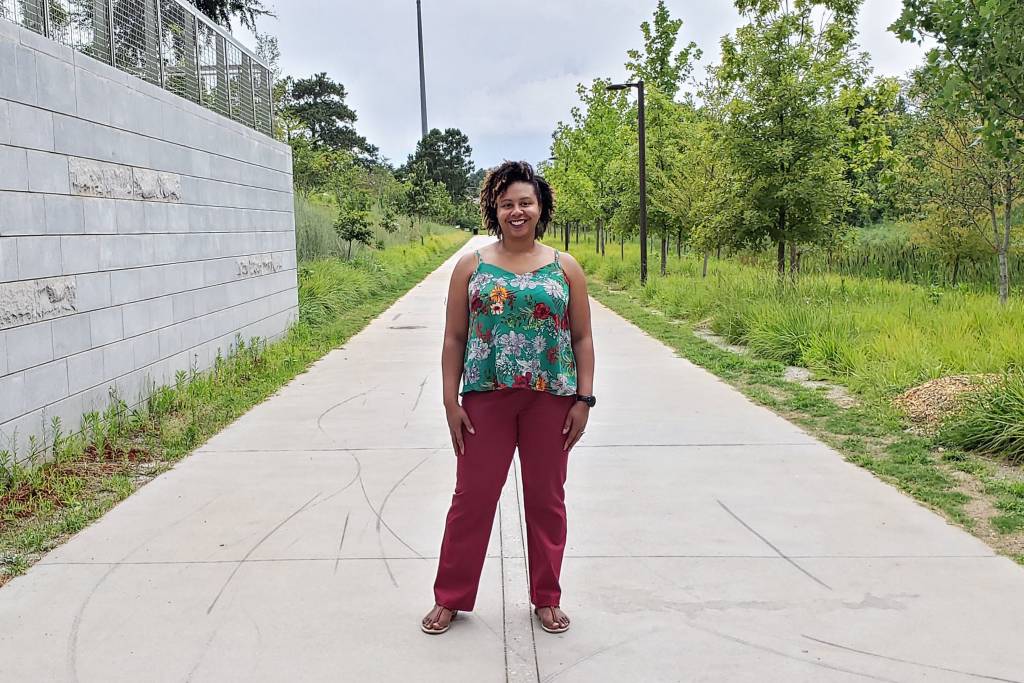 This was my first experience with Itch to Stitch patterns and I was extremely pleased. The instructions and illustrations are clear and thorough. An added bonus is that the pdfs are color coded and layered so you can simply print the size(s) you need. The fit of both pieces were pretty spot on requiring minimal adjustments, if any. The Crystal Cove offers FIVE cup sizes (A-DD) for each of the 12 sizes (00-20) allowing most women to avoid making any adjustments. The Mountain View also covers sizes 00-20 and my straight size 16 fit me well. The only change I plan to make next time, because I will definitely be making another pair, is to use a size 14 waistband for a more fitted waist. I also may lengthen the crotch length at either the back leg or back yoke. As typical for me I could benefit from a little more bum coverage, though the wide waistband almost solves that issue.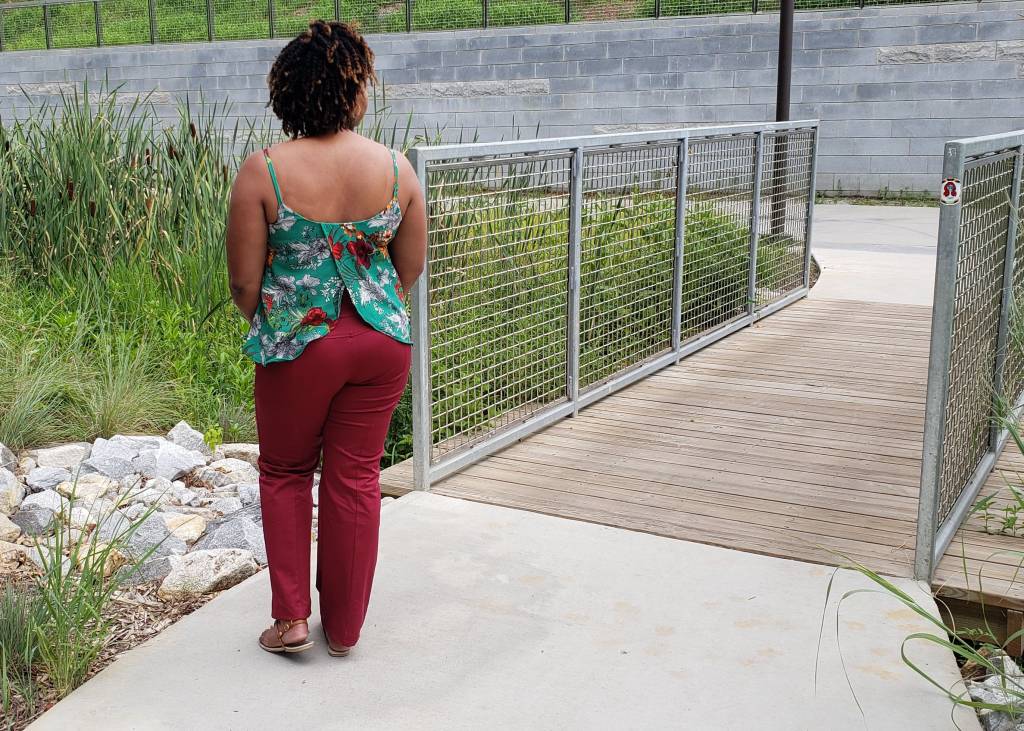 I wore my me-made look on a Saturday I spent with my hubby having a fun day around town. I would pair these together again for a laid back night out with the hubby or friends as well as on a cooler day with a cardigan. These two pieces work beautifully together as you can see above, but I will also show you two additional ways to style each piece.
Let's start with the Crystal Cove Cami: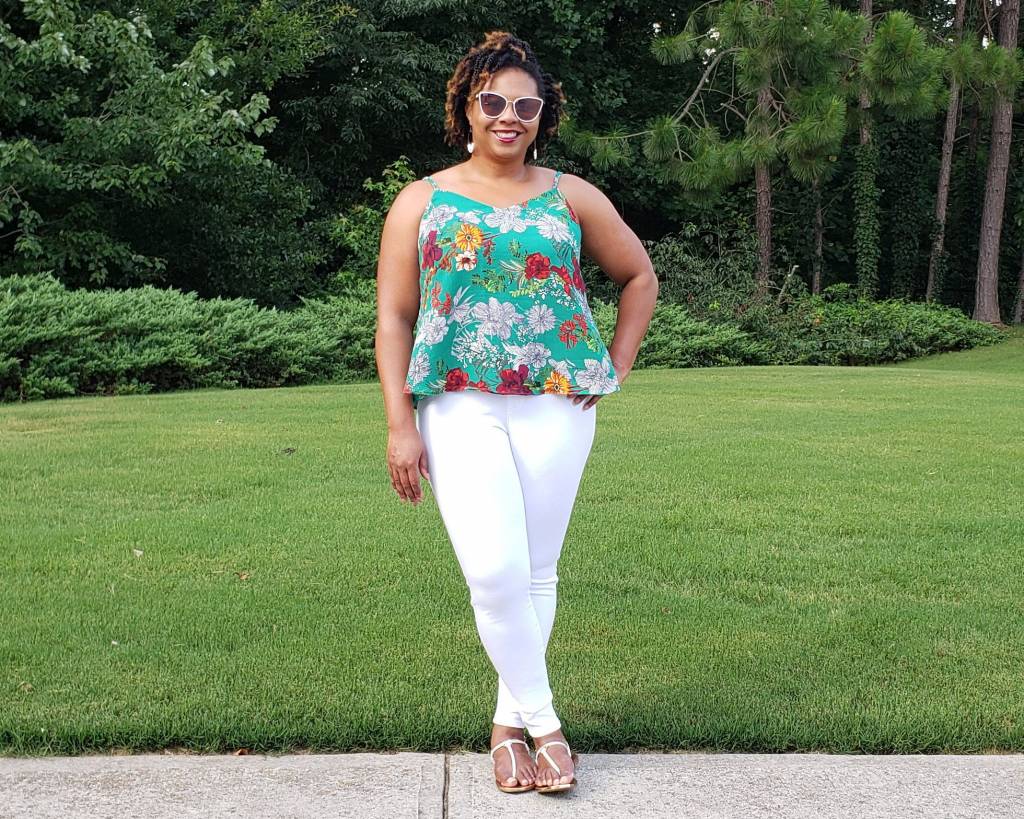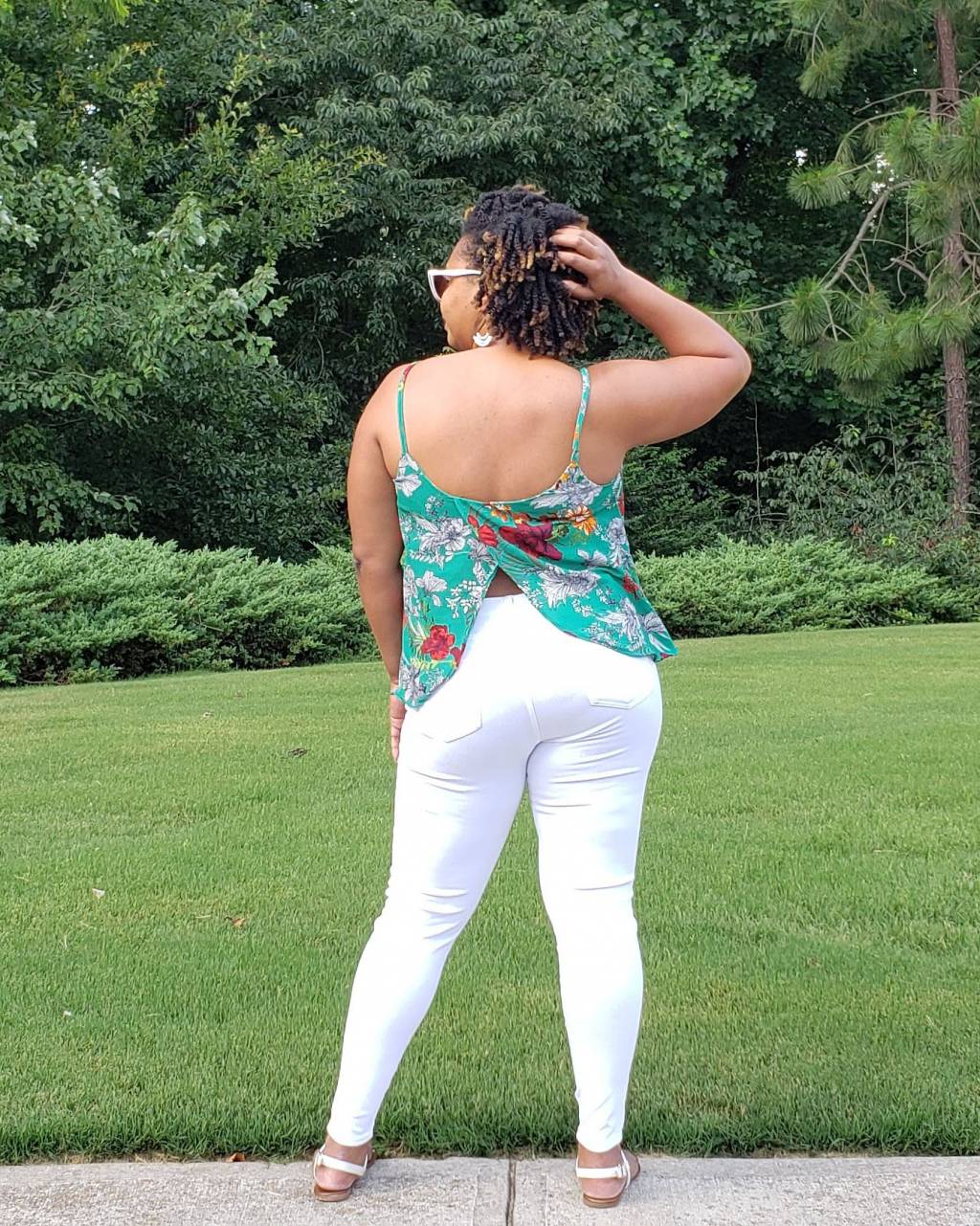 I could wear this cami all summer long and I seriously need 3 more of these; a white solid, a print or stripe and a bold solid like yellow or cobalt blue. Here I paired it with white jeggings for a crisp, clean summer look and I love it. I would wear this to a brunch date or other daytime gathering. Flats complete my look but I could've went with heeled sandals to take it up a notch. A light scarf or jacket easily take this look into chiller evenings.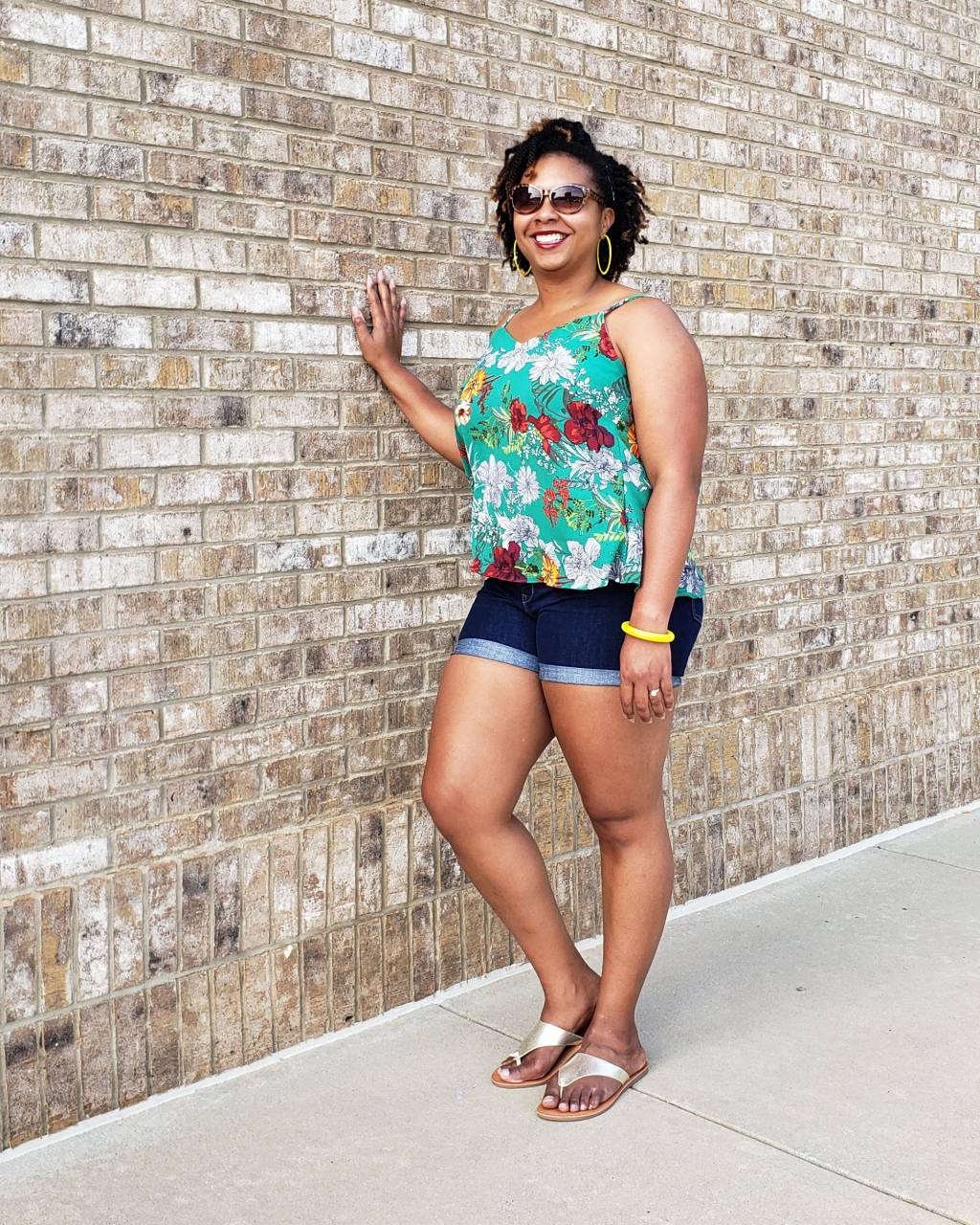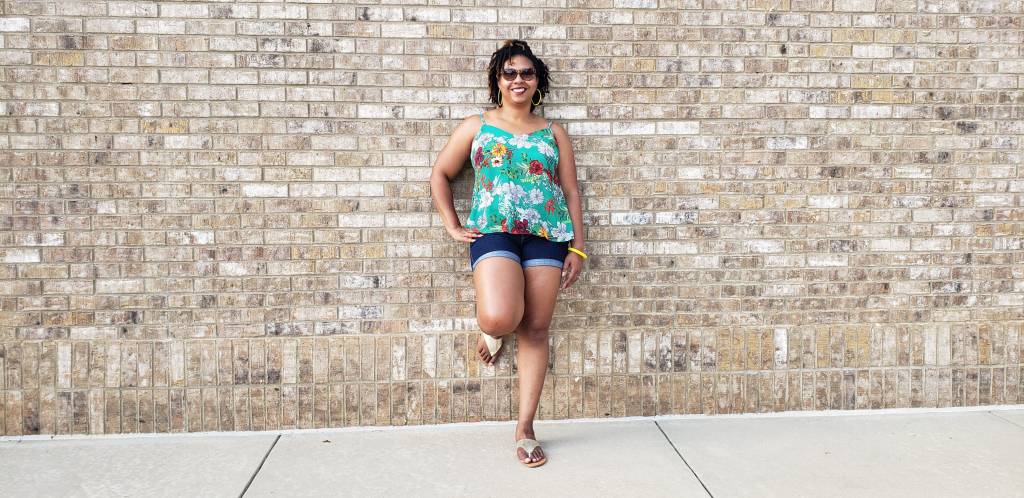 On a steaming hot day pair the cami with shorts and some thong sandals for an easy-breezy casual look. I also add some bright accessories to add more pop! This is a go to beach vacay look for me as it allows me to be comfortable yet stylish. It would also work for a warm day of sightseeing or strolling through a park.
Next up, the jeans which can obviously be styled to wear all year round: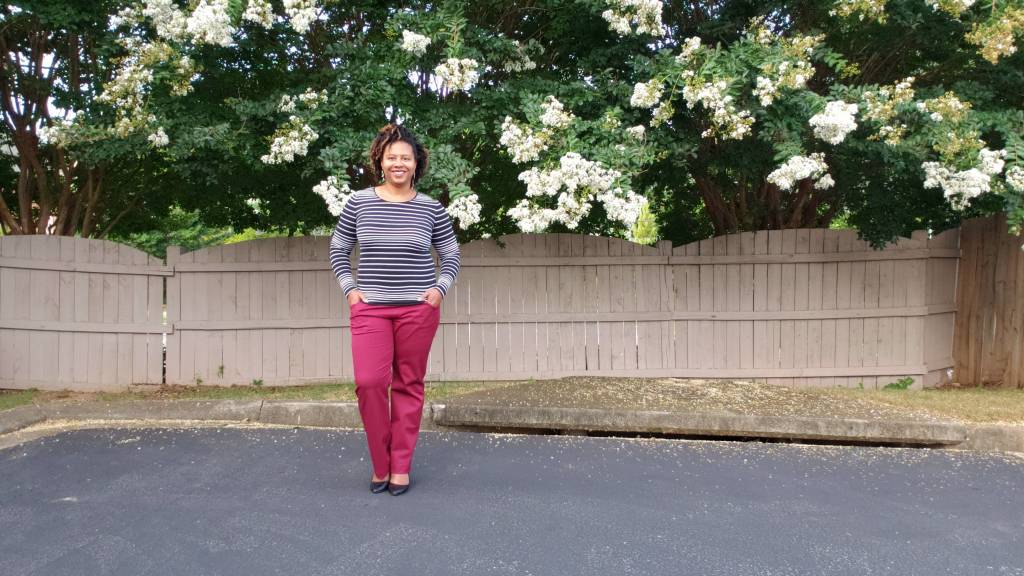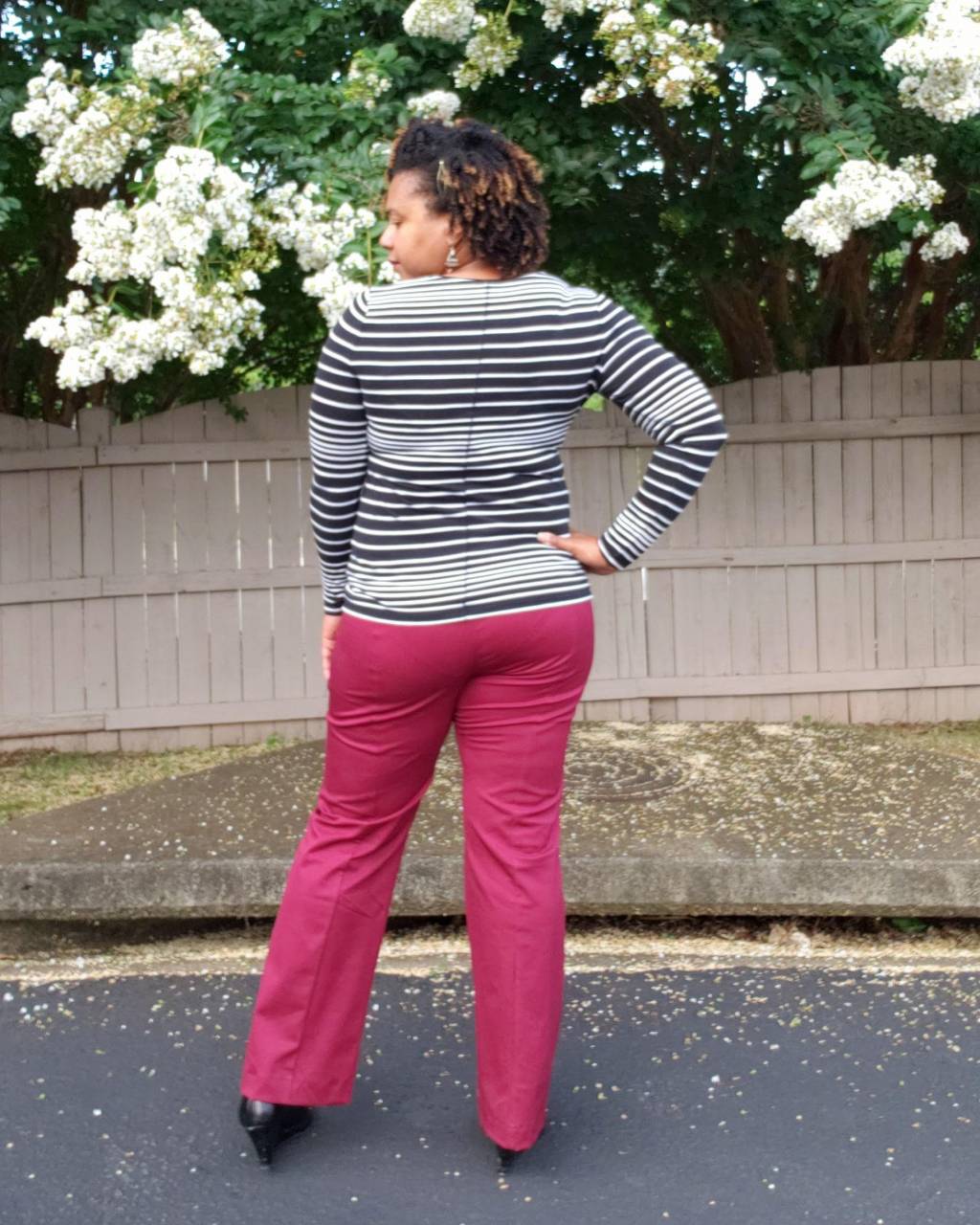 Swap out the cami for a long sleeve tee and the sandals for wedges and you have a classic look suitable for work or a cool fall day. This will definitely be a staple in my work rotation. I have tentatively left off the back pockets as I couldn't decide on a topstitch design so these almost look more like stretch pants. Even if/when I add the back pockets the fact that they aren't denim make them suitable for my office. If your office is more conservative consider using the same fabric for a blazer and creating a suit.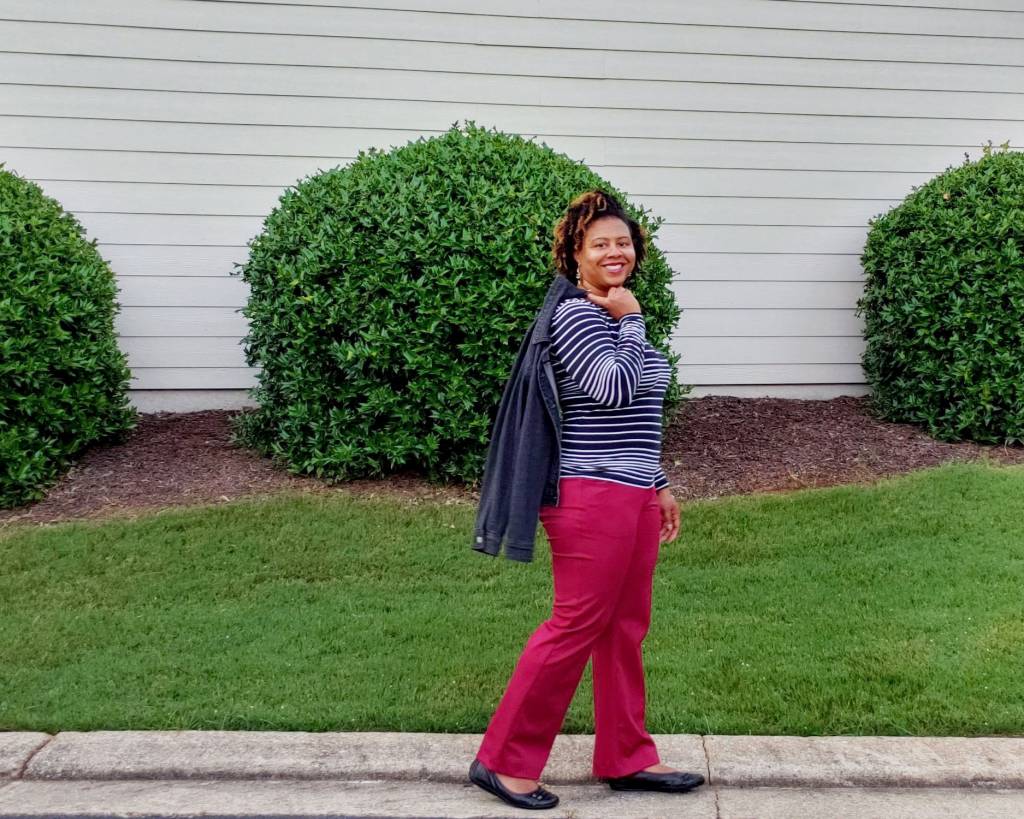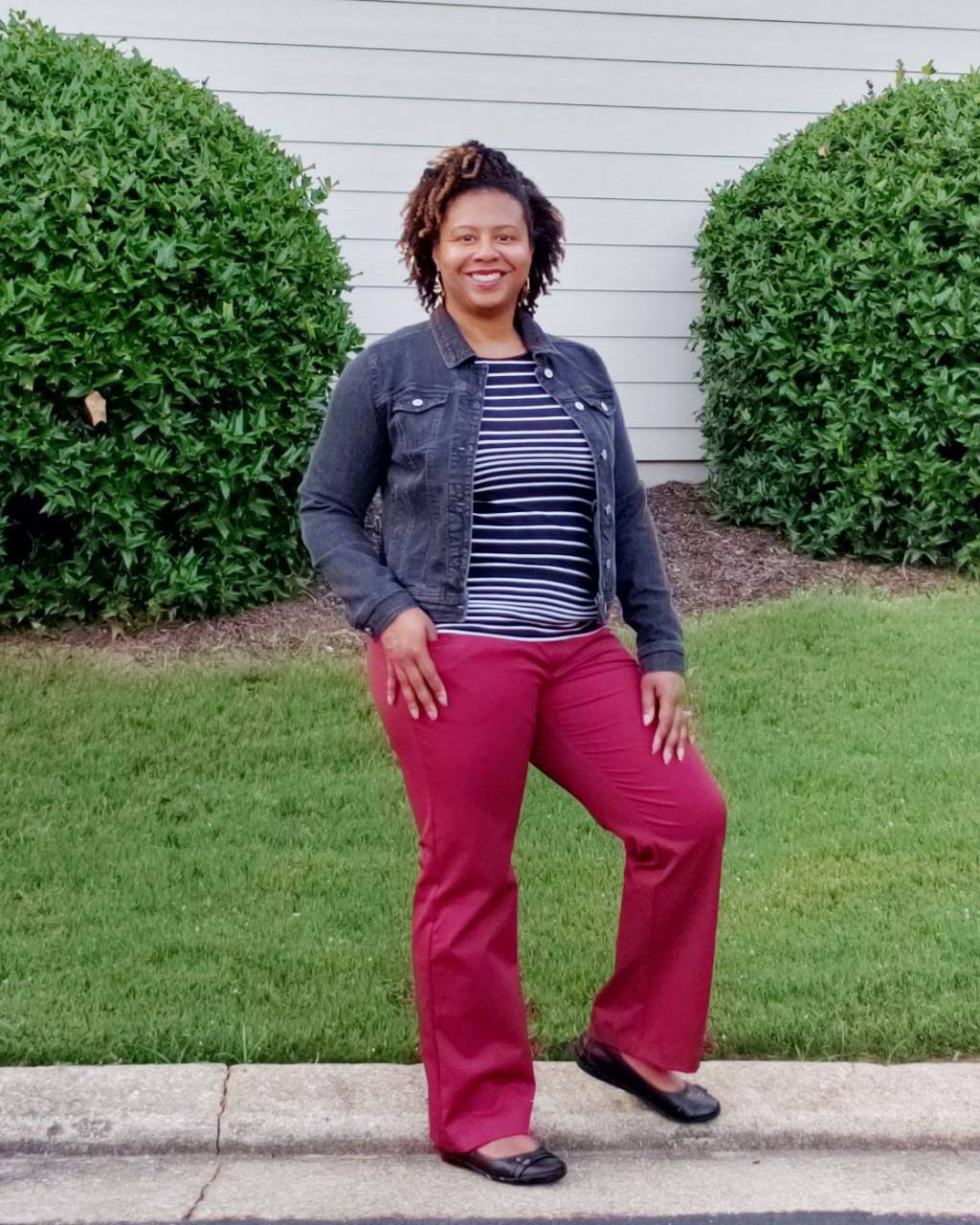 Adding a denim jacket or maybe even a bomber jacket will take this outfit right into late fall evenings and the start of winter (here in the south at least). The bootcut leg also works well with flats and obviously boots.
I can't tell you how much I love my new Itch to Stitch additions to my wardrobe! I've worn both pieces twice already. I've got my eye on several more, like the Liana Stretch Jeans – so maybe I'll finally sew "real" jeans soon. I'm glad I finally have some separates I can mix and match.
Do you favor separates or one pieces? Which do you think you get the most use from?
---
Interested in following the Make It Wear It blog series? You can follow Itch to Stitch's blog on Bloglovin' or you can also sign up below to get the Itch to Stitch newsletter. Either way, you'll be notified when the first issue of Make It Wear It is up.