Marbella Dress Digital Sewing Pattern (PDF)
MARBELLA is the ultimate versatile sewing pattern. With a floral print, you have a perfect summer dress. With suiting fabric, it becomes your go-to office attire. With luxurious fabric, it transforms into elegant evening wear. You can even choose to line or not line this dress.
MARBELLA DRESS design features:
A wide boat neckline that dips a bit lower than the traditional boat neck
Front and back yokes allow for color blocking
Feminine princess lines that allow for a close fit in the bodice
Roomy, slightly-above-knee tulip skirt
Functional in-seam pockets to fit your cell phone, keys, lipstick and even a slim wallet
Invisible back zipper as closure
MARBELLA DRESS pattern features:
Twelve sizes from 00 to 20 (See "Size Chart" tab below for detailed measurements)
A/B/C/D cups (no more bust adjustments!)
Lined and unlined options
Lengthen/shorten guideline on bodice and skirt
Instructions for high-quality finish
Print only the size(s) you need with "layers" feature (no more mingled lines!)
Skill Level: Intermediate++
Don't want to print and tape paper together? Marbella Dress pattern now includes an additional large format file that you can send to your print shop to print!
Photo courtesy of 1 Puddle Lane, Design By Lindsay, Hello Sunshine and Ginger House Designs.
Size Chart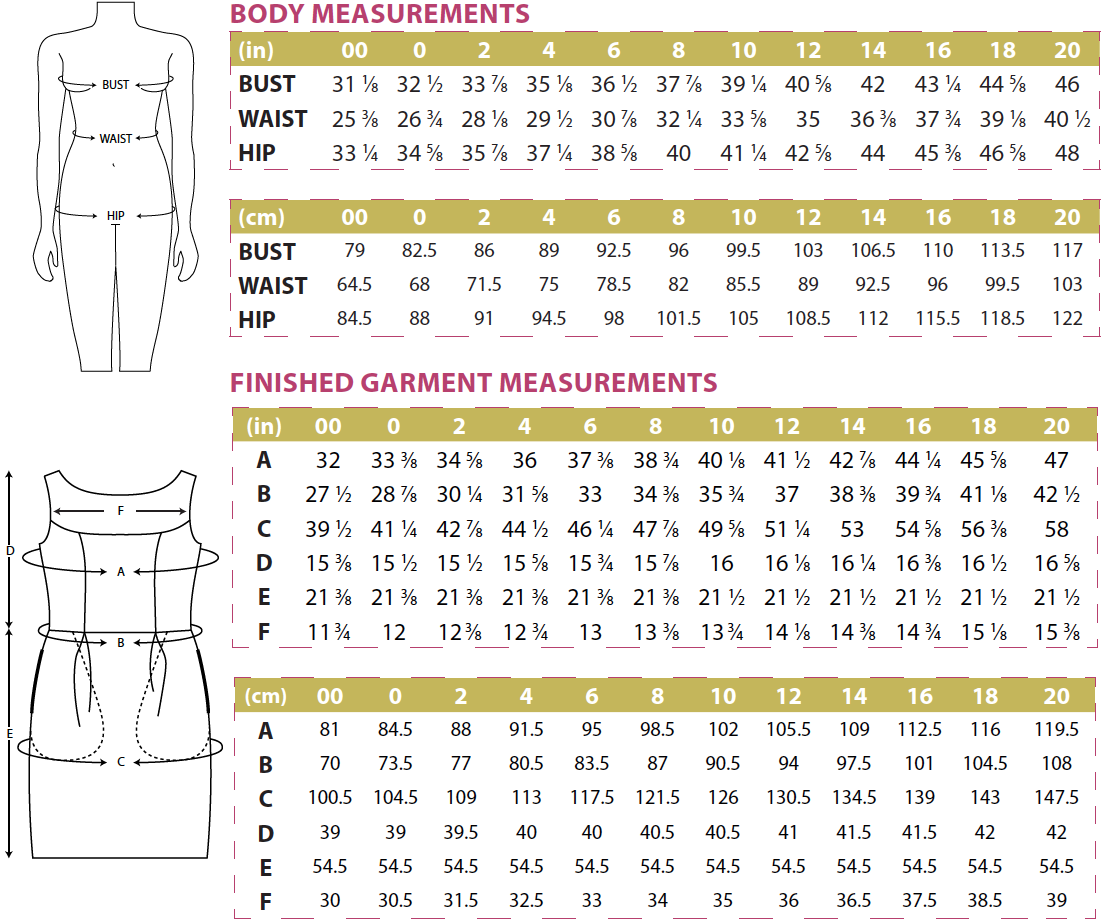 Choosing Your Size
Compare your bust circumference (fullest part of chest) to the "Body Measurements" table. Choose the
size that fits your bust best. If you are in between sizes, pick the larger size. Do this step regardless of your
cup size.
Compare your waist measurement to the "Body Measurements" table. Choose the size that fits your waist
best. If you are in between sizes, pick the larger size.
Compare your fullest hip measurements to the "Body Measurements" table. Choose the size that fits your hip best. If you are in between sizes, pick the larger size. It may appear that the skirt has too much ease, but it is the design of the dress. If you down size the skirt, the back of the skirt, which is in a pencil skirt shape, may become too tight.
It's OK to use different sizes for the bust, waist and hip. All you have to do is print the sizes that you need (see "Printing Instructions"), and blend the lines from one size to the next from the bust to the waist to the hip.
Finally you can choose the cup size. There are many ways to determine cup size, but I find none of them
very accurate. So for the purpose of this dress, choose your normal bra cup size.
I highly recommend that you check your fit by making a test garment with a muslin or an inexpensive fabric.
Material
Primary fabric Any medium weight woven fabric with or without stretch would work with this pattern. Cotton, broadcloth, poplin, twill, denim, linen, linen blend, wool, wool blend, suiting, crepe, shantung and brocade are all good choices. Unstable knit fabrics, like jersey, are not recommended. However, you could use very stable knit such as light weight double knit.
Lining The lining fabric should have similar quality as the primary fabric, i.e. if the primary fabric has stretch, a lining with stretch should be used. Acetate, Ambiance by Bemberg, batiste, lawn, pima cotton, china silk, silk crepe de chine or silk georgette are all good choices as non-stretch lining fabric. Even if you choose not to line the dress, you will still need lining fabric for the pockets.
Interfacing Fusible interfacing is recommended unless the fabric is very delicate (such as sequined fabric or velvet), in which case sew-in interfacing, such as silk organza, should be used.
Other Materials
One 22-inch invisible zipper
One set of hook and eye (Size 1)
16" (41 cm) of fusible stay tape (or make your own using light-weight fusible interfacing)
13-inch (33-cm) single fold bias tape (for unlined option only)
Invisible and regular zipper feet for your sewing machine
Fabric Requirements
Most natural fiber shrinks in the wash, be sure to get enough fabric. The fabric requirements below are for post-shrink measurements.
Imperial/Yards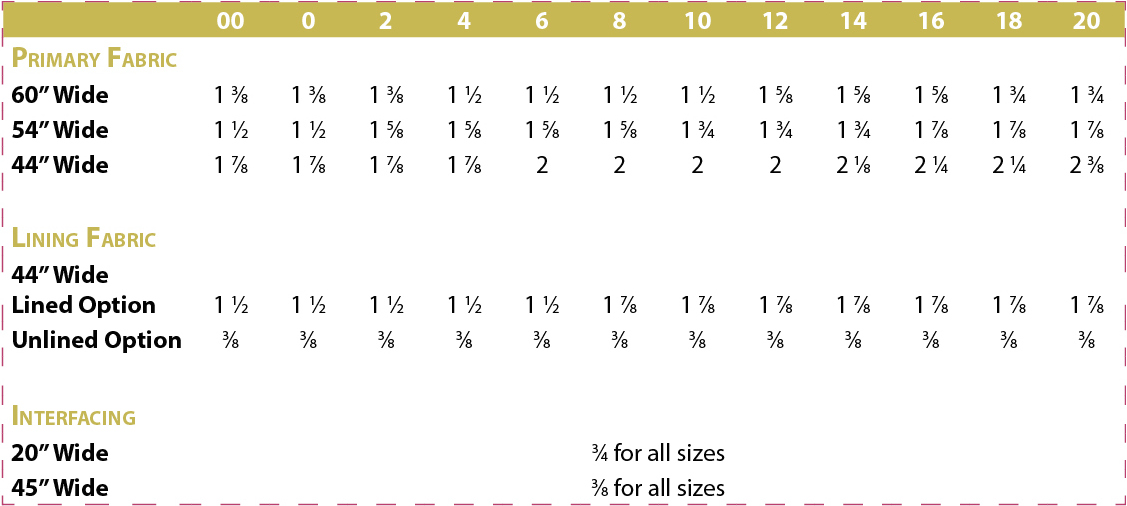 Metric/cm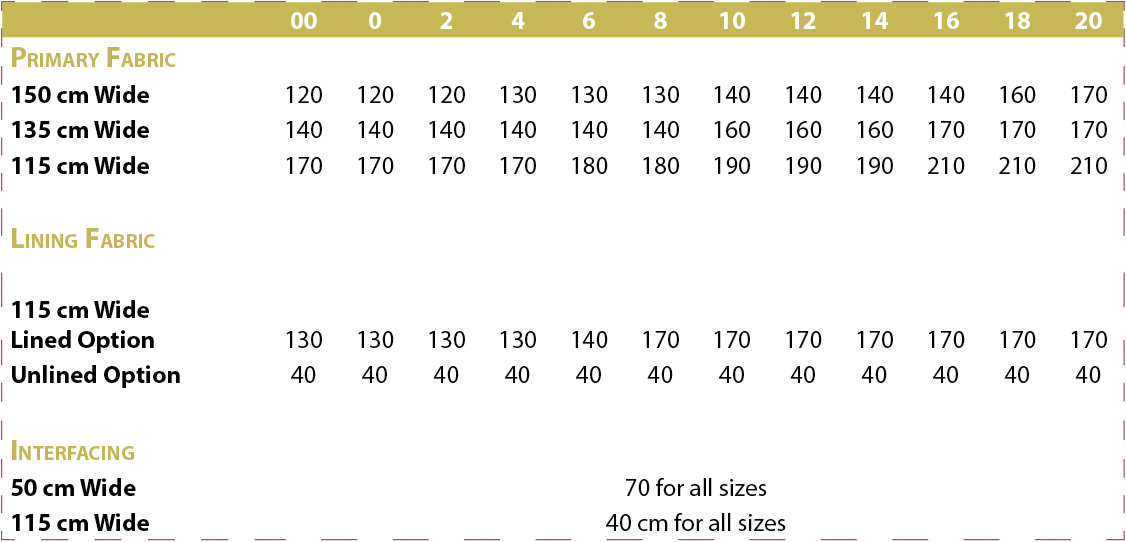 Only logged in customers who have purchased this product may leave a review.