Jacqueline Hoodie Digital Sewing Pattern (PDF)
US$15.00
Jacqueline Hoodie is stylish yet cozy. Inspired by a high-end designer piece, Jacqueline Hoodie's ready-to-wear appeal comes from the extensive use of double top stitching, decorative front buttons, epaulets with buttons and in-seam welt pockets. A lined three-piece hood contours around your head for a great fit. The armhole princess seams give subtle shaping to the hoodie.
JACQUELINE HOODIE design features:
Double-breasted hoodie with off-centered zipper
Extensive double top stitching throughout
Lined three-piece hood for a greater fit
Armhole princess seams for subtle shaping
In-seam pockets with welts (optional)
Epaulets with buttons (optional)
Decorative front buttons for an edgy look (optional)
JACQUELINE HOODIE pattern features:
Instructions for high-quality finish
Layers feature–print only the sizes you need
Skill Level: Intermediate+
Sizes: XXS – XL (See "Size Chart" tab below for detailed measurements)
Don't want to print and tape paper together? Jacqueline Hoodie pattern now includes an additional large format file (size A0 paper) that you can send to your print shop to print!
Photo courtesy of My Little Sewing Dreams, Stitch It Now, Stitch N' Smile and Diane C.

Buy More Save More
Spend US$20 or more, get 15% off your entire cart
Spend US$30 or more, get 20% off your entire cart
Discount applies in cart automatically
Size Chart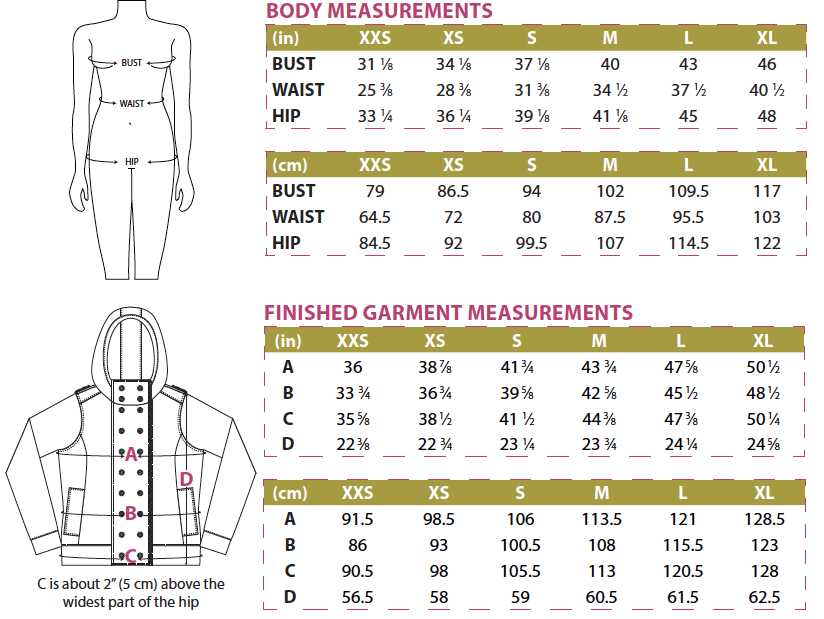 Choosing Your Size
Compare your bust circumference (fullest part) to the "Body Measurements" table. Choose the size that fits your bust best. If you are in between sizes, choose the smaller size if you like the hoodie more fitted; otherwise, choose the bigger size.
Keep in mind that if your fabric has a looser knit or more drape, your hoodie will be more relaxed and larger. You can consider a smaller size for a more fitted look.
Do not blend to a smaller or larger size at the waist or hip. Jacqueline Hoodie has two front seams that are integral parts of the design; if sizes are blended across these seams, the integrity of those lines will be compromised. Instead, follow the "Fit Adjustments" section in the pattern instructions to add width to or subtract width from the waist and/or hip. For now, observe the "Body Measurements" and "Finished Garment Measurements" of the waist and hip for your chosen size, and determine how much more or less width you need.
I highly recommend that you check your fit by making a test garment with inexpensive fabrics that have similar thickness and stretchiness as your final garment fabrics.
Material
Primary fabric Medium-weight knit fabric with 35% to 50% two-way or four-way stretch is ideal. Interlock, French terry, double knit and Ponte are great choices. If you use fabric with less stretch, you may choose a larger size. Conversely, if you use fabric with more stretch, you may choose a smaller size. However, avoid fabric with too much stretch as you may find it difficult to topstitch. Avoid very heavy-weight fabric if your sewing machine is not heavy-duty enough to stitch across multiple layers of intersecting seams or to topstitch. Woven fabric is not recommended. For your reference, the featured purple hoodie is made of a 100% cotton 12 oz (406 gsm) interlock fabric.
You may substitute rib knit, preferably with spandex for greater recovery, for the sleeve bands and bottom band. You would use less fabric than stated due to the greater stretch of the rib knit. Therefore, you should shorten the bands as needed.
Interfacing Use light-weight knit tricot fusible interfacing.
Other Materials
One jacket-weight separating zipper in the following length. You will likely have to purchase a longer zipper and shorten it yourself (zipper shortening tutorial included).
3/8" or 1/2" (1 cm or 1.25 cm)-wide straight fusible stay tape
Two 7/8" (23 mm) buttons for the epaulets (if the option is used)
Twenty 7/8" (23 mm) buttons for the front (if the option is used)
Three size 10 (7/8" or 23 mm) sewn-on snap fasteners
Double-fold bias seam binding or Hug Snug Seam Binding as long as your zipper (optional for covering zipper seam allowance raw edge)
Steam-A-Seam Lite (or equivalent light-weight double-sided fusible tape) (optional)
Tools
Ball point (or stretch) machine needles (use a bigger needle, e.g. size 100/16, when stitching through many layers of fabric)
Size 100/16 or bigger universal machine needle for sewing zipper
Walking foot (or use similar function in your machine, such as the IDT or Accufeed system)
Buttonhole foot
Serger machine (optional to finish your seam allowances)
Fabric Requirements
Most natural fibers shrink in the wash, be sure to have enough fabric. The requirements below assume that the fabric is already pre-shrunk.
Imperial/Yards

Metric/cm

Only logged in customers who have purchased this product may leave a review.